(Last Updated On: August 13, 2023)
The debate for the best winch brand is one that constantly disturbs the mind. Is the Warn winch worth the price? Can Smittybilt last the test of time? Or is Superwinch actually the best overall?
These questions and more are what needs to be addressed and serve as the guide to choose the best winch for you.
If you are confused about which of them to get, then you have found the best place to learn about each of the brands. In this article, we would be making an in-depth comparison of the three listed winch producers above. You don't want to miss this out!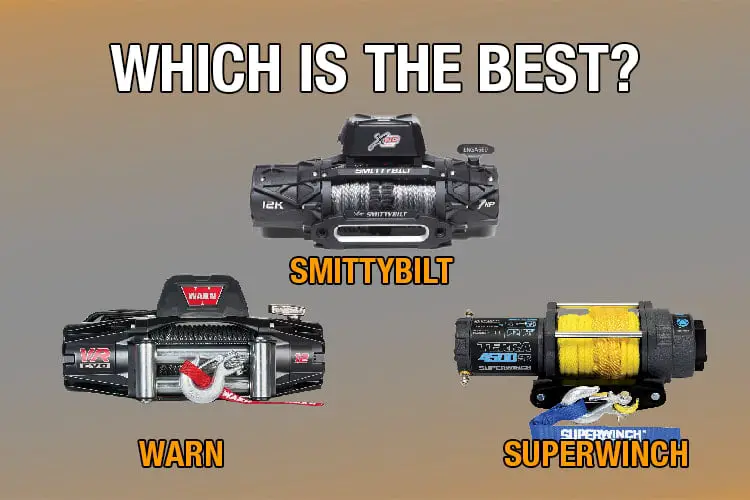 Getting To Know The Three Brands
Let's do a quick overview of each of the brands!
1. Warn
History
This renowned company dates as far back as 1948 and has since honed its name in producing quality winches and other associated accessories. The company is named after its founder, Arthur Warn, an American who pioneered the making of locking hubs during the Second World War. 
Over the past 70 years, Warn has been awarded a lot of awards from across the globe for its proficiency. The most popular winches from this company include Warn VR EVO, Warn Zeon, Warn M8000, and many more!
Where Are Warn Winches Manufactured?
With several branches across the United States, the headquarters of the Warn industry is situated in Oregon, USA. As such, most of their winches, including their parts, are produced in the United States, except for the VR series, which are made in China.
2. Smittybilt
History
Though the company did not start off with the production of off-road machines, they have over time involved themselves in it and are doing really great. The company was launched as a mechanic shop in 1956 by Basil Smith. 
His focus was on Jeeps and SUVs before his son Tom Smith got involved in the innovation of winches. Smittybilt is now a large distributor of winches worldwide and has received several recognition awards. 
Some of their top-rated winches are GEN 2/ GEN 3 XRC, X20, etc.
Where Are Smittybilt Winches Manufactured?
Contrary to people's opinions, Smittybilt is an American-based industry. However, its products are made in China.
3. Superwinch
History
Of the three companies being compared, Superwinch is the most recent. Originating from the market of some ford engineers, Westin (the company owner) bought some winch parts and later decided to venture fully into the business.
For more than 50 years now, Superwinch winches have proved durable and reliable winches at affordable costs. And as such are high on demands in the market today. 
Examples of the popular products from this industry are Superwinch Tiger Shark, Terra Series, and so on.
Where Are Superwinch Winches Manufactured?
From the raw materials to the final products, Superwinch winches are made in the USA.
Warn vs Smittybilt vs Superwinch: A Detailed Comparison
Warn
Price
If you ask an average person about Warn winches, one of the first few sentences would include the price! Compared to the other options, Warn winches are more expensive; nonetheless, they are worth the price.
You would get the service for your money and even beyond it!
Specifications
Below are some of the general specifications that you would get in Warn winches: 
90-inch synthetic rope 
Speed
Ranging capacity from 750 lbs to 30,000 lbs
Complete installation kit and manual
Iron bracing
Remote control
One of the most important highlights of Warn winches is the speed. They are faster than their other counterparts.
Product Quality
Warn winch users are almost always satisfied with the products of the brand. You may wonder about the magic that the brand offers that gives them so much support. Well, simply put, it is the quality of their products!
The company uses the best quality and sturdy materials manufactured in the United States. This, in general, contributes to the durability and longevity of their products.
Warranty
As a sequel to the brand's confidence in the quality of their products, they offer a seven-year warranty. Knowing that all things are equal, the winch can function perfectly beyond this period.
Pros
Easy to install
Sturdy and durable
Waterproof and anti-corrosive material
Fast line speed
Great customer service
Cons
May be expensive
Wired remote
Smittybilt
Price
Well, if you want to consider a winch option based on price, a better choice is from the Smittybilt. Though the price variation between Warn and Smittybilt isn't so far apart, the price for the latter may not be able to purchase a similar spec in Warn products.
Specifications
Smittybilt offers several jaw-opening features for its price. Let's check them out!
Cable or synthetic rope (95 inches), you get to choose
Wireless remote control
Complete installation kit 
Dynamic braking system
Detailed clutches
Product Quality
From customer reviews, it is apparent that people who choose Smittybilt derive a form of satisfaction from it. Though a cheaper option, it is durable, sturdy, and up to the task. 
Warranty
One great advantage you get from shopping winches with Smittybilt is the lifetime warranty they place on them. In other words, you do not have to spend extra costs on its maintenance.
Pros
Waterproof
Easy to install
Big load capacity
Lifetime warranty
Cons
Not high-end materials
Overheating
Superwinch
Price
Costs aren't a thing to worry about with Superwinch. They are most times about thrice the price of Warn winches, yet they offer a fair quality for their price.
Specifications
85-inch steel rope
Mechanical braking system
Remote control
Product Quality
Perhaps because most people either use Warn or Smittybilt, there isn't much to say about Superwinch. However, it's a fair shot though some customers complain about rusts, snapping of the rope, and poor customer relationships from the brand.
Warranty
The brand offers a two-year limited warranty on their winch. It is essential to know that while in transit, Superwinch would not be able to accept new orders, process warranty claims, or any inventory transactions.
Pros
Quiet operation
Requires little maintenance
Compatible with different vehicles
Easy to install
Cons
Prone to corrosion
Overheating
Which Is The Best Option?
After so much comparison and factors put into consideration, it must be noted that the best choice for an individual is subjective. Though, according to our rating, from the least to the best, we would say Superwinch, Smittybilt, and Warn.
The popular Warn produces very high quality and durable winches worth the price. Nonetheless, if you are on a budget, you can go with Smittybilt. The quality is also superb, plus you get a lifetime warranty on their winches. 
Choose The Best Winch For You Here!
At A Glance: 3 Best Winches Overall
| | | | |
| --- | --- | --- | --- |
| | Best Warn Winch | Best Smittybilt Winch | Best Superwinch Winch |
| | WARN VR EVO 12-S | Smittybilt GEN 2 XRC | Superwinch Terra 45SR |
| Customer Rating | | | |
| Price | | | |
| Rope | Synthetic & Steel | Cable | Synthetic |
| Easy to install | ✔ | ✔ | ✔ |
| Line length | 85' - 90' | 94' | 55' |
| Warranty | Limited lifetime on mechanical & 7 years on electrical | Limited lifetime on mechanical & 5 years on electrical | Limited lifetime |
| Remote control | ✔ | ✔ | ✔ |
| Waterproof | ✔ | ✔ | -- |
| Our Score | 9.5 | 9 | 9 |
| | | | |
Let's now look into some of the best winches from each brand that might be a good option for you!
Best Warn Winches
1. WARN 103255 VR EVO 12-S: The Rugged Towing Winch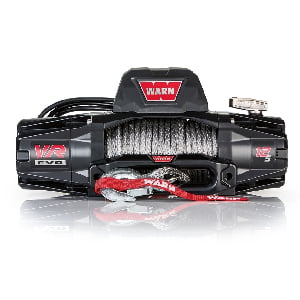 WARN VR EVO 12-S
Warn never let me down. Easy installation with only 30 minutes. You'll definitely get what you paid! The best choice for me, never think of any other winch.
Here's one of the best winches you can get from Warn. It comes in different size capacities, but this is a 12,000 lbs winch. You get to choose if you want a cable rope or a synthetic rope, but you can be guaranteed that with either of them, you would be making a great choice.
The winch is designed with strong gear and a motor system which are responsible for its amazing line speed. In addition, it is lightweight and easy to install on your vehicle.
Working with the WARN 103255 VR EVO 12-S is made easier with the remote control that comes with it. You could use the remote as wired or wireless depending on the situation you find yourself in or your preferences.
Pros
Waterproof
Easy to install
Sturdy and durable material
Lifetime limited warranty on mechanical and seven-year warranty on electrical
Cons
Installation screws may not be complete
Wireless remote may not work
Verdict
If you frequent off-road and get stuck almost all the time, you really need this winch! It is a perfect fit for any ¾ or 1-ton pickup trucks or any kind of large frame rig.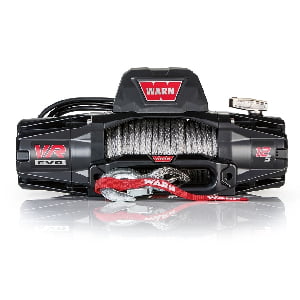 Warn VR EVO 12-S
2. WARN 26502 M8000 Series Electric Winch: The Powerful Winch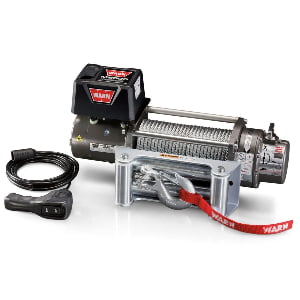 WARN M8000 Series Electric Winch
A well-made unit from America. Helpful instructions, super fast shipping and perfect quality! Besides, this winch is a great option for Jeep and trailers.
The WARN 26502 M8000 winch is a perfect choice if you use a jeep or an SUV. It is designed in such a way that it can fit into most vehicles while maintaining a low profile. Its capacity is 8000 lbs and in the past years has been known to always come to the rescue. 
This success rating is owed to its powerful 4.8hp and 12V motor. Due to the motor's capacity, the winch offers a very fast line speed and easily gets you out of whatever situation you find yourself stuck in. In addition, the rope rolls back in without hassle and poses a minimal threat.
If you are alone when you get stuck, you do not have to panic or look for help elsewhere; the remote is all you need! Accompanying the winch is a 12 inch easy-to-use remote which fits perfectly in hand and makes using it more comfortable.
Pros
Fast line speed
Quiet operations
Easy to install
Seven-year warranty
Come with a complete mounting kit
Cons
Heavyweight
Non-wireless remote
Verdict
We would recommend this WARN 26502 M8000 Series Electric Winch for your day-to-day use. It is powerful and reliable. Furthermore, it would fit in perfectly for a Jeep Wrangler.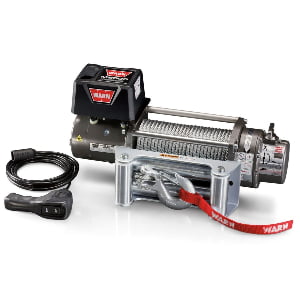 WARN M8000 Series Electric Winch 
3. WARN 101570 Handheld Portable Drill Winch: The Multipurpose Handheld Winch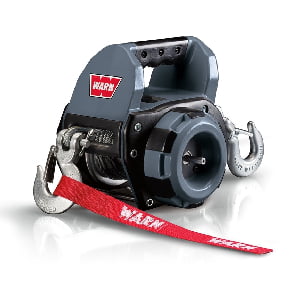 WARN Handheld Portable Drill Winch
So convenient and portable. Also, you can easily watch the wire's spooling through the window on the top. The high gear ratio allows you to pause while lifting without making the cable pull out. And thanks to the free wheeling clutch, the cable can be pulled out rapidly when required.
This is quite different from the other winches that we have discussed. Just as the name indicates, it is a smaller size and handheld. The capacity of the winch is 750 lbs, and it can be used for different kinds of pulling works.
Despite being portable, its works are surprisingly marveling. It has a very high pulling strength and self-limiting load control. Once the load applied to it is greater than 750 lbs, the winch would start making sounds which indicates to you that the limit has been reached.
In addition, you can have control over the speed of the winch through the weight of the load applied, the drill speed, and the distance to be covered.
Pros
Lightweight
Fast line speed
Easy maintenance
Can serve multiple functions
Cons
Not durable shaft
Reduced power
Verdict
This is an excellent handheld winch for small loads. As long as you do not put loads that exceed its capacity on it, you're good to go!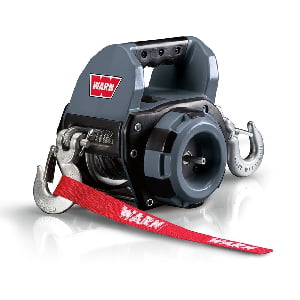 WARN Handheld Portable Drill Winch 
Best Smittybilt Winches
1. Smittybilt GEN 2 XRC Winch | 9,500 Pound: The Perfect Winch For All Weather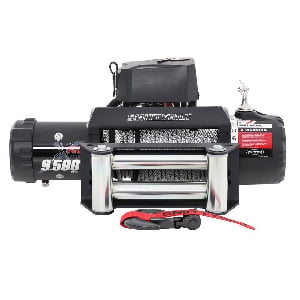 Smittybilt GEN 2 XRC Winch 9,500 lbs
Highly recommend for you. This winch is affordable and worth your investment. Fast shipping, good instructions so that you can install it without a pro. Operation is easy and an awesome remote control.
Behold one of the Smittybilts greatest productions! If you are working around a budget but still want something great, you should pick the Smittybilt GEN 2 XRC Winch. Its capacity is 9500 lbs with 20.88″ (L) x 6.3″ (W) x 7.4″ (H) dimensions.
The beauty of this winch is in its motor. The power of the motor is 6.6hp and 12V. With such capacity, you can tell that its line speed would be great and it does a fantastic job. 
Furthermore, it comes with a long 94′ cable rope. Hence, it is perfect for the most challenging and most rugged situations. Another feature that makes it suitable for different weathers is its IP67 waterproof rating. In addition, it has a fine black coating finish that gives it an elegant appearance.
Pros
High power
Waterproof
Remote control
Easy to install
Verdict
The Smittybilt GEN 2 XRC Winch should be your constant companion if you are off-road most of the time. Especially in mud or wood and, more importantly, if you use a Jeep truck SUV.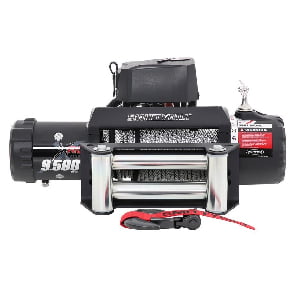 Smittybilt GEN 2 XRC Winch 9,500 lbs
2. Smittybilt X2O COMP 10,000 lb: High Capacity Smittybilt Winch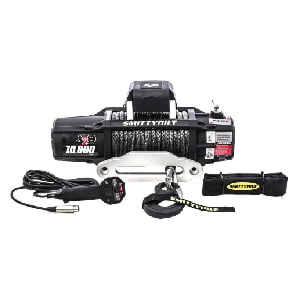 Smittybilt X2O COMP 10,000 lbs
A nice winch, a nice price for such a high weight rating. A super convenient rempte is included, synthetic rope is perfect and lightweight. I'm so glad with this purchase due to a great customer service and warranties.
This is another Smittybilt champion that always comes through. The Smittybilt X2O COMP has some similarities with the previously discussed one; however, its weight capacity has increased by 500 lbs. It is designed with rugged and sturdy materials that would stand the test of time.
The carton contains the power cables, a wireless remote, the winch and all items needed for its full installation. You can rest assured that the winch would not break down so quickly because it is powered by a powerful motor and is finished with waterproof materials.
Another plus to this item is its wireless remote, which makes controlling it easier and faster.
Pros
Waterproof
Lightweight
Anti-corrosive
5-year warranty on electrical and lifetime on mechanical
Cons
Difficult to install
Disengaging clutch
Verdict
Whether you winch daily or you just need a winch for the stormy days, Smittybilt X20 COMP would be a great choice for you. The winch works well with a JKU or a 2014 RAM.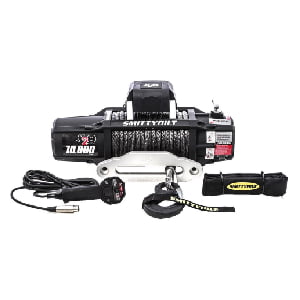 Smittybilt X2O COMP 10,000 lbs
Best Superwinch Winches
1. Superwinch 1130220 LT3000 Winch 3,000lb: The Budget-friendly Superwinch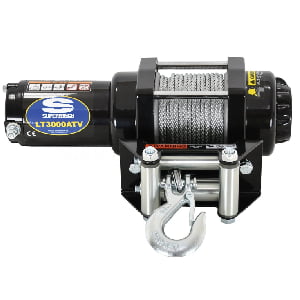 Superwinch LT3000 Winch
This is the first time I orderd a winch from this brand, and surprisingly it is even better than my expectation. An excellent option for ATV with a straightforward installation and flawless work. I'm so satisfied with this winch and highly recommend for anyone.
If what you need is a low-budget winch with an average weight rating, that's what you would get with this Superwinch. It can bear up to 3000 lbs but not beyond that.
The Superwinch LT3000 is powered by a 1.2hp motor that is sealed and protected from water. Despite this seemingly small motor, the winch still offers a line speed of 8.3 meters per minute with no load applied and 1.2 meters per minute when the maximum load is applied. 
In addition, it can be controlled with the aid of the 12-inch wired remote and its ergonomic free spooling clutch. Asides from this, its braking system is also superb and guarantees a 100% load holding capacity.
Pros
Lightweight
Inexpensive
Easy on install
Comes with a complete installation kit
Verdict
Perhaps you just need a winch for immediate use or to be used once in a while; you can save your money and settle for this winch.
The Superwinch 1130220 LT3000 winch would fit in most ATV/UTV.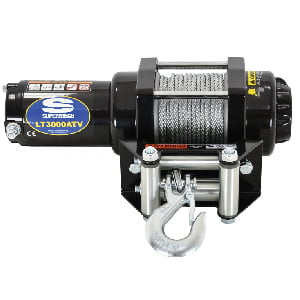 Superwinch 1130220 LT3000 Winch 
2. Superwinch 1145230 Terra 45SR 4500lbs: Winch For Everyday Use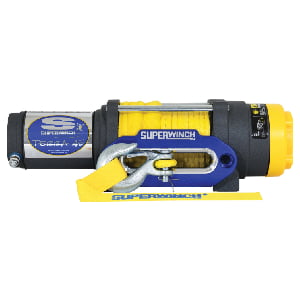 Superwinch Terra 45SR 4500lbs
Powerful and great. Installing a switch is simple, the instructions to wire the winch is quite confusing but it's also OK. Besides, it's good that the cable is universal and the winch fits perfectly with my ATV.
Superwinch has got you covered if you're looking for an average capacity winch that you can use for basic day-to-day hauling activities. The Terra 45SR's capacity is 4500 lbs, powered by a 1.6hp magnetic motor.
An advantage that it shows over most other winches is that its gears are wider, and it also uses a dynamic braking system. Similarly, it comes with a 55′ by ¼' synthetic rope that pulls in and out without hassle. You do not have to worry about its dislodging because it comes with a heavy-duty latch hook that keeps it firmly attached.
Furthermore, you get to control your winch easily with the handheld remote control that comes with it. 
Pros
Easy to install
Quiet operations
Fine finishing
Protected circuit breaker
Cons
Low power outage
Low weight capacity
Verdict
If you move loads from place to place often, then this winch is your best bet. At the same time, if you just want to keep one in case your car is stuck somewhere, you can get this too. 
The Superwinch Terra 45SR works perfectly with a 21'BF750 EPS, 2018 Honda Rancher with KFI 102175 mount, and so on.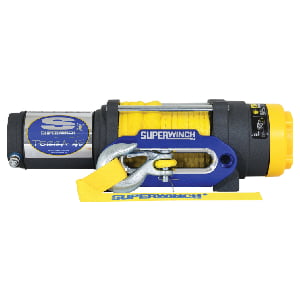 Superwinch 1145230 Terra 45SR 4500lbs
Winch Accessories
1. Snatch Block
Suppose you ever find yourself in a position where your winch does not seem capable of saving your vehicle. In that case, the next option to consider is a snatch block.
A snatch block is a pulley that can be used with a winch to potentiate its pulling effect. The snatch block doubles the capacity of your winch. For instance, if your winch's towing capacity is 5000 lbs, with a snatch block, you can pull a 10,000 lbs vehicle.
This is a top-pick snatch block we would highly recommend for you:
WARN 92188 Epic Multi-Purpose Snatch Block – 6 Ton (12,000 lb): The Actual Winch Saver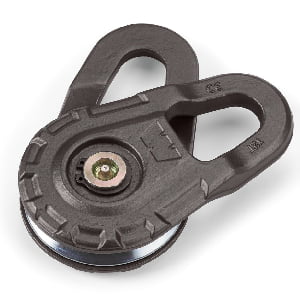 WARN Multi-Purpose Snatch Block
Awesome! This hook is simple and heavy. Of course, it works greatly. I could purchase something else from a cheaper price but I didn't. The quality is the king. If you can afford this hook, I believe that it won't disappoint you.
Here is one very good snatch block that would help you reduce damage to your winch during the recovery process and, in the long run, make your winch last longer. 
Its capacity is 12,000 lbs. Furthermore, it is also important to note that this snatch block would double the pulling power of whatever winch it is attached to.
Pros
Durable steel
Anti-corrosive finish
Protect the winch from heating up
Double the winch's pulling power
Cons
Weak snap rings
Non anti-rust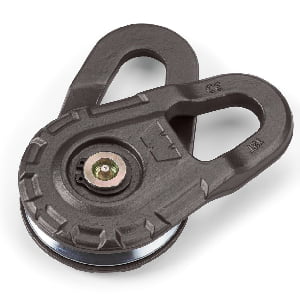 WARN Snatch Block – 6 Ton (12,000 lb)
2. Winch Cable/ Hook Bump Stop
Basically, what a winch bump stop does is to hold the rope of the winch in place and prevent it from dangling. You need to get one for your winch so that you won't be needing a replacement for the rope within a short period.
Check out the example of a winch cable below.
WARN 99944 Rubber Winch Cable/ Hook Bump Stop: A Must-have For Winch Owners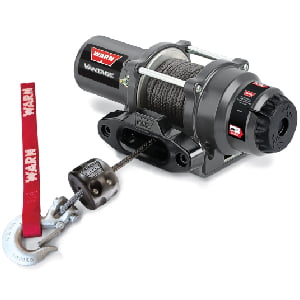 WARN Rubber Winch Cable/ Hook Bump Stop
An outstanding product, fast delivery and quick installation. I love its design so much. This hook stop is really pocket-friendly and comes with a stainless steel bolt. Use this and you will realize how easy it is to secure the hook and keep tension on the cable after using the winch.
This WARN 99944 Rubber Winch fits into most all-terrain vehicles. Its center hole is about ½ inches and is easy to install. With this bump stop, you can preserve the life of your winch and have it look neat and orderly!
Pros
Durable 
Easy to install
Protects the winch cable
Cons
May require trimming for some Warn ropes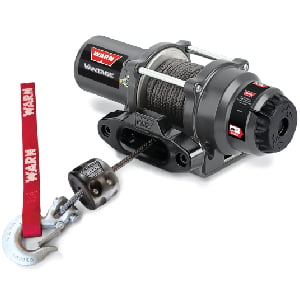 WARN Rubber Winch Cable/ Hook Bump Stop
Conclusion
Whether to choose from Warn, Smittybilt or Superwinch, the choice is yours. However, when you have decided on the brand, be sure to do proper research on which of their products to choose. Or better still, pick the one that best suits your needs from our recommended winches. 
In addition, those winch accessories are not to be overlooked; they also have their relevant functions. Good luck as you make your choice!