(Last Updated On: August 27, 2023)
Let's cut to the chase, are there any notable differences between 9005, 9006, and H11 bulbs? 
Of course, several features stand each bulb type out, and not all these bulbs are interchangeable. So, if you are in a fix trying to figure out the differences between 9005, 9006, and H11 bulbs, fret not.
Here is exactly what you need to know:
A clear comparison of these bulbs
An all-inclusive review of the best bulbs 
Let's dive right in.
9005 vs. 9006 vs. H11: Key differences
The variation between 9005, 9006, and H11 bulbs can't be deduced from the physical features alone. They differ in efficiency, longevity, and energy consumption. Below is a clearly defined chart depicting the distinctive features of 9005, 9006, and H11 bulbs.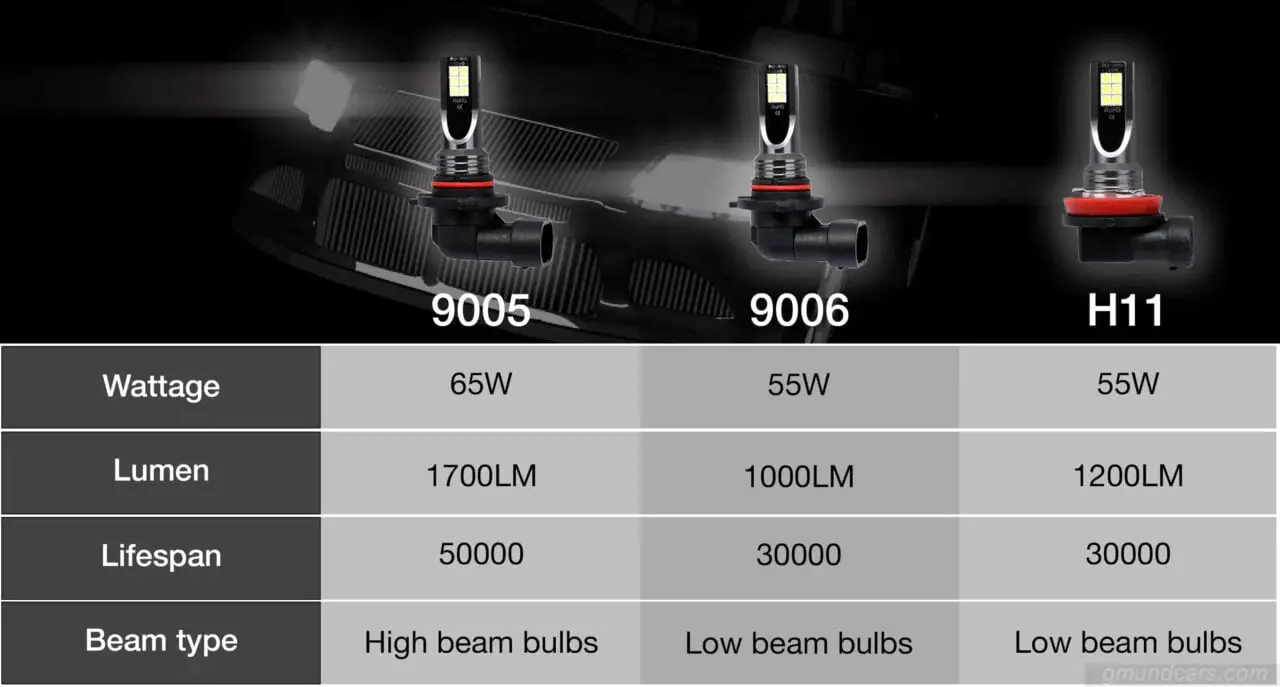 The suitability and efficiency of a headlight bulb are steeped in its abilities. Hence, a direct comparison of the abilities of these three bulbs is inevitable. Now, let's get down to the brass tacks.
Wattage
I couldn't help but notice that the functionality varies a great deal. 9006 is a single filament low beam bulb with a power output of 55W. 9005, on the other hand, is a high beam bulb with an energy consumption of 65W. H11 has a nominal filament and rating of 55W power output.
Lumen
Speaking of functionality, 9005 undoubtedly tops its brightness game. Lumen is the judge of brightness, and 9005 certainly has it in abundance. It's topping this list with 1700 lumens output; trailing behind is the H11 bulb with 1200 lumens. And finally, 9006 emits the lowest light output at 1000 lumens.
Lifespan
The durability of 9006 and H11 are right on par; they both provide a remarkable service life of 30000 hours. However, the king of lifespan – which will stay longest with your car – is 9006. Its 50000-hour life expectancy still beats the other two bulbs' durability.
Beam type
Another important feature that hints at their variations is the beam type. 9006 and H11 are both low beam bulbs. On the other side of the coin, 9005 is a high beam bulb.
You need to consider a bulb's beam before buying one because low beams and high beams each serve diverse purposes. If you need a high beam bulb, 9005 is best suited. For low beam bulbs, 9005, H11, or a modified 9005 are great options.
Read more: Low beam vs. High beam: When should I use them?
Besides features, their interchangeability is another issue that must be crystallized. Let's check out which bulbs can be used interchangeably.
9005 vs. 9006 vs. H11 connector
9005 vs. 9006 connector
Despite having some physical features in common, 9005 and 9006 bulbs receive different connectors. So, you can't use them interchangeably. 
Here's why: A 9005 connector has an extra tab, making it unsuitable for another bulb. 
Well, that's the general rule, but there's always an exception. You can make a 9005 bulb fit a 9006 connector if you retrofit the bulb. Unfortunately, the exception doesn't cover 9006 bulbs. 
9005 vs. H11 connector 
The connectors of these two bulbs are different, as expected. However, you can fix 9005 to H11 connectors, but you can't make an H11 work in a 9005 connector.
I've noticed that a low beam hardly fits into a high beams' connector. It's not a problem, though; you rarely find people trying to fix a low beam bulb in place of a high beam bulb.
9006 vs. H11 connector
I must say I was surprised when I found out just how different these connectors are. Come to think of it…
You'd think that similar beam types would share similar connectors. 
Unfortunately, that's not the case. Their connectors have distinct lock retaining tabs coupled with widely sSpaced terminals. However, you can retrofit a 9006 bulb fit in an H11 socket with a bit modifications as below.
9005 vs. 9006 vs. H11 socket compatibility
9005 vs. 9006 socket compatibility
Can a 9005 bulb fit in a 9006 socket?
YES. With 2- or 3-minute modifications, you can have your 9005 bulbs working perfectly in 9006 sockets. So yes, 9005 bulbs can fit into 9006 sockets. 
The real question is "how"?
The procedure is a no-brainer! With the right tools, you'd be on the path to reconstructing your headlight bulbs–technically. Here are the steps to follow:
Step 1: Get a pair of gloves, a soldering iron, a blade, a knife, or any similar tools. Now, if you put a 9005 and 9006 bulb side by side, you'd notice that the top center notch on the bulbs is a world apart. You'd have to remedy that first. 
Try to chip off the left side of 9005's top-notch carefully. Just half of it is fine; a bench grinder can get this task done. 
Step 2: Look closely at the two bulbs; you'd notice the rubber O-ring around the 9006 bulbs is bigger than the one on the 9005 bulbs. Yes, you'll have to do something about this as well. Remove the O-ring on the 9006 and put it on the 9005 bulbs.
Step 3: Now, here's the slightly tricky part. If you compare the bulb sockets on each bulb, you will notice the 9006 has a single notch while 9005 has two. You'll have to change that. You can use a soldering iron for this part. 
Carefully cut out or melt the two notches on your retrofitted 9005 bulbs. Get the two notches off, and voila! You have your bright customized, low beam bulb.
Can a 9006 bulb fit in a 9005 socket?
Short answer, NO. Because the 9006 has a large base, the bulb can't go into a 9005 socket.
The 9005 sockets can only accommodate a bulb with a smaller base. Hence, if you try fixing a 9006 into a 9005 socket, it won't go all the way in.
9005 vs. H11 socket compatibility
Can a 9005 bulb fit in an H11 socket?
YES. With mild modifications, your 9005 bulbs will fit into an H11 socket.  
The process is just like the 9005 to 9006 conversion process. You only need to chip off the base of your 9006 bulbs slightly and trim the notch on the 9005 bulbs. Finally, you must trim or scrape off the notches within the bulb sockets. See? It's not rocket science. In a couple of minutes, you'll have a retrofitted 9005 bulb fixed into an H11 socket.
Can an H11 bulb fit in a 9005 socket?
As expected, NO. Because of the different connector pins and the large H11 base, it's impossible to get the H11 bulbs into 9005 sockets. It's simply like trying to stick your legs into a pair of shoes that's two sizes below your shoe size. Well, good luck with that.
9006 vs. H11 socket compatibility
Can a 9006 bulb fit in an H11 socket?
YES. Making a 9006 bulb a bang-on fit for your H11 socket might need some minor modifications. You'd need to retrofit it to make it perfect for the socket. 
All you need to do is trim the rim on your 9006 bulbs to match the H11 bulb. You may find it easier to get all your trimmings done when you remove the gasket on the 9006 bulbs. 
After trimming the rim, slightly nip one of the pins on the 9006 bulbs. Just shorten it a little bit. With that done, the remodeled bulb is ready to roll.
Can an H11 bulb fit in a 9006 socket?
NO. H11 bulb can't possibly fit into a 9006 socket. Not even a slight modification can remedy this. The bulb's base hampers its ability to go all the way in. Besides this, the lock pins and size of the H11 bulb are largely disproportional to 9006's socket space.
Now, you have known that 9005, 9006, and H11 can be interchangeable or decided which type of bulb will suit you. But what is the best bulb of each type you should go for?
Your car deserves the best headlight. Therefore, I have carefully picked out the top Halogen and LED bulbs for 9005, 9006, and H11 bulbs. So, be my guest.
Best Halogen 9005/9006/H11 headlight bulbs
| | SYLVANIA 9005 | SYLVANIA 9006 | SYLVANIA H11 |
| --- | --- | --- | --- |
| Customer rating | | | |
| Wattage | 65W | 55W | 55W |
| Voltage | 12V | 12V | 12V |
| Lumen | 1700LM | 1000LM | 1345LM |
| Lifespan | 200 hours | 200 hours | 230 hours |
| Beam type | High beam | Low beam | Low beam |
| Timmy's score | 9.5 | 8.5 | 9 |
| | | | |
SYLVANIA 9005 – Best budget
SYLVANIA 9005
This Halogen 9005 bulb delivers considerably bright lighting, and it is quite reliable. For Halogen bulbs, it is one of the best you can get out there at an affordable price.
Pros
Focused and improved visibility
Straightforward installation process
Impressive satisfaction guarantee period
Comes on immediately you turn it on
Sylvania 9005 Xtravision are high beam bulbs with 1700 lumens. Thanks to the high lumens, you have access to high beams with stellar visibility. Also, the impressive 65 watts of power output support these high lumens.
Furthermore, the bulbs are made with solid proprietary filaments and materials for enhanced efficiency. They are also backed with a full 12-month satisfaction guarantee.
However, the durability is rated at 200 hours, which is quite impressive for a Halogen bulb. The downside of these bulbs is that they quickly get hot after a few miles of your driving. So, I would say the life of these bulbs will be shorter than rated.
SYLVANIA 9006 – Also great
SYLVANIA 9006
This 9006 bulb is more effective than conventional OE bulbs. However, they are not far-reaching. If you want a low-beam bulb for passenger cars, this delivers quality lighting.
Pros
Brighter than most halogen light
Easy replacement
Fairly durable
Comes on immediately you turn it on
Cons
Slightly pricey compared with other halogen lights
Not far-reaching
These low beam bulbs offer more downroad visibility, which shines your road brightly, especially at night. Being low beam doesn't limit their ability to illuminate your path thanks to 1000 lumens.
Also, the energy consumptions are 55 watts coupled with 12 volts and p22d bases. The installation process involves a plug-and-play system that is straightforward and hassle-free.
These bulbs are estimated to last 200 hours. So, if you want to install low beam bulbs, you can be rest-assured and go for this product.
SYLVANIA H11 – Best brightness
SYLVANIA H11
There's no question about these H11 bulbs' efficiency. Also, durability is an affordable luxury from these Halogen bulbs. However, if you want low beam bulbs with farther lighting, I wouldn't recommend these for you.
Pros
Minimal energy consumption
Robust filament and compact design
Long life expantancy
Quite affordable
Comes on immediately you turn it on
Sylvania H11 bulbs apply a patented upgraded technology. This cutting-edge technology known as cobalt blue nan-coating helps create impressively white and bright lighting despite being low beam bulbs. Nonetheless, I would admit that these bulbs don't shine as farther as you expect.
Surprisingly, they emit 1345 lumens of light with energy consumption of 55 watts and 12 volts. This record trumps most halogens bulbs on the market.
You can be impressed with the bulbs' longevity – 230 hours. It lasts longer than the other two halogen bulbs in this review line. One thing you should remember is that you have to put on your gloves when installing these bulb. Otherwise, you can reduce them with your bare hands.
Best LED 9005/9006/H11 headlight bulbs
| | Marsauto 9005 | Marsauto 9006 | Beamtech H11 |
| --- | --- | --- | --- |
| Customer rating | | | |
| Wattage | 40W | 40W | 50W |
| Voltage | 12V | 12V | 12V |
| Lumen | 8000LM | 8000LM | 8000LM |
| Color temperature | 6000K | 6000K | 6500K |
| Lifespan | 30000 hours | 30000 hours | 30000 hours |
| Beam type | High beam | Low beam | Low beam |
| Timmy's score | 9.5 | 9 | 9.3 |
| | | | |
Marsauto 9005 – My choice
Marsauto 9005
You will be satisfied with the quality and lifespan of this 9005 LED headlight bulb. Well-built for any weather condition, it is rugged and durable.
Pros
Effective heat dissipation process
Withstand dire weather conditions
Durable
Brighter and better than most LED lights
Marsauto 9005 LED bulbs have a service life of 30000 hours, 8000 lumens, and 6000K xenon color temperature. These features are responsible for the wide-angle and far-reaching bright light they emit.
Besides the impressive lighting, these high beam bulbs also have an effective heat dissipation process. This is driven by the aluminum heat sink material and the inbuilt fans, which help dissipate heat optimally.
Also, these bulbs have a robust design which contributes to the performance positively. Asides from being compact, their designs also include inbuilt drivers' ballast.
The design also provides dust and waterproof features for enhanced durability, even in terrible weather conditions. Despite these pros, there's a big "BUT'." Now, you may encounter flickering bulb issues if the bulbs aren't compatible with your car.
Marsauto 9006 – Best bang for the buck
Marsauto 9006
With these 9006 LED bulbs, you can kiss dull lighting with a goodbye. Let's treat yourself to these luminous bulbs without bothering other fellow drivers. Ignoring the uneven brightness, these low beam bulbs can be a good pick for you.
Pros
Don't dazzle oncoming drivers despite the intensity
Easy to install
High light intensity with minimal heat
Long lifespan
With Marsauto 9006 LED low beam bulbs, you can have intense lighting thanks to their 8000 lumens without blinding oncoming drivers. Since they are LED bulbs, they have a whooping 3030 CSP chips coupled with a no-brainer plug-and-play installation process.
Yet, these bulbs consume as low as 40 watts of power and deliver up to 30000 hours of service. This durability gives enough certainty that you wouldn't need to change your bulbs for years.
All these aren't complemented with a substandard design. The bulbs feature two fans and an efficient design that aids heat dissipation in the best way possible. Nonetheless, the problem is, these bulbs have uneven brightness and I don't feel quite satisfied with this drawback.
Beamtech H11 – Best outlook
Beamtech H11
Despite the complications attached to these bulbs, they offer quality illumination. Unfortunately, the complicated design limits their suitability a great deal.
Pros
Focused beam patterns for improved visibility
A fanless design that prevents fan noises
Highly rated performance
Aesthetic design
Cons
Difficult installation process
Despite being low beam bulbs, they are engineered to provide high light output at 4000 lumens per bulb. Their performance level outruns stock bulbs easily.
The beam patterns shine from a concentrated strip and emit focused light. Who doesn't love defined and properly directed headlight bulbs?
These bulbs' lifespan is also up to 30000 hours; we probably have the low heat consumption to thank for that.
Quite frankly, the fanless design makes them best suited for drivers who hate the squeaky noise fans make. However, this also makes the bulbs get hotter easily. I am a big fan of "beauty, so these bulbs have unique designs which aid aesthetics. But, these same aesthetically pleasing bulbs hardly fit into most cars.
Final words
Not all headlights provide sufficient lighting for your road trips. However, the best 9005, 9006, and H11 bulbs offer adequate lightning, provided you get a suitable one for your headlight housing.
Your choice of headlight bulb is hinged on the purpose you'd want it to serve. If you need high beam bulbs, 9005 bulbs will tend to your needs. For a low beam bulb with bright light output, the best bulb to purchase is 9006.
Interestingly, H11 can also work perfectly as a low beam after a mild modification. Well, with our all-inclusive bulb, changing your headlight will be as seamless as possible.
Read more: 5000K Vs. 6000K Vs. 8000K: Which bulb suits you best?