(Last Updated On: February 25, 2023)
Are you trying to figure out which Halogen, HID or LED best suits your projector headlight?
Look no further. I've compiled a detailed list of the best bulbs for projector housing. You can be sure that this article will bring you a step closer to hooking your car up with the most suited headlight bulbs.
What's more? You'll find out:
Detailed comparison of the three
All-inclusive review of bulb types
Halogen vs. HID vs. LED: which bulb best fits your projector headlight?
There're three main types of headlight bulbs – Halogen, HID and LED. The Halogen headlight was one of the first types of headlight bulbs. Subsequently, headlight technology evolved to usher in the emergence of HID and LED. I have also written one detailed article on three types of bulbs, you can read it here.
Each evolving headlight has distinctive features which exceed its predecessors'. Let's get familiar with each headlight type.
The comparison chart below shows the unique features of each bulb type.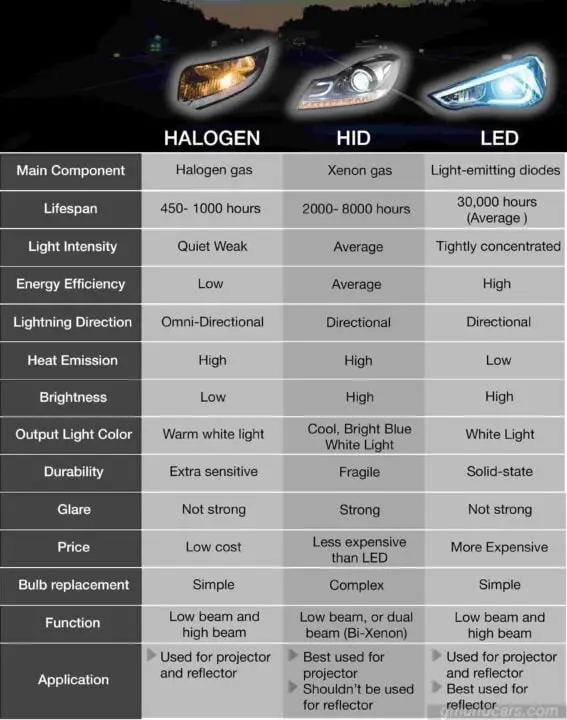 As you can see from the table, projector headlights can be applied with Halogen, LED, and HID bulbs. And if you want the best application, it is recommended that you should use HID bulbs for this type of headlight housing. It will allow your headlight to shine as brightly as possible. This article will give you the three best types of HID bulbs. Besides, I also equip you with Halogen and LED bulbs in case you prefer those for your projector headlights.
Best HID bulbs for projector headlights
| | DMEX D2S | Torchbeam D1S | Marsauto D3S |
| --- | --- | --- | --- |
| Customer Rating | | | |
| Wattage | 35 Watts | 35 Watts | 35 Watts |
| Voltage | 85V | 12V | 45V |
| Lumen (per bulb) | 3800LM | 3200LM | 3200LM |
| Color Temperature | 6000K Cold White | 6000K Diamond White | 6000K Diamond White |
| Lifespan | 3000 hours | 3000 hours | 3000 hours |
| Beam type | High beam, low beam | High beam, low beam | High beam, low beam |
| Timmy's score | 9.5 | 9.0 | 8.5 |
| | | | |
DMEX D2S – Best brightness
DMEX D2S
If you want to drive with high brightness, this is definitely your choice. With 3800 lumens, the brightness display won't make you disappointed and light your way as bright as possible.
Pros
Brighter than other bulbs
2 years warranty
Made with quality materials
Easy installation
Cons
Probable Flickering issues
Lower temperature color than advertised
Owing to the bulbs' 3800 lumens, DMEX D2S bulbs shine more brightly than other HID headlights. They make it 350% brighter than a Halogen lamp. Besides the distinct luminance, they have far-reaching radiation of about 50m.
With their low power consumption, DMEX D2S is still a leading product in the HID world. You don't have to bother about the quality of these bulbs. However, you wouldn't expect the color temperature to be 6000K. The actual color I get only looks like 4300K. That's why you will see the light as "yellow-white" instead of being white only. Nevertheless, the installation is simple. Therefore, if the bulbs suit your car headlight, the installation is like a walk in the park.
On the downside, they sometimes cause flickering issues or go off for a while. You can't predict when they'd come on again. This issue poses slight danger – especially if they are off when you're driving. Yet, you should rest assured because the manufacturer offers a 24-month warranty. So, if you have any problems, return them and get other bulbs.
Verdict: Imagine driving down the road at night with far-reaching white headlights. It's like a dream coming true for most drivers – DMES D2S offers this. If you ignore some drawbacks mentioned-above and have a tight budget, this product is for you.
Torchbeam D1S – Best bang for the buck
Torchbeam D1S
If you like brightness and long lifespan, this is a good choice. However, the light can be a bit "blue", not so white. If it isn't a problem, consider buying Torchbeam D1S.
Pros
Projects brightly
Easy installation
Efficient warranty service
Affordable
Cons
A bit blue light
Very delicate
Torchbeam D1S is one of the best HID bulbs out there. Despite the low 35 watts, their high output isn't affected. With 6000K white color temperature, only a few HID bulbs can beat Torchbeam's brightness. However, even though I like the brightness of these bulbs, they are a bit "blue" for my preference. But I think this is up to each person's opinion.
The 3000 hours service life aids long-lasting illumination, which helps during extended night trips.
Torchbeam D1S's installation can't be easier thanks to its plug-and-play features. You don't need any extra tools except gloves. If you install the bulbs and touch their tubes with your bare hands, the lifespan and brightness will be affected. So, keep in mind to wear gloves!
Unfortunately, due to conversion issues, you may occasionally experience extreme dimness while driving. However, it's not really a big deal. After a short period of driving time, it will disappear and give back the brightness to your car.
Verdict: The projector headlights of your car will definitely fall in love with these HID bulbs for their reliability. They last for a long time and supply the brightness to light up your dark paths at night.
Marsauto D3S – Best design
Marsauto D3S
Regarding the bulbs' aesthetics, these bulbs will be the most "beautiful"ones. They are also bright and long-lasting. Because of their design, they are more expensive than other types of HID. However, if you are willing to spend money buying bulbs with a nice appearance, go with these bulbs.
Pros
Attractive and eye-catching
Emit bright light
Require low energy consumption
Hassle-free installation
Cons
A little more yellowish
Illuminate only a short distance
Like Torchbeam's bulbs, Marsauto D3S features 35 watts, 6000k colour temperature, and a 3000 hours lifespan. Although they seem low compared to the LED bulbs, their lifespan beats most HIDs on the market.
The bulbs ease every stress that comes with driving in the dark. The flickering bulbs are a common conversion problem with some HID bulbs, but these ones are an exception. Plus, you don't have to worry about dark areas well. Unfortunately, you may have to concern about the brightness of the bulbs. If you want this bulb is white bright, maybe it will not meet your expectation. They're a little more yellowish than 6000K colour temperature bulbs should be.
Installation is relatively easy. But again, you need to install the bulbs with gloves. HIDs generally require extra care; you don't want the oil on your hands to cause damage before you even get a chance to use the bulbs. The package of these products includes a pair of gloves. So convenient, right?
Although they are compatible with a wide variety of cars, they don't work perfectly with some vehicles. It's important to check compatibility before buying them. The price of these bulbs is higher than the other two. But if you are a big fan of aesthetics, these are for you.
Verdict: Do you need efficacy and affordability packed in one product? Masato D3S matches this description. However, these headlight bulbs only illuminate a short distance. Aside from this mild flaw, they are very reliable, and you will be satisfied with their aesthetics.
Best LED bulbs for projector headlights
| | Fahren H11/H9/H8 | SEALIGHT H11 | BEAMTECH H11 |
| --- | --- | --- | --- |
| Customer Rating | | | |
| Wattage | 60 watts | 50 watts | 50 watts |
| Voltage | 12V | 12V | 32V |
| Lumen (per bulb) | 5,000LM | 10,000LM | 6,000LM |
| Color temperature | 6500K cool white | 6500K bright white  | 6500K xenon white |
| Lifespan | 50,000 Hours | 50,000 hours | 30,000 hours |
| Cooling Fan | ✔ | ✔ | ✘ |
| Beam type | Low beam | Low beam | Low beam |
| Timmy's score | 9.6 | 9.8 | 9.0 |
| | | | |
Fahren H11/H9/H8 – Best life expectancy
Fahren H11/H9/H8
You will be amazed by the lumens of this product. 10,000 lumens make Fahren H11/H9/H8 bulbs become the most bright ones. Besides, the long lifespan is another feature you will fall in love with. Driving with bright light without worrying about replacing the bulbs, how great it is!
Pros
Easy to install
Super-focused beam to enhance efficiency
Impressive lifespan
No delay when you turn it on
Silent cooling fan
Cons
Sometimes experience flickering issues
It doesn't come as a surprise that the Fahren H11/H9/H8 bulbs are about 300% brighter than conventional Halogen bulbs, thanks to their 60 watts and 10,000 lumens per pair.
The plug-and-play installation makes this process effortless. You'd have no problem fixing them into the headlight housings and sockets. One of the most appealing features is the 50,000 hours lifespan and the highly luminous super-focused beam.
These bulbs are characterized by an aluminium aviation body and a peculiar hollow heat sink aesthetic. With a 1,2000 RPM cooling fan, overheating is barely a concern, and durability is assured.
Although Fahren bulbs have the CAN bus decoder ready for most cars, installing Fahren bulbs on some recent car models requires additional CAN bus decoders. Furthermore, few modern cars like dodge, jeeps, and Volvo often require decoders/ballast for installation.
Verdict: Fahren H11/H9/H8 will make your late-night drives hassle-free and as bright as possible. However, to avoid compatibility issues, it's advisable to confirm the bulbs that suit your car perfectly. If your budget isn't tight, they are definitely a great choice.
Read more: Best Fahren LED headlights review
SEALIGHT H11 – Best for low beams
SEALIGHT H11
Easy to stall and perfect for low beams, yes, I am talking about this product. While these bulbs will be so bright with 20,000 lumens per set, you can trust their durability.
Pros
Good customer service
Compact and seamless installation
Very bright
Long lifespan
Focused light output
Requires less amperage than halogen bulbs
Cons
Doesn't suit cars with high beams
Let's rest assured that there'd be no dark path with SEALIGHT H11 bulbs. Besides boosting your confidence while driving at night, these bulbs have remarkable features.
Thanks to the plug-and-play feature, you won't have to spend too much time on installation. What's more? They are 1.5x brighter than Halogen lamps with sharp white colour, which is far-reaching. The SEALIGHT H11 bulbs are famous for their durability, with up to 50,000 hours. You won't be bothered about driving for long; these bulbs got you.
With 20,000 lumens per pair, you will find them as bright as expected. But with an advanced heat sink design, the output is at its peak. Also, these bulbs are mainly perfect for low beams. If you are searching for bulbs suitable for high beams, Sealight isn't right for you.
Verdict: SEALIGHT H11 LED headlights are characterized by focused headlight beams. We both know all motorists love focused beams. Considering the beams and their brightness, these headlights scream efficacy. If all these features suit your needs, don't hesitate to buy this.
BEAMTECH H11 – Best budget
BEAMTECH H11
This product won't last as long as the other two types of LED bulbs above. However, the beam patterns will make you happy about this product. These bulbs will light your ways brightly.
Pros
Even light output
Affordable
Comes on immediately you turn it on
Simple installation
Keep your path road lit with BEAMTECH H11 LED bulbs. They effectively illuminate your path with 12,000 lumens per pair. This high lumen is primarily responsible for the shortened lifespan.
The 6,500K color temperature enhances its efficacy in the best way possible. Regardless of the no fan design, the heat dissipation process is as efficient as expected.
Speaking of beam patterns, BEAMTECH H11 got the game on. It emits a perfect beam pattern that ensures your path is well lit. But actually. the lifespan is not 30,000 hours. It is a bit shorter than that. Not much excitable, right?
However, to purchase BEAMTECH H11 bulbs, you wouldn't have to part with a lot of money. Considering the quality you'd be getting in exchange – they're pretty cheap.
Verdict: If you are keen on durability, you might want to go for any other bulb. However, BEAMTECH H11 delivers quality illumination, and it makes sure your driving easier. Despite the brightness, it doesn't affect oncoming traffic. So, if the lifespan doesn't bother you, it's a great bulb.
Best Halogen bulbs for projector headlights
| | SYLVANIA 9005XV.BP2 | SYLVANIA H7XV.BP2 | SYLVANIA H11XV.BP2 |
| --- | --- | --- | --- |
| Customer Rating | | | |
| Wattage | 65 watts | 55 watts | 55 watts |
| Voltage | 12V | 12V | 12V |
| Lumen (per bulb) | 1700LM | 1571LM | 1345LM |
| Color temperature | 4100K | 3200K | 3200K |
| Lifespan | 200 hours | 150 hours | 125 hours |
| Beam type | High beam | Low beam | Low beam |
| Timmy's score | 9.0 | 8.5 | 8.0 |
| | | | |
SYLVANIA 9005XV.BP2 – Best for high beams
SYLVANIA 9005XV.BP2
Don't worry about the short lifespan of halogen bulbs anymore because these ones will last longer than others. Besides, for halogen bulbs, 1700 lumens are really impressive. You will enjoy the brightness wherever you go.
Pros
Deliver high visibility
Affordable
Comes on immediately you turn it on
Proprietary filament design
Halogen bulbs are going out of fashion, but few still maintain relevance till today. Besides being manufactured by an OEM (original equipment manufacturer), Sylvania 9005 bulbs have some features that have helped sustain their relevancy till now.
So, if you want Halogen bulbs that suit your projector headlight, these won't disappoint you. Sylvania 9005 bulbs boast a proprietary filament structure that heightens their performance and durability.
Furthermore, with 65 watts, the beam is bright enough to ensure safety without blinding oncoming drivers. This is perfectly suited for a high beam wiring harness, and of course- it's entirely unsuitable for low beams. If you are in search of low beam lights, this isn't a good choice.
Besides, with an estimated lifespan of 200 hours, I'd say the durability is fair for a Halogen bulb. Moreover, this Halogen bulb emits 1700 lumens and keeps a poorly lit road decently lit. So, if you want to use Halogen bulbs instead of HID or LED, choose this product.
Verdict: Despite the downsides, these headlight bulbs get the job done. They deliver considerably bright lightning, and they are quite reliable. For Halogen bulbs, they are one of the best you can get out there at an affordable price.
SYLVANIA H7XV.BP2 – Runner-up
SYLVANIA H7XV.BP2
If you are looking to buy halogen bulbs with low price, these could be your choice. But the affordability is at the expense of its longevity. These bulb won't last long, just within 150 hours.
Pros
Emit bright light
Seamless conversion, even for DIYers
Improved performance
Cons
Both bulbs burn out at once
Not durable
And here's yet another Sylvania product. Some bulbs are engineered to provide optimum performance – Sylvania H7XV.BP2 is one of such bulbs. The 1517 lumens are bright enough to offer safety while you are driving in the dark. However, if your car operates a daylight saving, this bulb isn't for you.
Please note that the installation difficulty is dependent on the vehicle model. Most German cars are challenging to work with – even when it comes to fixing headlights. Some car models are peculiar, so they require extra effort.
However, if you have a tight budget to work with, these bulbs could be your choice. But the affordability is at the expense of its longevity. I mean 150 hours life span. It's clearly not designed for long usage.
While the longevity is unbelievably low, the brightness evens this downside. And just like the Sylvania H11 headlight, it uses 55 watts and 12 volts.
Verdict: This product has its downsides, but it's budget-friendly and provides sufficient lighting. Need a bright Halogen bulb with easy installation? SYLVANIA H7XV.BP2 XtraVision will give you that.
SYLVANIA H11XV.BP2 – Also great
SYLVANIA H11XV.BP2
This product does last long as you expected. However, if you are considering buying bulbs with low beams, these bulbs can be a good choice for you with their brightness compared to many other halogen bulbs.
Pros
Clearer and more far-reaching light
Fairly luminous
More intense than other halogen bulbs
Easy installation
Cons
Doesn't fit into most vehicle's housing
Sylvania H11 has a robust filament design. At 1345 lumens, the brightness enhances visibility. However, compared to the two types of bulbs above, the lumens are lower.
The great thing about these bulbs is that the beams also high downroad visibility without any glare. You won't be worried about bothering other drivers on the road.
You can find that fixing the bulb on the driver's side requires little or no effort, but the passenger's side might be slightly challenging. Moreover, Sylvania H11 bulbs only last for 125 hours before it stops working. This doesn't last long, right?
Verdict: The bulb is like stock bulbs, but it's more affordable. With just a few bucks, you can own this Sylvania H11. It is bright and great for low beams. However, your priority is about a long lifespan, then you should find another product.
Final thoughts
Let's cut to the chase. You need the best headlight for your safety. With this all-inclusive review, you have certainly decided on which of these bulbs suits your needs. If you haven't, I will help to narrow your selection again:
For LED Headlights, Fahren H11/H9/H8 is my top pick. I hear you ask why? Well, they are not just bright, they are also suitable for a wide range of cars.
As expected, DMEX D2S HID bulbs wear the crown as the best HID bulbs. This is owing to their affordability and crystal-like lightning.
Finally, the best Halogen bulb on this list is the SYLVANIA 9005XV.BP2 XtraVision Halogen bulbs. Why? These Halogen bulbs radiate farther and are fairly bright compared to other Halogen bulbs.
Remember, your safety is important! Let's choose the best and suitable ones to light your ways safely.
Read more: 5000K Vs. 6000K Vs. 8000K: Which bulb suits you best?