(Last Updated On: February 25, 2023)
A car or truck without a subwoofer is like a classic rock band without a bass guitar. The sound will not be fuller, and the primal energy would be zero.
However, if you own a slim and small car or truck and struggle to find the best subwoofers, fret not!
This article will help you make your choice easier with:
Benefits and drawbacks of shallow mount subwoofer
Detailed buying guide
Top 5 products review
Best Shallow Mount Subwoofers
Rockville RWS12CA – Timmy's top pick
Rockville RWS12CA
For small and slim car owners looking for heart-thumping, Rockville RWS12CA is thunderous 12" subs with built-in amps. I'm a stickler for details, and thus nothing competes with Rockville RWS12CA in terms of style and design.
Pros
Great bass and incredible sound quality
Remote bass knob for adjusting the sound and bass
Powerful mid and high – frequencies
Slim; leaves enough room for cargo
Cons
Built-in amp metal heats up while playing and go into protection mode
Trust me when I say this: Rockville RWS12CA provides head-rattling, blurred vision BASS without pounding your wallet. The Rockville subwoofers are clearly the best ones I've ever owned for my crew cab, which come with a built-in monoblock amplifier for heart-thumping bass performance.
The RWS12CA measures about 24" in length and 15″ in height. It handles around 300 watts (RMS) and 1,200 watts (peak). So, you can imagine the powerful and thunderous bass RWS12CA delivers. I really like the fact that the enclosures of RWS12CA are slim-profile and effortlessly fit into car trunks or rear hauling SUV space, still leaving ample space behind.
Sometimes it can be a nuisance to install the wiring kit single-handedly. So, if you have sub-wiring in place, it should take you minutes to install the system. I suggest that you should use the RCA rather than the high input while wiring up. One minus point of this Rockville is the amplifier. It easily heats up when the volume is turned up. However, don't worry too much about the blow-up because this built-in amp is designed with a heat-resistant fuse holder, which will help the amp go into protection mode.
Rockville RWS12CA
Power rating
Peak: 1200W
RMS: 300W
Sensitivity
96dB
Impedance
4Ω
Frequency response
38Hz - 500Hz
Woofer surround
Rubber
Enclosure
✓
Verdict
Though this subwoofer is the most expensive among the 5 products, with all the above outstanding features it offers, RWS12CA is worth every penny. I'm not going back to any other sub for my vehicle after I've tried RWS12CA. For small and slim car owners looking for heart-thumping, Rockville RWS12CA is a thunderous 12" sub with built-in amps. RWS12CA will be your jam without breaking the bank.
Check Price at Amazon
---
Rockville RW10CA – Best 10-inch dual voice coil subwoofer
Rockville RW10CA
If you are fond of loud bass, take Rockville RW10CA. This subwoofer will blow your worry about installation away with its built-in amp.
Pros
A subsonic filter to filter out low frequencies
Multiple sound control functions
Easy installation
Features cast aluminum that doesn't heat up
Cons
Overheats during hot seasons
Speaker pops when turning on/off
Let's be honest, before buying RW10CA, I contemplated. And you would too.
Because which 10" car subwoofer crams into such a tiny box? Yes, Rockville RW10CA fits a 2.7" long tiny box, making it easy to fit under your car seats. The convenience of Rockville RW10CA is paramount with its built-in amp for easy installation and clean wiring.
It features 200 watts RMS and 800 watts peak. And it's ironic how the slimmest system pushes that amount of power without compromising the audio quality and clarity. Rockville RW10CA also features automatic smart turn-on/off capabilities when sound signals are present and vice versa.
Safe to say, Rockville is making waves in the car audio hall of fame. However, sometimes the sound gets muddy and flat, maybe because it doesn't support a large enclosure, unlike other subwoofers.
Nevertheless, in such a bargain, I would definitely not hesitate to try my luck again.
Rockville RW10CA
Power rating
Peak: 800W
RMS: 200W
Sensitivity
90dB
Impedance
2Ω
Frequency response
20Hz - 150Hz
Woofer surround
--
Enclosure
✓
Verdict
Whether you own a small car but fancy loud bass that will shake your windows, I'd highly recommend Rockville RW10CA. Also, it's the best low-profile subwoofer on my list that can easily fit under smaller car seats.
Check Price at Amazon
---
Rockford Fosgate R2S-1X12 – Best for trucks
Rockford Fosgate R2S-1X12
Are you finding the best sub for your single cab truck? If yes, R2S-1X12 will complete your vehicle audio system thanks to its slim design and clean bass sound.
Pros
Sleek and stylish
Slim, space-saving, and balanced enclosure
Easy installation
Best for the truck
Cons
Doesn't last long on high volumes
Needs more power than a ported enclosure
I've used Rockford R2S-1X12 on my single cab '86 K10, and I couldn't be any happier. For this price, R2S-1X12 is a great subwoofer with a slim, space-saving enclosure.
What's more? It offers clean, tight bass and complements all genres of music. I'm a music fanatic and occasionally switch between rap, R&B, and Pop, so R2S-1X12 does the job well. I want to mention that I paired Rockford R2S-1X12 with Rockford Fosgate R500-1 amp. And the results were breathtaking. Thus, if you enjoy loud music, I'd recommend pairing the R2S-1X12 with the Fosgate R500-1 amp for great results.
I wouldn't recommend the R2S-1X12 system if you're looking for a lifetime investment. That's because it doesn't last long with high volume and might end blowing up.
Rockford Fosgate R2S-1X12
Power rating
Peak: 500W
RMS: 250W
Sensitivity
85dB
Impedance
2Ω
Frequency response
43Hz - 250Hz
Woofer surround
Poly-foam
Enclosure
✓
Verdict
For this price and value, I believe R2S-1X12 R2 is a steal!. However, the performance could be much better and louder as compared to its competitors. In essence, if you want bass and have a tight budget for your cab truck, R2S-1X12 R2 would do just fine.
Check Price at Amazon
---
Rockford Fosgate R2 – Best budget
Rockford Fosgate R2
If affordability is your priority, Rockford Fosgate R2 will be your best bet. Despite the price, the performance of the Rockford Fosgate R2 is exemplary for a 10" subwoofer.
Pros
Remains cool after hours of use
Clean, crisp, and clear bass
Insanely compact that fits most of the small-extra-small cars
Value for money
Cons
Distorted bass on high volumes
A subwoofer that easily installs in car door panels is Rockford Fosgate R2. Yet still delivers satisfying bass. I'm pretty much impressed with Rockford R2's mounting depth (3.4") combined with the exceptional sound performance.
Also, I can vouch for the durability of the Rockford Fosgate R2 as it features a mica injected polypropylene cone. It's a strong cone that can retain its shape even during long playing sessions.
Moreover, the flexibility in the installation of Fosgate R2 is incredible. You can wire the subwoofer for 1- or 4- ohm impedance.
The best part about Rockford Fosgate R2 is it works the best in both ported or sealed enclosures. Eventually, it gives you much leverage to control or experiment with the bass. Yet, I'd still recommend using a sealed enclosure for exceptional results.
On the condition that your car audio system heats up a lot, you are going to love Rockford Fosgate R2. That's because it features stamp-cast baskets with spider venting to reduce the chances of subwoofer blow-up.
Rockford Fosgate R2
Power rating
Peak: 400W
RMS: 200W
Sensitivity
84dB
Impedance
2Ω
Frequency response
--
Woofer surround
Rubber
Enclosure
✗
Verdict
Rockford Fosgate R2 is the most affordable subwoofer for small, slim cars on my list. If you're looking for high-quality subwoofers at an affordable price, you should definitely try Rockford Fosgate R2. Despite the price, the performance of the Rockford Fosgate R2 is exemplary for a 10" subwoofer.
Check Price at Amazon
---
Rockville SS8P – Best under-seat subwoofer
Rockville SS8P
Rockville SS8P is the top pick for the under-seat subwoofer. What are you looking for? This is the best sub coming in small packages.
Pros
High input impedance
Features smart turn-on for overload protection
Multiple control options
Features cast aluminum that doesn't heat up
Cons
Bass distortion on high volume adjustments
I tried Rockville SS8P when I struggled to find a sub that strikes a balance between value and functionality. And, I was not at all disappointed!
Firstly, I was surprised by the 400 watts peak power and 100 watts RMS that provide outstanding controls to my liking. Moreover, the thickness of Rockville SS8P is only 2.8" that fits under your seats or in the trunk easily. The wiring is clean and simple, i.e., inputs and outputs on one side. Also, installation takes no more than a few minutes due to its built-in amplifier.
One thing that I despise while listening to music is the noise. Fortunately, Rockville SS8P features a subsonic filter that sifts through the low frequencies. Also, it produces crisp audio with slapping bass that adds to your travel adventures.
The size of Rockville SSP8 might trigger you but believe me, and the best sound systems come in small packages. Therefore, if you're worried about the size of the Rockville SSP8 subwoofer, fret not.
Rockville SS8P
Power rating
Peak: 400W
RMS: 100W
Sensitivity
90dB
Impedance
2Ω
Frequency response
20Hz - 150Hz
Woofer surround
Rubber
Enclosure
✓
Verdict
The Rockville SS8P is an excellent investment for anyone looking for 8" subwoofers to fit in small and tight spaces. Moreover, the SS8P stands out from its competitors for the value and functionality it provides.
Check Price at Amazon
Why should I choose a shallow mount subwoofer?
One question that I often get is why we should buy a shallow mount subwoofer instead of a regular sub. The answer is simple. Shallow mount subwoofers feature low mounting depth to fit in narrow and tight areas. Hence, if you need laudable bass in your small and slim cars, a shallow mount subwoofer is ideal for you.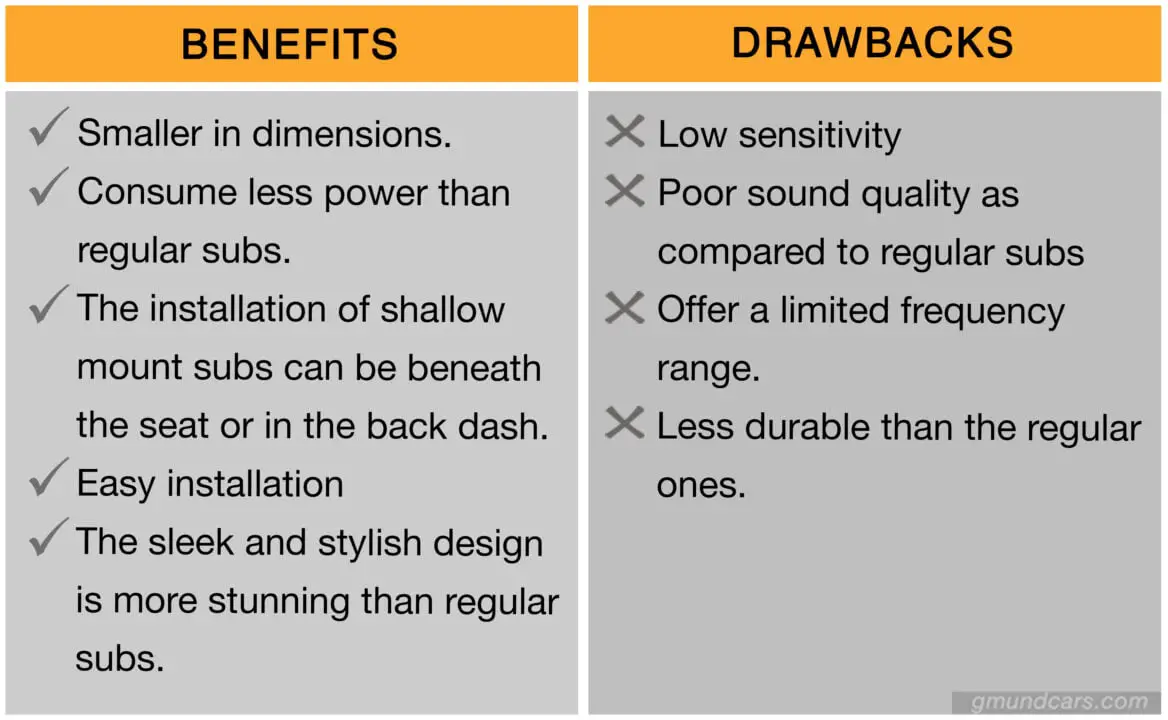 The differences between a shallow mount and a regular subwoofer lie in the design, size, and features. Nevertheless, the key difference is the mounting depth. The shallow mount sub offers low mounting depth to fit in compact areas. In contrast, the mounting depth of the regular sub has no restrictions about space. 
Where can I mount a shallow mount subwoofer?
Many car owners prefer to install shallow mount subwoofers in the trunk or under the seats. Even though recommended, these are not the only spots to install subwoofers. 
Let's take a look at some mounting positions for your shallow subwoofers.
Under the seat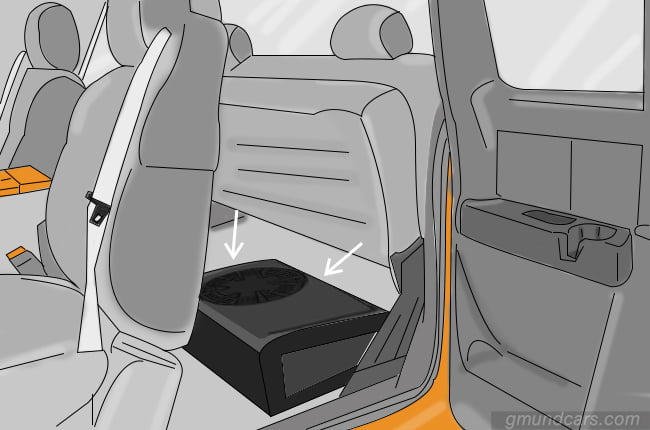 On the condition that you want some extra punch of bass in your car audio without changing a thing, under-rear-seat subs are ideal for you. Most subs produce enough energy to fill up your car interiors with crazy bass when installed under the seats. Rear seats have plenty of room underneath them that can accommodate other audio components as well. But you will have to deal with the vibrations from the seats.
In the trunk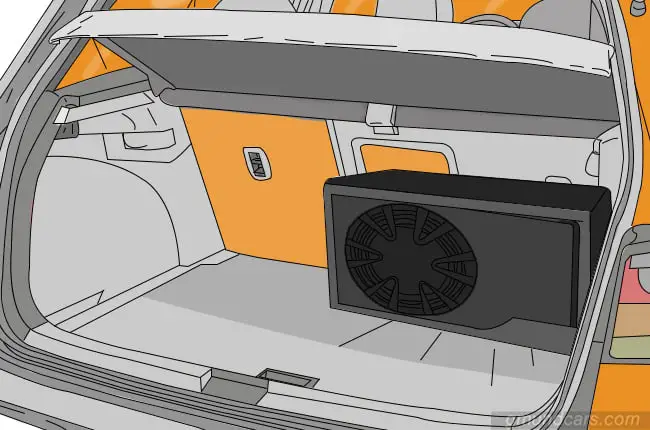 Shallow mount subs generate the loudest sound that can be heard from the outside if placed in the trunk. Moreover, if you have a sub enclosure that's tall and long, you can place it inside the trunk without compromising the sound quality. On the other hand, if you keep stuff in the trunk, your subwoofer sound can be suppressed.
In the rear speaker deck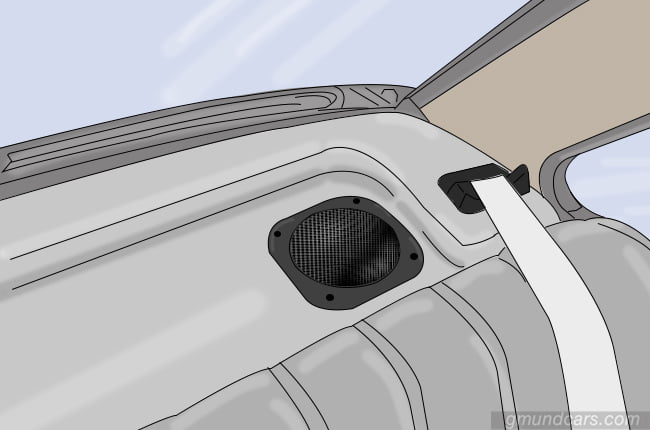 The subs in the rear speaker deck produce a sound that isn't too loud or thunderous. This spot is more preferable by car audio enthusiasts as it produces excellent bass sound inside your car. Also, you can place the amplifier and connect it to the sub. But since this position is designed for small speakers, you will have to choose the suitable subs if you intend to mount them here.
Behind pick-up truck seat
In trucks, the placement of subs is trickier than in cars. So, the ideal position for subwoofers is behind pick-up truck seats. That's because when you place your sub towards the front, your seat will vibrate more. Placing the subs behind pick-up truck seats will bounce off the car. This builds up the frequency and ultimately produces perfect bass sounds.
What should I consider before buying?
Sometimes, the audio quality messes up everything and spoils the drive. That's when you need a high-performance subwoofer badly. If you've finally decided to upgrade your car audio system, pat yourself on the back.
But here are a few things you should take into consideration for purchasing a shallow mount sub for your car.
Size
The sizes of shallow mount subs range from 8" to 15", where each one of them offers distinct features. 
8" subwoofers: The smallest size in subs that is highly responsive. Hence, the 8" sub keeps up with fast playing music. Also, it complements smaller and slimmer cars and produces soft and light bass.
10" subwoofer: It is great for producing enough bass in all music genres. The sensitivity rating, power handling, and enclosure type of the 10" sub have a powerful impact on its performance. Therefore, to get superior performance, position this kind of sub correctly and provide adequate power.
12" subwoofer: This sub works great with different frequencies and handles a mix of music with absolute supremacy. Thus, the 12" sub is the ideal size for auto-audiophiles with a desire for more and better bass production.
15" subwoofer: I would never recommend 15" sub to owners with small, slim cars. That's because it is large in size and fits mostly bigger cars and trucks. Even though it produces the deepest bass, it is less responsive to fast-paced music. So, a 15" subwoofer is a no-no from my side for the small, slim car. 
Power rating
If you want to know how powerful any unit is, focus on its power handling. The peak power and RMS are both important factors to judge the performance. 
The RMS determines the amount of power your sub can take without blowing up. Hence, RMS values should be lower than the peak ratings. Therefore, pay special attention to power rating when purchasing the best suitable subs for your car or truck.
Number of voice coils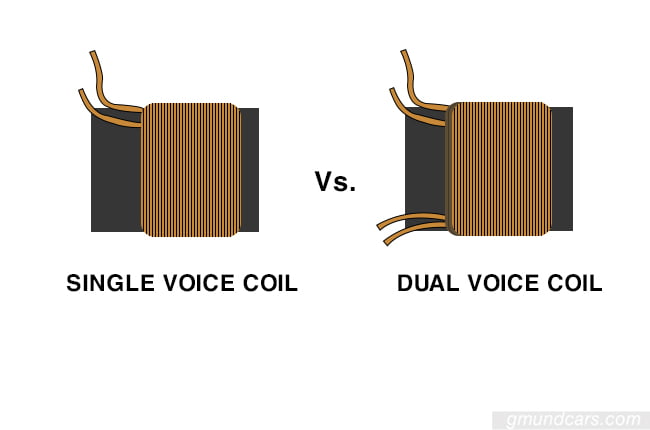 The subwoofers are manufactured using either single (SVC) or dual voice coils (DVC). The single voice coils use one negative and one positive wiring terminals. Besides, it wraps a single piece of copper wire around its former.
While the dual voice coils use two positive and two negative wiring terminals. The DVC can be wired several times to take up more power from the amp. 
Which is better?
They are entirely different options tailored for various cars and subs. Yet, in terms of flexibility, I'd highly recommend the dual voice coil configuration.
Woofer surrounds
Woofer surround is a crucial part of the sub's suspension system, which protects the cone. It is made of various materials. Nonetheless, the most popular and widely-used materials are rubber, foam, and polypropylene.
Rubber: The rubber material is the best for woofer surrounds because it blocks resonant oscillations, which leads to the production of high-quality bass and sound. Nevertheless, rubber surrounds are not ever-lasting and may become stiff at higher frequencies and dampen cone resonances.
Foam: These materials are inexpensive as compared to rubber ones. They last for about 8 to 16 years and have some negative connotations on bass quality. Also, the foam slowly deteriorates and reduces its own standing waves, messing up your subs.
Polypropylene: When looking for the best shallow mount subwoofer, take the one with polypropylene surrounds. Polypropylene is popular in home audio and car audio systems because it does not absorb moisture and possess low distortion. Then, polypropylene offers more durability and flexibility than the other two surrounds.
Sensitivity 
Sensitivity is the amount of power at which a certain level of volume is produced. Take this into account; if you're using a low-powered amplifier, choose the sub with higher sensitivity. This will provide you with more power and better volume.
Similarly, when using the high-powered amp, go for the subwoofer with lower sensitivity (the ideal range is under 96dB).
Impedance
Impedance determines how a subwoofer resists the amount of power that the speaker holds and transforms into sound. The lower impedance, the louder the sound subwoofer produces.
For instance, 2-ohm subwoofers will produce a louder sound than 4-ohm subs. However, the louder output, the more power consumption they make. Thus, the sound quality of 2-ohm subs will be worse than 4-ohm ones.
Final thoughts
So to speak, subwoofers give life to your car audio system. I have reviewed 5 of the best shallow mount subwoofers to fit your small, slim cars.
If you're ready to amp up your car audio, I recommend the Rockville RWS12CA. Even after pitting against much more expensive and popular models, Rockville RWS12CA emerged as the best shallow mount subwoofer at this amazing price and superior functionality.
FAQs
1. Does a subwoofer need an amplifier?
Yes, every subwoofer needs an amplifier to sound crisp and clear. However, some amplifiers come pre-installed in the subwoofers (powered subwoofers) that don't need separate installation or hardware. While others are passive subwoofers that cannot amplify on their own and require an external amplifier.
2. Can a 1-ohm amp run a 2-ohm sub?
Yes, a 2-ohm sub can be wired to a 1-ohm amp using the parallel wiring method.
3. Is it better to wire subs in series or parallel?
It depends. You can wire subs in series or parallel depending on your preference. Series wiring doubles the voltage and ultimately the volume because of the high-impedance amp.
Similarly, parallel wiring doubles the current and has zero difference in volume. That being said, series wiring sounds fuller and louder while parallel sounds brighter.
Therefore, if you want louder and fuller performance, choose series wiring. Otherwise, parallel wiring would do great.