(Last Updated On: September 6, 2023)
‍Navigating the shopping course of golf carts can seem like an overwhelming par five, especially when the market is overcrowded with models and brands. With some touting extravagant features over core functionality, it's easy to swing and miss. Just like the game itself, knowing the right clubs (or in this case, brands) to avoid can be a game changer.
Luckily, you've stumbled upon the perfect caddy to guide you.
In this article, we'll expose golf cart brands that might be sabotaging your enjoyment on the green, sprinkling in tips to identify the red flags. So grab your golf gloves and let's delve into the do's and don'ts of golf cart shopping!
---
Preface
Oh, the thrill of buying a brand new golf cart! It's an investment that can bring so much joy and convenience. But here's something equally exciting – finding the right golf cart dealer who provides excellent after-sales support! This is incredibly important and can save you from a world of headaches down the line.
Think about it – a new golf cart, just like any other vehicle, might experience unexpected issues. It could be anything from a minor problem with the battery to a major breakdown. Now, imagine having a reliable golf cart dealer on your side who can expertly fix these issues – doesn't that sound like peace of mind? Absolutely! When trying to identify a dealer, it's important that you thoroughly read their reviews, examine their online presence, and if you can – talk to someone either on the phone or in person! For example, I was able to talk with the people at Joe's Carts in Charleston before driving all the way up there from Georgia to pick up my new Icon Golf Cart.
A good dealer doesn't just wash their hands off once the sale is made. They stay with you, guiding and assisting you through your journey of owning a golf cart. They will not only help troubleshoot any problems but will also provide essential maintenance tips to keep your cart in top shape.
So, before you get captivated by the shiny new golf carts on display, remember to check the dealer's reputation for after-sales support. It's not just about buying a golf cart; it's about building a relationship with a dealer who will be there for you when you need them the most. Trust me, it will make your golf cart experience infinitely better!
---
Which Golf Cart Brands Should You Avoid?
While there are reputable golf cart brands, some have garnered a less than ideal reputation. These brands have been identified through extensive research, customer reviews, and expert insights. The brands you should consider avoiding include:
Star EV
Evolution
Royal EV
Advanced EV
Tomberlin, Melex
Bintelli
GEM Electric Vehicles
Keep reading to find out why!
Star EV Golf Carts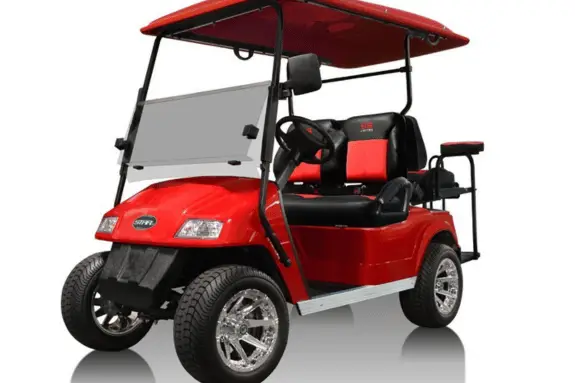 Star EV golf carts, while popular, have been reported by users to encounter various problems.
What Problems Do They Have?
Several Star EV users have reported issues related to their golf cart's battery, solenoid, electric motor, and brakes.
Battery Problems:
Drained or dead batteries
Corroded battery terminals
Low electrolyte levels
Battery charger failure
Solenoid Problems:
Stuck solenoid
Melted solenoid
Electric Motor Problems:
Hard start or sudden stalling
Complete failure to start
Brake Problems:
Decreased stopping power
Difficulty applying the brakes
Related article: Star EV Golf Cart Problems
---
Evolution Golf Carts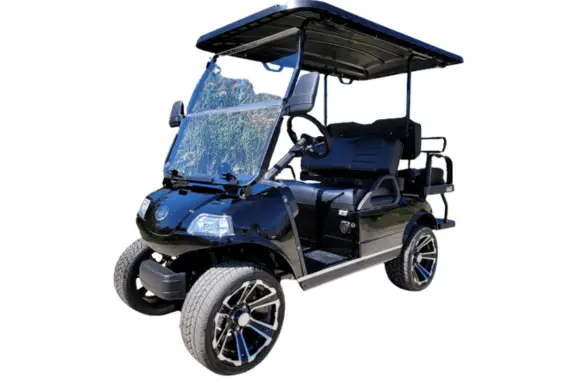 Evolution Golf Carts, although eco-friendly and feature-packed, aren't free from their share of issues.
Do Evolution Golf Carts Have Common Problems?
Yes, Evolution Golf Carts have been known to exhibit several common problems:
Stock Battery Problems:
Drained or dead batteries
Corroded battery terminals
Low electrolyte levels
Seizing Brakes:
Brakes stop functioning properly
The pedal may feel hard when depressed
Electric Motor Malfunctions:
A hard start
Sudden stalling
Complete failure to start
Read more: Evolution Golf Cart Problems
---
Royal EV Golf Carts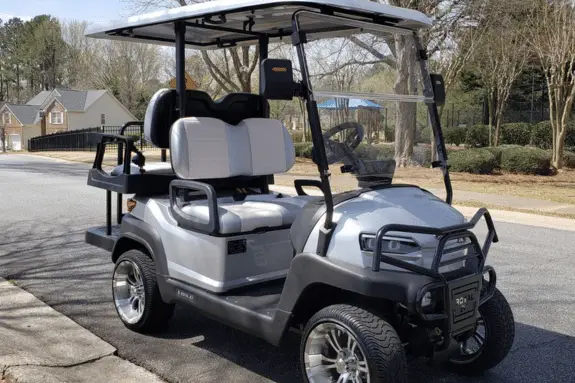 Royal EV Golf Carts might seem appealing with their suite of features. However, beneath the appealing exterior, Royal EV golf cart problems can be quite alarming.
What Problems To Look At For
Here are some problems you might encounter:
Speed control problems
Faulty indicator switch
Motor-related issues
Battery problems
Read more: Royal EV Golf Cart Problems
---
Advanced EV Golf Carts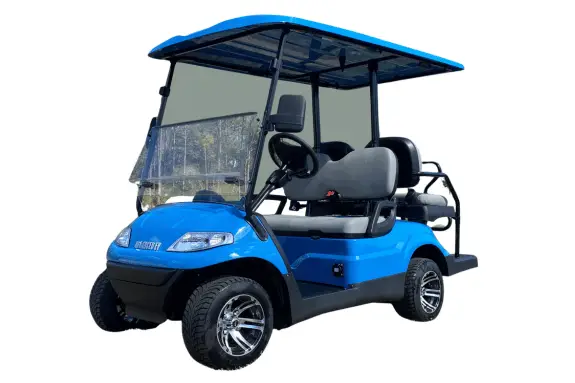 Despite including modern features found in other electric golf carts, Advanced EV Golf carts have several reasons why you should avoid this brand.
Why You Should Avoid Advanced EV Golf Carts (List their problems)
These are the issues you might face with Advanced EV Golf Carts:
Slow golf carts, offering a top speed of up to 22 mph
Difficulty in finding local dealers in the US selling new Advanced EV golf carts
Challenges in acquiring Advanced EV golf cart parts and accessories from local dealers
Read more: Advanced EV Golf Cart Problems
---
Which Carts Are Most Reliable (Think Domestically Made or Japanese Carts)
While there are golf cart brands to avoid, there are still reliable brands in the market. These include E-Z-GO, Club Car, and Yamaha Golf Carts.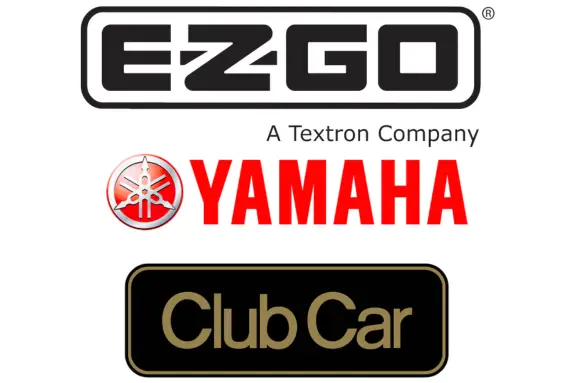 E-Z-GO Golf Carts
E-Z-GO is a reliable golf cart brand known for its durability, high quality, and innovative designs. However, keep in mind that some carts such as the RXV have common problems that may be encountered; however, they are well documented and can typically be resolved at home with some mechanical know-how.
Club Car
Club Car has been a leading manufacturer of golf carts since 1958. They are known for their variety in style, functionality, and customizability.
However, they're not without their exceptions.
Read more: Common Club Car Onward Lithium Problems
Yamaha Golf Carts
Yamaha has been in the golf cart business since 1978 and has a reputation for innovation and quality.
---
Are There Any Carts You're Unsure About?
Icon Golf Carts (List Pros and Cons and icon golf cart common problems)
Icon Golf Carts are often touted for their sleek design and electric efficiency. However, beneath the glossy exterior, these carts have been reported to have recurring issues. Common Icon Golf Cart problems include:
Seizing brakes
Battery issues
Shorted battery
Charging problems
Electric motor malfunctions
Underinflated tires from the factory
Read more: Icon Golf Cart Problems
---
Unknown Carts (Not Common In The States)
It's important to be cautious with lesser known brands, such as:
Tomberlin Golf Carts
Although Tomberlin Golf Carts are designed for use on both the golf course and the street, they've been reported to have many power and motor problems, and often come with defective parts.
Melex Golf Carts
Melex has been around since the 1960s, but longevity doesn't equate to quality. Their golf carts are known for their slow speed and difficulty in finding parts due to limited dealerships.
Bintelli Golf Carts
While Bintelli golf carts offer all the necessary features at an affordable price, users have reported issues related to their small engine and inability to run on incline roads.
GEM Electric Vehicles
GEM Electric Vehicles may seem attractive to golfers looking for luxury carts, but they have several drawbacks. These include higher cost, longer charging time, and more suitable for neighborhood use rather than golf courses.
---
Wrapping Up
Being informed about the golf cart brands to avoid is crucial when considering your next purchase. While some brands provide sleek designs and eco-friendly solutions, they might also be plagued with recurring issues that could affect your golf cart experience. Always remember to do your research, consider your needs and budget, and make an informed decision.