(Last Updated On: November 29, 2021)
If you've ever had to change out your car's battery, you know they feel pretty heavy. But how much does a car battery weigh in reality? In truth, the answer is a bit more complicated than just a single number. 
Car batteries can weigh anywhere from around 25 pounds to around 50 pounds. That's a pretty big range. If you want to figure out how much your car battery weighs, there are some easy ways to find out.
How Much Does A Car Battery Weigh?
In many cases, the weight of a battery will be printed on the label. Check there first before you start investigating elsewhere. This isn't the case for some batteries, however. If you don't see the weight printed anywhere, you'll have to do some research.
A full battery also weighs more than an empty one. Most of the weight in a lead-acid battery is from the liquid that generates the charge. If the battery has been emptied, it can weigh as little as 15 pounds.
Wondering how much does the average car battery weigh? The short answer is about 40 pounds. Having said that, the weight of a battery changes depending on its size and the chemistry used inside. Let's get into the details.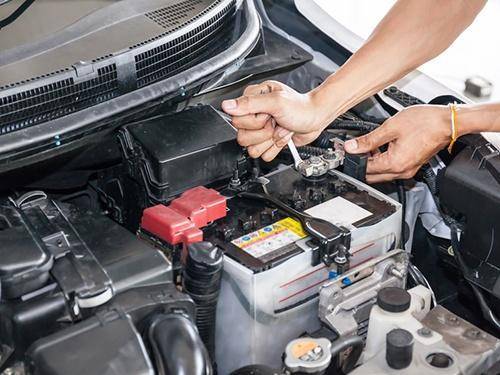 The Reason For Asking How Much Does Car Battery Weigh
The size of a car battery is the most significant factor in its weight. Bigger batteries have a larger capacity and can provide more power. If you have a bigger engine, your battery is often larger, too. Some bigger batteries can weigh up to 50 pounds.
What type of battery your vehicle uses can also impact its weight. The battery for an Accord Hybrid, for example, is only around 28 pounds. This is partially because it's on the smaller side, but also because of its chemistry. Hybrid batteries are often Lithium-ion or similar chemistries, which weigh less than the traditional lead-acid. 
If you're concerned about the weight of your battery, a light-weight battery can be a great option. These are perfect for smaller cars, where the weight inside the engine can impact performance. A lightweight battery only weighs between 10 and 20 pounds, on average. 
Keep in mind, however, that a lighter battery often provides less power. Check the CCA rating of the battery to make sure it will be sufficient for your car. 
Car Battery Weight: Popular Models
Now that we've gone into the details, let's get to the facts: how much the average battery weighs for different car types. You can see a range of them in the chart below:
| | | |
| --- | --- | --- |
| Car Make and Model | Battery CCA | Battery Weight |
| Honda Accord | 520  | 28 pounds |
| Mitsubishi Eclipse | 550 | 47 pounds |
| Toyota Prius, Corolla, or Innova | 600 | 20 pounds |
| Ford F150 | 650 | 44 pounds |
| Volkswagen Golf | 730 | 39 pounds |
| Nissan Frontier | 800 | 38 pounds |
| Subaru Impreza | 900 | 61 pounds |
A car battery usually weighs from 20 pounds to 60 pounds.
Why does the weight of a car battery matter?
The question of how much does a car battery weigh affects more than how hard it is to carry. It's especially important if you're buying a replacement battery for your engine. You'll want to get one that's about the same weight as the old. This battery will most likely have the right power for your engine.
Even though cars are very expensive, the distribution of weight can have a surprising impact on your vehicle's performance. Especially if your car is on the smaller side, a battery that's too heavy can keep it from running as it should. So if you're wondering, getting a battery that's too heavy can be just as bad for your engine as one that's too light. 
A Final Word on Car Battery Weight
As you can see, a car battery's weight can vary a lot. Hopefully, this explanation has helped you better understand the weight of your car's battery—and why it matters for your car.
If the weight isn't printed on your battery's label, you can use the chart above to find the average correct weight for your vehicle.
Figuring out how much does a car battery weigh is important before you buy a replacement. It's an easy way to make sure your vehicle keeps running its best!