(Last Updated On: August 13, 2023)
NOCO has taken the market by storm with their Genius Boost series since 2010.
Now in 2021, GB50 – along with GB40 and GB70 are still among the best-quality jump starters. All thanks to their versatility, simplicity, and money value.
But which product is the right one for your car? We've got all the answers that you are looking for right here.

NOCO GB40


NOCO GB50


NOCO GB70

Customer Rating

Price
Peak Current
1000 amps
1500 amps
2000 amps
Weight
2.4 pounds
2.45 pounds
5.0 pounds
Flashlight
100 lumens
200 lumens
400 lumens
USB Port
✔
✔
✔
12V Port
--
--
✔
Charge Time
3 hours
4.5 hours
3 hours
PROS
+ Affordable
+ Compact size
+ An upgraded GB40
+ Fast charging
+ Strong flashlight
+ Better battery
CONS
- Underwhelming flashlight
- No fast charging
- Bulky dimension
- Quite expensive
Our Score
9.8
9.0
9.0
Experienced users regard these as the benchmarks for quality and value. We selected these three models for our comparison because they're the best-selling and highest customer-rated jump starter packs available.
Key things in common
Ease of operation is one of NOCO's key selling points. They have differentiated their models by their jump starter packs' battery capacity. Our comparison looks at the GB40, GB50, and GB70. From your standard cars to SUVs, motorcycles, ATVs, boats, heavy-duty trucks,… whatever it is, there is a jump starter pack perfect for your needs.
You can read more about how to use a jump starter here.
Designs & specifications
All three models feature the same design. The front panel shows whether the power is on; an on/off power button; battery capacity indicator lights; a flashlight on/off button; a manual on/off mode switch; and a boost indicator. Sited next to the battery capacity lights is an LED indicator for incorrect connection types.
Each unit features the same battery clamps color-coded: red is for positive terminals, and black is for negative terminals. These plug into the jump starter packs on their sides in a dedicated slot.
On the opposite end are the micro USB and USB ports.
USB port
This is where you recharge your jump starter pack. Simply connect its micro USB cable to a USB charger outlet for speedy 2.1A recharging. The process applies to all three of the NOCO models.
Right next to the micro USB slot is a USB-out slot: here you can charge up your smartphone, GoPro camera, tablet, wireless earphones, and more.
LED flashlight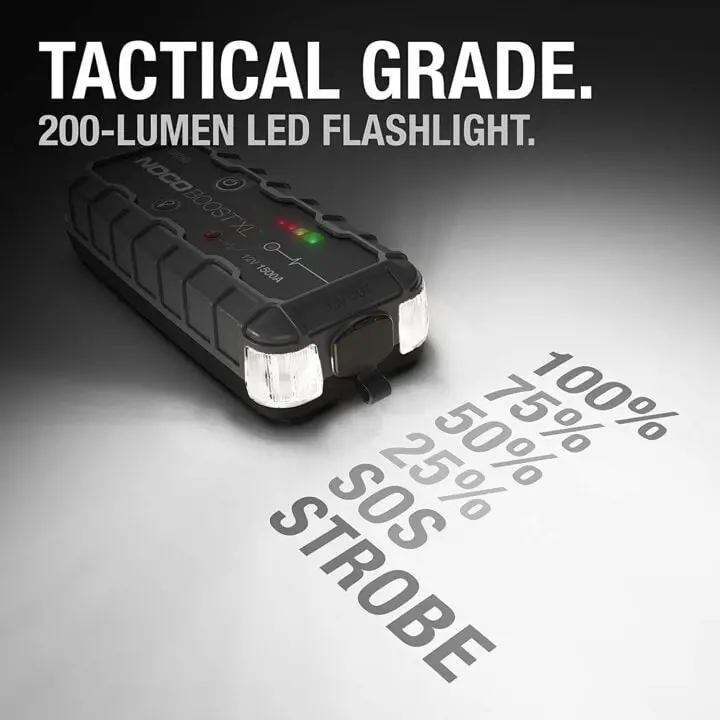 Another common feature across these three models is a LED flashlight. It is designed as a tool: when you need to tinker under the car's bonnet, or around your campsite. You can also alert other motorists to your stranded vehicle with it. The flashlight comprises seven light modes with SOS and Emergency Strobe functions.
Safety measures
Safety is a priority in jump-starting car batteries. These lithium-powered jump starter packs make it safer to use than jumper cables. Reverse polarity protection on these models means you won't damage your car's battery if you incorrectly connect the wires. Likewise, the spark-proof protection means these systems won't give off any sparks; the jump starter pack doesn't discharge power to improperly connected cables.
Each of these three models offers spark-proof protection, reverse polarity protection, a high-grade LED flashlight, and an IP65 rating for dust- and splash-proof protection.
Key differences
Now that you're more familiar with these universal features, we can inspect what aspects differentiate them.
Age
The first difference between these three products is when they were released. Both GB40 and GB70 were introduced way back in 2010, with a re-release in 2015. In comparison, GB50 being one of their latest products, which was announced in 2019.
Of course, this doesn't reflect the qualities of these products. In most cases, new is always better. Well, in this case, it is. But we will get to that later.
Power capacity
The most obvious difference is the size of each one's battery capacity. The GB40 can pack 1,000 amps; the GB50 1,500 amps; and the GB70 stores 2,000 amps of power. Not only does it mean that the NOCO jump starter packs with bigger batteries can jump-start more dead batteries before they're dead, but they can also jump-start larger and larger vehicles than the GB40 model.
GB40 can jump-start vehicles with a maximum of 6.0-liter gas engines and 3.0-liter diesel engines. This model can also jump-start 20 cars before its battery is depleted. The flashlight's strength is 100 lumens.
One step up,

GB50

will jump-start vehicles' engines up to 7.0 liters for gas, and 4.5 liters for diesel. It will take 30 jump-starts to empty its battery of power. NOCO also upped the flashlight's strength to 200 lumens.
And last but not least, the GB70 can boost vehicles up to 8.0-liter gas-engines and up to 6.0-liter diesel-powered engines, and it can jump-start 40 cars before its own battery is dead. NOCO has beefed up the GB70's flashlight to 400 lumens.
Charging
As we know, these NOCO jump starter packs' batteries can serve another purpose: the GB40, GB50, and GB70 can be used as portable battery packs to power smartphones, GoPro cameras, tablets, and more. However, the GB70 takes that further: this model can also power other 12-volt/15 amp devices such as tire inflators, car jacks, power inverters, coffee makers, fans, and more.
Oh, and it doesn't stop there. The GB70 is also the only one that offers an additional charging input: 36W/3A fast adaptive charger. This fast-charging option is a game-changer for GB70 since it provides twice the amperage and battery capacity as GB40. It would, in theory, takes twice as long to charge fully. But with this 36W/3A fast charging, you don't have to wait half a day to get a GB70 ready for your road trip.
The three GB brothers
Now, we'll dive deeper into the key differences between this comparison's three models. So that you can further narrow down the perfect jump starter pack for your needs.
GB40: The little brother
In terms of its dimensions, NOCO Boost Plus GB40 is the smallest of these three models. It measures 6.6″ by 3.2″ by 1.7″ and weighs 2.69 lbs. Compare that to GB70, which measures 8.3″ by 3.9″ by 2.5″ and weighing 5 lbs. The GB40 is substantially smaller than the GB70.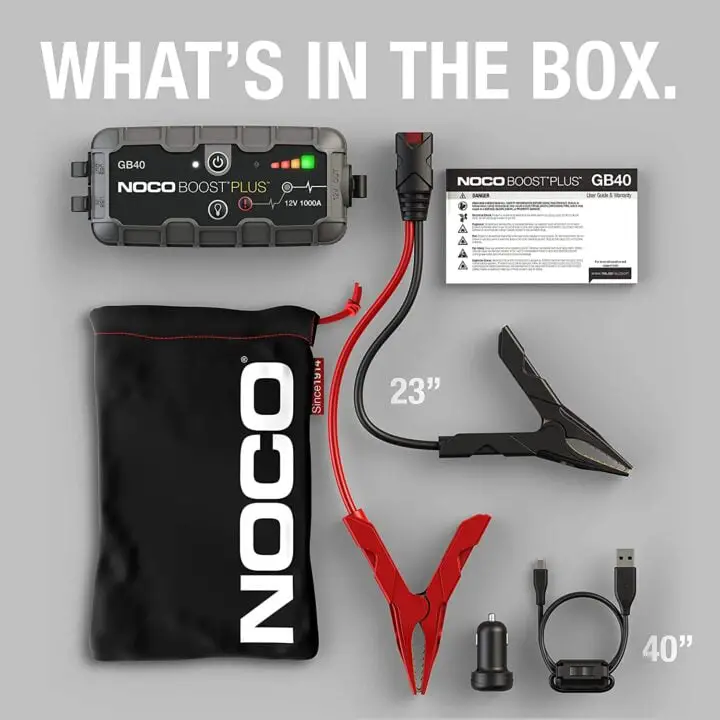 Check Price at Amazon
As pointed out above, they rate the GB40 for use with vehicles with gas engines less than 6.0-liters and 3.0-liters for diesel.
GB50: Basically a GB40 2.0
NOCO Boost XL GB50 is slightly larger at 7.7″ by 3.4″ by 2.0″, yet weighs slightly less at 2.45 lbs. It is 1.1″ longer than the GB40, but only marginally wider and taller. The extra battery power, 10 additional jump-starts, and stronger flashlight stand the GB50 as the more usable and value-packed model between the two.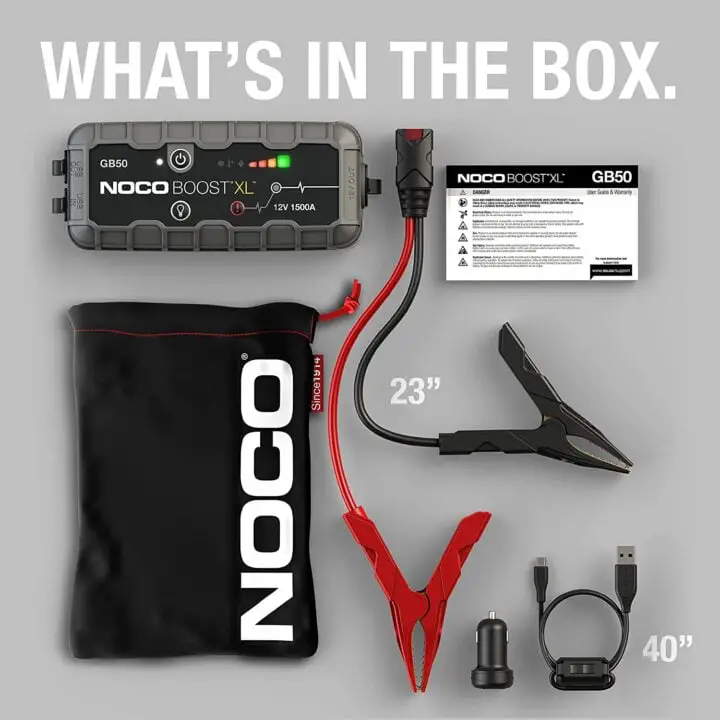 Check Price at Amazon
The GB50 can jump-start gas engines up to 7.0-liters and diesel engines up to 4.5-liters. That means these two models would ideally suit most drivers on our roads. They are also essential items for road trips and weekend camping getaways. You can keep your electronic devices charged up while on the go, as well as jump-starting lawnmowers, cars, compact SUVs, boats, ATVs, and motorcycles.
GB70: The big brother
While the GB40 and GB50 are very similar in specification, NOCO Boost HD GB70 builds on their features with one handy add-on. We've touched upon the fact that the GB70 comes with a 12-volt/15A power out port for powering any 12-volt devices like tire inflators, inverters, and more. It offers a 12-volt/3A/36-Watt power input port that allows for rapid charging in 3 hours via your vehicle's 12-volt port. This greatly increases the GB70's versatility and usability.
The GB40 and GB50 are the most portable models, and can easily slide into your vehicle's glove compartment. While storing the GB70 will require a near-empty glove compartment or storage in the trunk because of its somewhat bulky size. But with great size comes great power, too.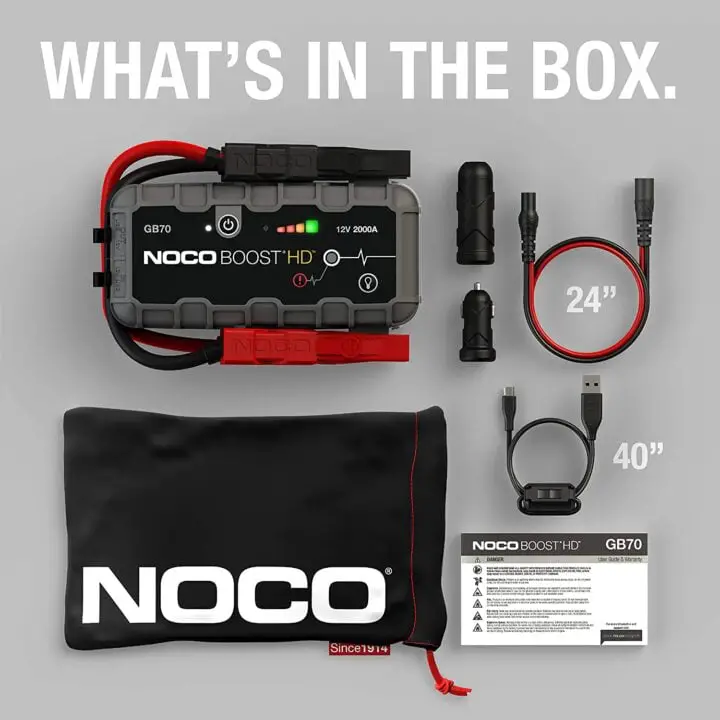 Check Price at Amazon
Heavy-duty pickup trucks? High-powered SUV? Large boat? Or a vehicle workshop with dozens of vehicles? The GB70 is big for a reason: it can jump-start even big things. They rate this model to jump-start gas engines up to 8.0-liters and diesel engines up to 6.0-liters, while able to jump-start them 40 times before the battery is dead. Jump-starting large sedans, SUVs, RV trucks, heavy-duty pickup trucks are its primary function. This one can jump-start just about any 12-volt battery on earth – with ease.
How long do they take to fully charge?
NOCO's GB40, GB50, and GB70 jump starter packs are equipped with battery level indicators on their front panels. They display the battery levels with a four-LED array: two lights are red, one in amber and a larger green LED light. When these batteries are fully charged, they'll display all four lights, with a solid green LED at the end of the array. After using the batteries and the power drops, they will show the battery levels in units of 25%. Each light denotes 25% of the batteries' capacity. Once only one red battery light remains illuminated, will you need to recharge your NOCO Boost jump starter pack.
To recharge, the GB40 model takes 3 hours to recharge fully.
With a bigger battery capacity, the GB50 will be recharged fully in 5 hours thanks to its 2.1A power input.
The GB70 will only take less than 3 hours to fully charge.
Wait, how does that even work? You'll be most impressed with the recharging capabilities of the GB70. Using the regular 2.1A power input, it will need 7 hours to recharge fully. If you charge it up with its 12-volt/15-amp/36-Watt power-in port, you can boost a dead GB70 to jump-start a vehicle in 15 minutes. To fully charge it will take less than 3 hours with that 12-volt/15A/36-Watt fast-charger.
How do they match up on price?
The GB40 is the most affordable model of this trio, while the GB70 is the most expensive. The GB50 sits in the middle of this line-up: it offers more features than the GB40 while packing nearly as much power as the GB70, but for a price that is closer to the GB40 than the GB70 model's. The GB50 is a better buy in those terms than the GB40.
For those who require a lot more power than what the GB40 and GB50 can offer, you must fork out quite a bit more dollars for the GB70. Saying that, it still offers excellent value for the amount of power it carries, its added features, and a higher rating for jump-starting batteries.
Recap: Which one should you buy?
There's a NOCO Boost jump starter pack for every budget and every buyer. Taking a detailed look at the three most-popular NOCO Genius Boost jump starter packs – the GB40, GB50, and GB70 – no matter which one you settle on, you'll be more than satisfied with its quality, reliability, and versatility. However, NOCO's Genius Boost jump starter packs are designed with specific purposes, which largely determines their battery capacity.
With that in mind, it is essential to buy the right one for your needs. If your car, boats, motorcycles, and SUV don't require the extra power that the GB70 offers, you will not find a better jump starter pack than the GB50. It ticks most of the boxes as the GB70 does, but it is smaller, lighter, and more affordable.
If you just want the best
NOCO Boost Plus GB40 1000 Amp
A small jump starter – both in terms of size and price. But GB40 still packs quite a punch & remains NOCO's best-selling unit for 10 years!
The flagship product of NOCO. Having a compact size combines with an affordable price makes GB40 very hard to resist.
Sure, GB50 has better specs. But those specs are only marginally improved compared to GB40, in my opinion. Almost like when those fast-food restaurants ask if you want to upgrade your combo. Sometimes, it's better to stick with the basics.
If you believe new is always better
NOCO Boost XL GB50 1500 Amp
If you are looking for the latest, most all-around jump starter – GB50 is the one for you
The GB40 and GB50 match closely in design and specification. Still, being a newer model does give GB50 some edges over GB40 – all at a slightly higher price.
If you don't care about prices and just want power!
NOCO Boost HD GB70 2000 Amp
The GB70 model can't be matched in terms of power and battery capacity. It's ideal if you are a truck driver, or if you just like all the extra features
Well, then the GB70 model can't be matched in terms of power, battery capacity, and features. But it's also a little bulky, heavy, and simply not as usable on a day-to-day basis as the GB50 model is. Unless you are a full-time truck driver, this product may be a little overkill for your vehicle.
FAQs
1. How long is the warranty of NOCO's jump starters?
All three products we mentioned offer one-year warranty in the US.
2. Can I use a jump starter to charge another jump starter?
Technically, yes. But the real question here is why would you buying two jump starters in the first place?
3. What is "lumen"? And how does it affect LED flashlight?
Lumen is the amount of visible light you get from a source, calculated in a specific unit of time. It tells how bright a light source is.
Read more: JNC660 vs. JNC770 vs. JNC950: Pick the right jump starter for your vehicles »