(Last Updated On: September 3, 2023)
What is a car lift? A car lift is a piece of equipment that raises your car from the ground.
So, why do you need a car lift? Well, if you are the handy type and would love to fix some things in your vehicle, you need one. Also, if you are trying to maximize your garage space and want to store more than one car, you need it.
There are different car lift types, but we would be focusing on the 2-post car lift and the 4-post car lift. Which one should you invest in? Well, let's find out, shall we?
Understanding about 2-Post Lift and 4-Post Lift
2-Post Lift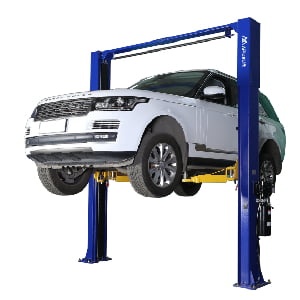 APlusLift HW-10KOH 10,000 LB
Overall
The 2-post lift is quite common among people. The reasons are: it is cheaper than the 4-post lift and is also easy to use. Plus, it has a smaller size, allowing you to store more things in the garage.
As the name implies, the 2-post lift consists of 2 strong posts about 60 cm apart on either side. These posts come with stabilization arms which help to keep the car balanced.
Types of 2-Post Lift
Symmetrical Lift
This 2-post lift variety has two posts facing each other. The arms on these 2-post lifts have equal length while stretching at the same angle.
Asymmetrical Lift
The posts and the arms here have different angles. Also, the arms have different shapes and sizes, with the frontal arm shorter than the back arms.
Very symmetrical Lift
This lift here combines the qualities of symmetrical and asymmetrical car lift.
4-Post Lift
TRIUMPH NSS8TL 8000Lbs
Overall
Professional car lift users love the 4-post lift. So do people looking to double park in their single garages.
As the name implies, this car lift has four posts with great strength comes a capacity for lifting heavier vehicles. Although, these multi-usage perks mean you will splash a little more cash than a 2-post lift.
Types of 4-Post Lift
Open-Front Lift
This 4-post lift doesn't have a front crossbar and is open. The open nature allows car fixers to slide in and out from under the vehicle.
Closed 4-post Lift
This is the second type of 4-post lift. Unlike the open-front lift, which has no bar in front, the closed bar has one.
2-Post Lift vs 4-Post Lift: Pros and Cons
2-Post Lift
Pros
Small-sized.
Strong enough to lift large vehicles.
Easy to install.
Accessing underneath the vehicle is easy.
Cons
Figuring out the lifting points can be a chore. You have to identify the car's center of gravity for this.
There is a stability problem, but you can avoid this by being careful.
4-Post Lift
Pros
Excellent stability for lifting heavier vehicles.
Easy to use.
You can access the vehicle's underneath easily.
Cons
This car lift requires a larger space.
It can be expensive, but the perks make the price worth it.
Installation can require a professional.
Take a look at a comparison table between 2-post lift and 4-post lift: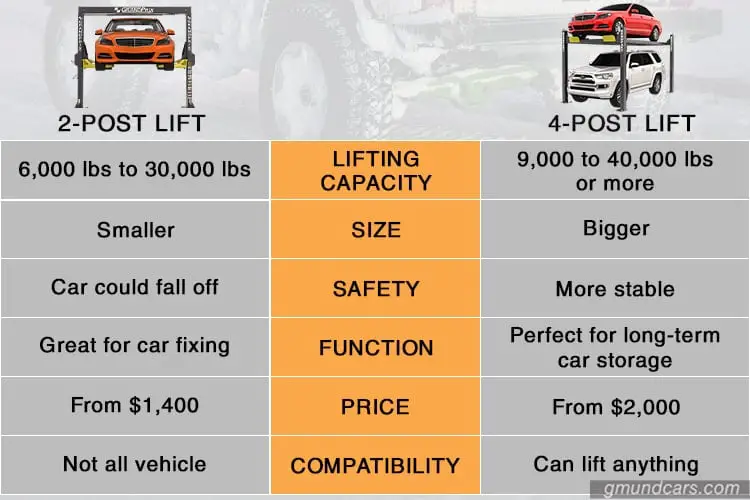 Who are 2-Post Lift and 4-Post Lift for?
Who should buy a 2-post lift? 
 A 2-post lift would be crucial for someone who:
Are looking for a car lift that won't take much space.
Have a small budget.
Love to work on your vehicle.
Who should buy a 4-post lift?
You should invest in a 4-post lift if you:
Want to maximize your garage parking space to park 2 cars.
Are going to store your vehicle for a longer time.
Make oil changes occasionally.
So, have you known which lift to buy now? The next stage is choosing the item worth your investment. We'll introduce to you the best 2-post and 4-post lifts available. However, it's worth noting that you should contact a local dealer for commercial operations. If you're someone looking for a lift to use at home, keep reading. Otherwise, I suggest investigating an automotive equipment supplier like Edwards and Sons Automotive Equipment. Dealers like this will give you more options, at potentially wholesale pricing, when compared to the consumer-based options we'll cover below.
Top 3 Best 2-Post Lifts
1. XK 9,000 LB Over Head L2910: Best 9,000 lbs 2-Post Lift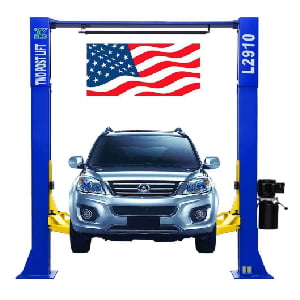 XK 9000 LB L2910 2-Post Lift
This is a great product for the price! I Installed it by myself in a afternoon. I greatly appreciate it and customer service. Highly recomend to anyone for home use and even some moderate commercial use for sure.
Key Features
Few compare in power to the XK lift with its 3HP 220 vs 50 HZ feature, which allows it to easily lift up to 9000 lbs. 
But what is power without style and ease of use? This is where the automatic lubricating nylon slider of the XK lift comes in. You don't need to fear that your lift will get stuck, as the slider allows the lift to move up and down easily.
Interestingly, this 2-post car lift has some unique safety mechanisms. There is no need to feel concerned about the car toppling over as this lift has automatic arms lock restraint and a double point safety lock release. These two features combine to keep your vehicle secure when lifting it.
Also, the XK 9,000 LB comes with outstanding durability. The relief valve built-in power pump helps to reduce the incidence of overload, which could damage your car lift. 
Pros
Door guard protection rubber
Increases cable life
Move up and down easily, thanks to the auto lubricating nylon slider
Automatic arm lock restraints
Cons
Poor installation instructions
Lifting pads don't stay when you lift small trucks
Verdict
Overall, this lift is worth the price and your investment. Its durability means you will be using it for a more extended period. Also, there is a 12-month warranty when you purchase this lift, and it can lift a 9000-lb vehicle, including a small truck.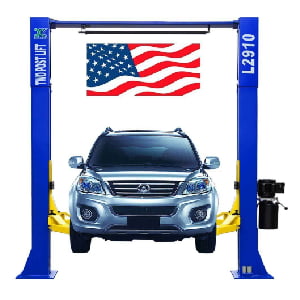 XK 9000 LB L2910 2-Post Lift 
2. APlusLift HW-10KOH 10,000LB: Best 10,000 lbs 2-Post Lift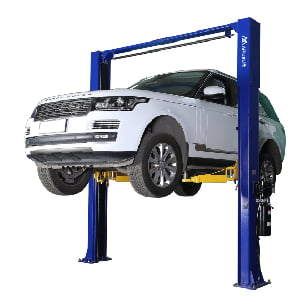 APlusLift HW-10KOH 10,000 LB 2-Post Lift
I have had it for a couple of months and have lifted several cars and pick up trucks with it. It has performed flawlessly. Everything seems to be well-made and even extra heavy duty. While I am not a commercial operation but just a private individual, I feel that this is probably one of the best values for the money spent that you can come across when buying a two post lift.
Key Features
First off, APlusLift is an improvement from previous designs. This improvement doesn't sacrifice this car lift's notable strength. That is because it has a heavy-duty design which makes it capable of lifting vehicles that weigh 10,000 lbs, including trucks.
The 220V Single Phase 3HP motor also adds to the power of this car lift. It's not all about power, though. The APlusLift HW-10KOH comes with some incredible safety measures which will keep both you and the vehicle safe.
The heavy-duty 3/8″ diameter cable and 5″ pulley reduce the stress on the lift as it is lifting your vehicle. Also, it has a double point safety lock release and automatic arms lock restraint which means your vehicle is pinned when lifted.
Pros
Comes with screw-in pads
Has truck adapters
Highly durable steel
Double point safety release
Cons
Installation instructions are too vague to follow
Arms flex when this lift is lifting
Verdict
Awesome! This is one of the ways customers have described this lift. The lift is strong with incredible welding. Although customers have given other comments on installing but chances are you can easily install if you are a pro. Buying this will be a good investment.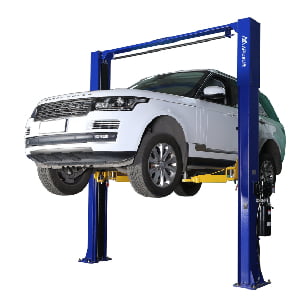 APlusLift HW-10KOH 10,000 LB 2-Post Lift 
3. TRIUMPH NT-11 11,000 lb: Best 11,000 lbs 2-Post Lift
TRIUMPH NT-11 11,000 lb 2-Post Lift
Only regret is that I didn't buy one sooner. Everything works as it should. Buy this and you will realize the simplicity of this lift! Couldn't be happier!
Key Features
Car lifting requires powerful equipment and this equipment is the most powerful on this lift. The structure and heavy-duty metal positions the TRIUMPH NT-11 to hold up to 11,000 lbs in weight.
To use TRIUMPH NT-11 to its fullest potential without causing risk to yourself, it is better to install it on a floor with a 4000-psi floor strength.
Keep yourself safe by engaging the lift's floor anchor, which secures the lift firmly on the ground. Also, there is much versatility to be enjoyed with this lift as it has truck adapters. This makes it great for lifting trucks.
Pros
Comes with free truck adapters
Has free floor anchors
ISO 9001 and CE Compliant
Highly durable
Cons
Instructions are not detailed
Have to make inquiries to know if there's a warranty.
Verdict
What you'll regret is not buying this lift sooner. The lift is durable, versatile, and rugged. The developers made it from high-quality materials, which means you would be using it for a long time. So, what are you waiting for? Go buy yours.
TRIUMPH NT-11 11,000 lb 2-Post Lift 
Top 2 Best 4-Post Lifts
1. TRIUMPH NSS8TL 8000 Lbs: Best Sturdy Lift
TRIUMPH NSS8TL 8000 Lbs 4-Post Lift
Super satisfied with lift it self. Great value and very easy to assemble and use. Shipping was easy. There were no instructions in the packaging. However there is a video on YouTube of someone assembling a similar lift.
Key Features
Buy this, and you have secured a piece of equipment that could last you a lifetime. This is not an exaggeration when the lift comes with the straight and sturdier 5/16 lock rods. These lock rods are more than strong enough to bear the weight of an 8,000-lb vehicle.
This 4-post lift comes with steel oil tanks that help prevent leaks. Moreover, the ramps are lightweight aluminum making themselves removable and storable. Also, you can easily move the lift with the lift's caster kit.
Pros
Has covered wiring
Movable
Plastic drip trays to hold vehicle liquid
Removable Ramos
Cons
Poor instructions
The safety block is not in a great position
Verdict
This lift is for someone looking for a 4-post lift without spending much. Within 6 hours, you are done assembling. A worthy investment if you are looking to get a 4-post lift.
TRIUMPH NSS8TL 8000 Lbs 4-Post Lift
2. Mayflower Blacksmith 8000 lb Pro 8000: Best for Warranty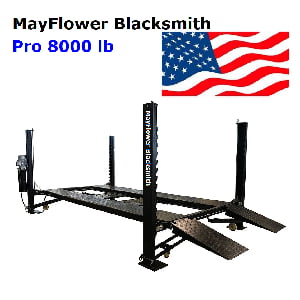 Mayflower Blacksmith Pro 8000 4-Post Lift
This lift is exactly as described by other happy customers. It arrived on time and in good shape. Was easy to assemble, used a motor lift to handle the heavy parts. 2 people is ideal for placement. Works smoothly. Great Product for the money, Well Made!!!
Key Features
If you are looking for a durable 4-post lift, your lift isn't complete without the Mayflower Blacksmith. The Mayflower Blacksmith Pro 8000 can carry up to 8,000 lbs and retain its durability. This is because it has a heavy Duty Single hydraulic cylinder mounted underneath the runway
Also, it has a better-placed safety lock with 10 locking positions. So, there is added security to an already secure 4-post lift.
Pretty sure you wouldn't need it, but you will get a 12-month warranty with this lift. In addition, it has drip trays to catch spilling liquid from the car. You will appreciate the poly caster kit when moving your lift.
Pros
Easily movable with its poly caster kit
12-month warranty
Well placed safety lock
Can carry up to 8000 lbs
Cons
Poor installation instructions
Verdict
Buying this car lift would be money well spent. You would get a car lift that will stand the test of time. Although it has poor instructions, you can DIY with YouTube videos or call a pro.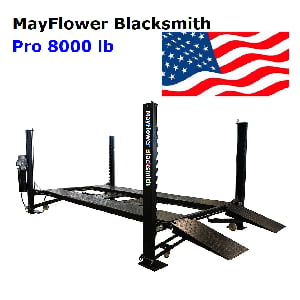 Mayflower Blacksmith Pro 8000 4-Post Lift
Final verdict
So, which one should you get? You can see now that the two are crucial and have peculiar circumstances where they are helpful. A 2-post lift helps when trying to make a quick fix in your car. A 4-post lift helps when you store a vehicle for a more extended period.
Speaking of a 4-post lift, you need to get a sliding jack. A sliding jack helps you lift the vehicle's rear of 3500 lbs. This makes it a superb addition for a 4-post lift. When you are looking to buy a sliding jack, you should be looking at the Auto Lift Sliding Jack 3,500 lb. Capacity.
Auto Lift Sliding Jack 3,500 lb
This item worked and fit perfectly in my friends workshop and made his work on all the family cars a lot easier. Shipping was as stated and the item arrived on the date it was promised. My friend could not be happier with this lift and the price was right!
This sliding jack is excellent for different lift brands except for BendPak lifts. The jack is used through a manual pump which means you can save power costs. Besides, it has a friendly price, and you wouldn't be stretching your finances.
Pros
Pocket-friendly
Works for different lifts except for BendPak lifts
Cons
Doesn't work for all lifts.
Auto Lift Sliding Jack 3,500 lb 
FAQs
Can you store a car on a 2-post lift?
Don't. We understand the temptation. After all, some 2-post lifts can carry up to 30,000 lbs. You might have seen people do it, and you know what? Good for them. This is not a dig at the stability of a 2-post lift. However, their makers didn't plan on you using it for storage or putting another car beneath it.
Can you park a car under a 4-post lift?
You would be able to park another car right under the one on your 4-post lift.
A 4-post lift carries your cars up with each of the car tires sitting on the lift ramp. So, you don't have to be fearful of your car toppling.
Do you have to anchor a 4-post lift?
No. 4-post lifts spread the weight over a wider area. Additionally, 4-post lift manufacturers make it to lift vehicles without anchoring said vehicles.
However, if you are in an earthquake zone and have an unlevelled garage floor, you should think about bolting.
How tall of a garage do you need for a car lift?
A 4-post lift helps with space optimization, especially using your garage's vertical space. So, you don't need to worry much about space. However, if you have 11-12 feet height clearance, you can feel more comfortable. Plus, you can save more space by modifying how your garage door opens.
How thick of concrete do you need for a 2-post lift?
For the safe installation of your 2-post lift, you need a 4-inch reinforced concrete slab.