If you are a Penske truck driver, you can be overwhelmed with numerous dashboard lights. It is even more challenging if it is your first time on a truck because these Penske truck warning lights may be slightly different from what you already know.
The dashboard symbols warn you of a problem or inform you of a routine action performed by the truck. If you understand what they mean, you can save money and time. You won't be driving to an auto repair shop unnecessarily.
Read on as we explain the 15 most common Penske truck warning lights in this article.
Adaptive Cruise Control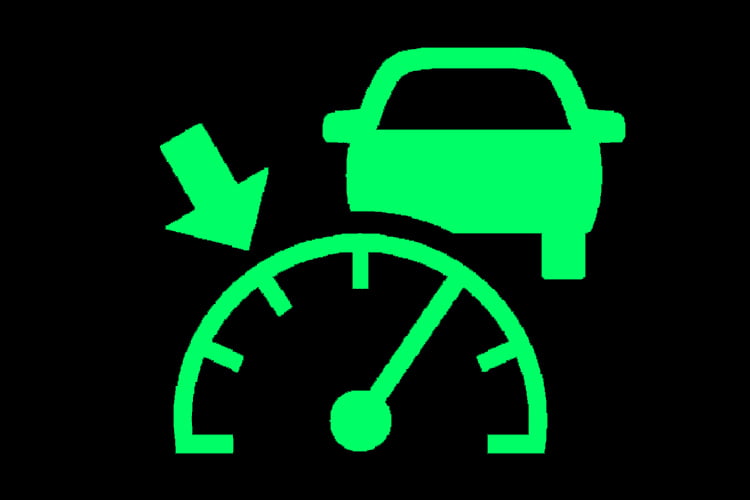 Adaptive cruise control is a system that continuously adjusts the speed or braking of the truck to avoid collision with the vehicle ahead. It uses a radar system to detect traffic and adjust accordingly.
The dashboard symbol is a green vehicle, speedometer, and an arrow pointing at it. Some models use text symbols, which is the initial for Adaptive Cruise Control ACC. It lights green when the system is working well. But when the light turns yellow or has an exclamation point, it indicates a fault. Contact your dealer or mechanic to fix it at the first opportunity.
Active Driving Assistance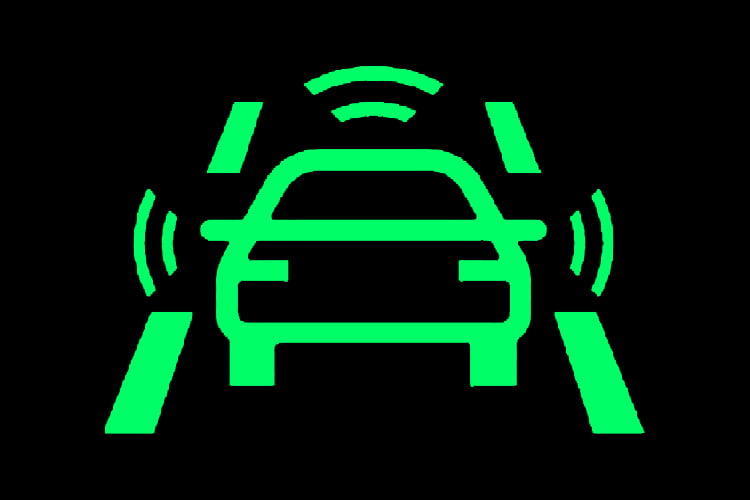 Active driving assistance or intelligent driving assistance is a system that does what its name suggests. It helps you with acceleration, braking, and steering though you still have the primary control. It is just to assist you.
This indicator is a vehicle between two parallel lines and radiating waves from the rear corners and front. It can be a vehicle with a speedometer between road markers in other models. 
The symbol can be green or grayscale, depending on the model. But if it turns yellow/amber, there is a fault in the system. Contact your mechanic to fix it as soon as possible.  
Lane Keeping Assistance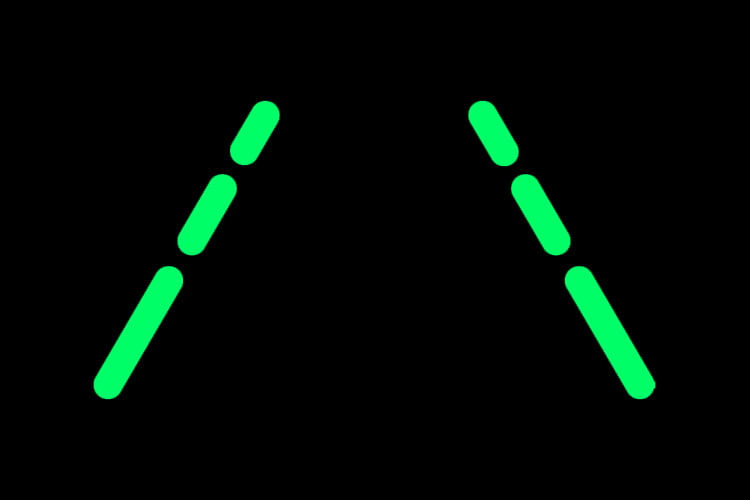 The Lane-keeping assistance system helps steer the vehicle to maintain its lane. The light is a green symbol of a highway with road markers. If it turns yellow or amber, there is a fault in the system. Find time to take your truck to an auto repair shop.
READ MORE: Mini Cooper Dashboard Warning Lights
Blind Spot Warning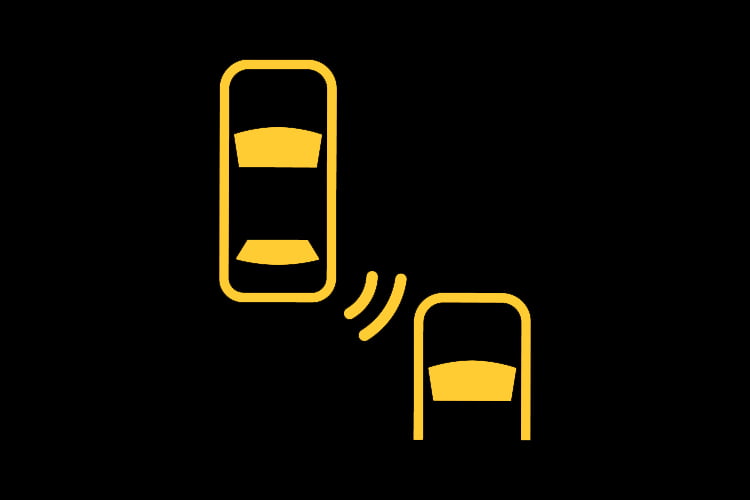 A blind-spot monitoring system uses sensors to detect vehicles that the driver can't see and illuminates a warning light. The light symbol is usually two staggered cars separated by waves radiating from one. Other models may show it as BSM to mean blind-spot monitoring.
If the system has a fault or you turn it off, the light illuminates with the word OFF beside it. Text messages may also accompany it. So, check the message center to understand the problem before contacting your mechanic for further diagnosis and fixing.
Forward Collision Warning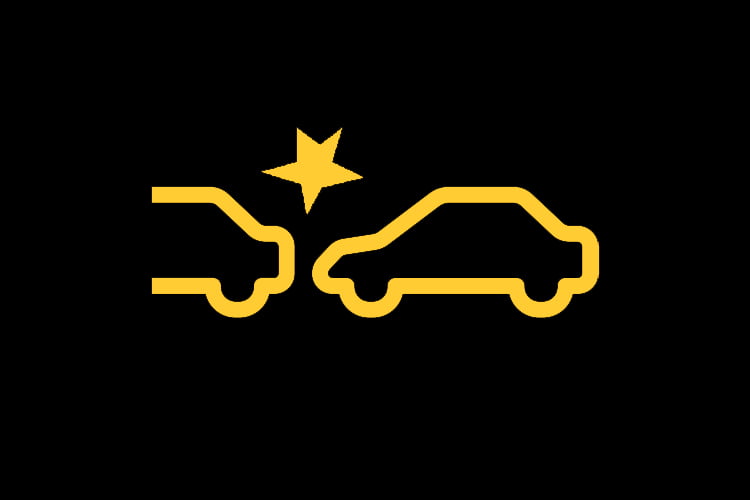 A forward collision system constantly monitors the road then warns the driver if there is a potential collision with other automobiles, objects, or pedestrians. The dashboard symbol is a yellow vehicle with curved lines radiating from its front bumper. In some models, the forward collision avoidance indicator is two cars facing each other with a star.
Lane Departure Warning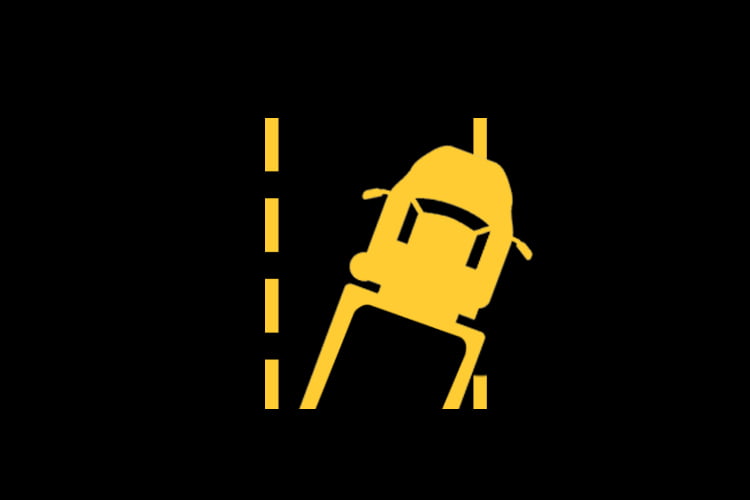 A lane departure warning system constantly monitors your truck and alerts you if it deviates from its lane. It is only effective when road markers are visible. The symbol is a vehicle veering out of its course, and alarm beeps accompany it in some models. In some models, the light can be a yellow or amber text symbol of LDW. If there is a fault, an exclamation mark accompanies it. Alternatively, the light illuminates constantly without blinking. Let a qualified mechanic check your truck.
READ MORE: Massey Ferguson: Tractor Warning Light Meanings
Automatic Emergency Braking Light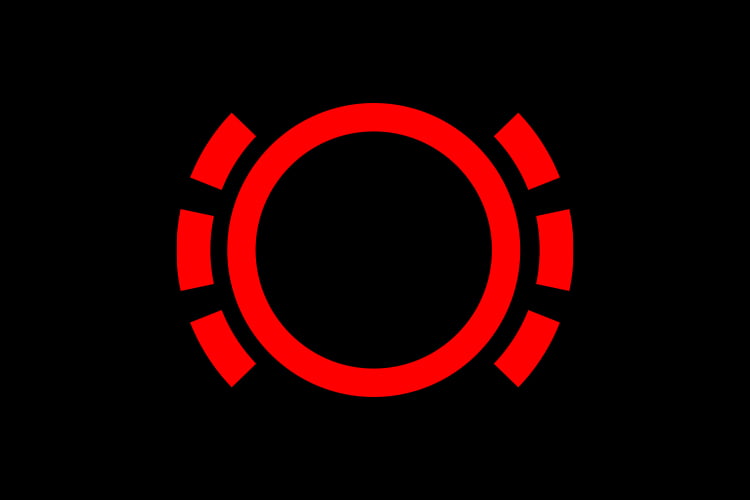 An automatic emergency braking system detects a potential collision with an object, pedestrian, or another vehicle and applies brakes. It also warns you by illuminating a light on the dashboard. When you see it, you should step on the brake pedal.
The system warns the driver by illuminating the emergency braking light, playing audible beeps, or causing vibrations. And if the driver doesn't respond, it applies full braking power to avoid the collision or reduce the severity.  
Engine Shutdown Light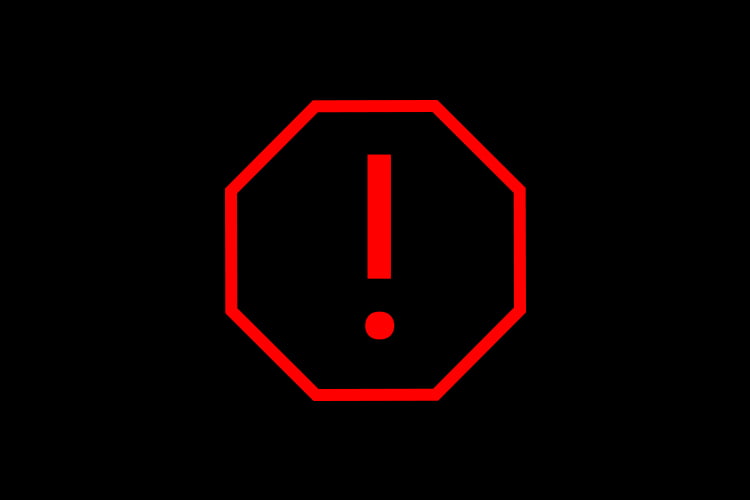 The engine shutdown light is a red exclamation point inside an octagon. It shows a critical engine condition that requires an immediate engine shut-off. You might also hear beeping alarm sounds and see other warning lights on the dashboard. If your engine is still running by the time the warning light appears on the dashboard, stop it when it is safe to do so and contact your service provider. That is necessary to avoid causing more severe damage to the engine.
Brake Pressure Indicator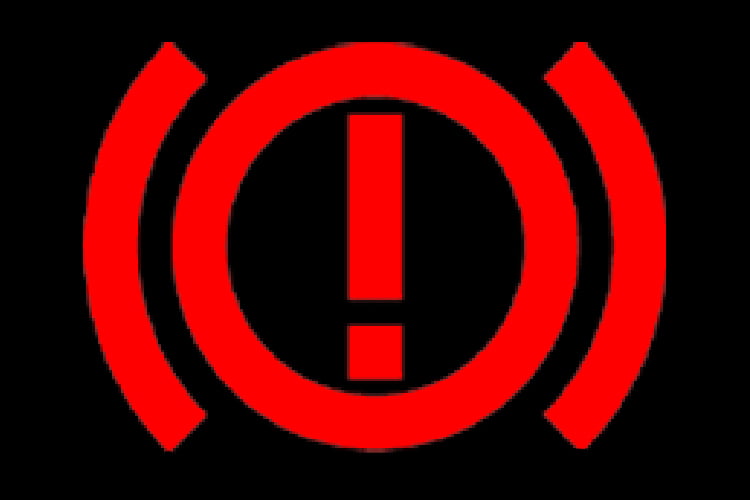 The Brake pressure indicator is the usual red brake warning light that illuminates as a circle with an exclamation mark within the parentheses. If it comes on when you apply brakes, it shows you have lost brake pressure. It may also be continuously on if the fluid level in the master cylinder is critically low.
This Penske truck warning light shows a critical condition that requires immediate attention. Call your mechanic to diagnose the problem and fix it, but never drive with it on the dashboard.   
READ MORE: 15 Mack Truck Dash Warning Lights: Full List + Manual Download
Brake Fluid Indicator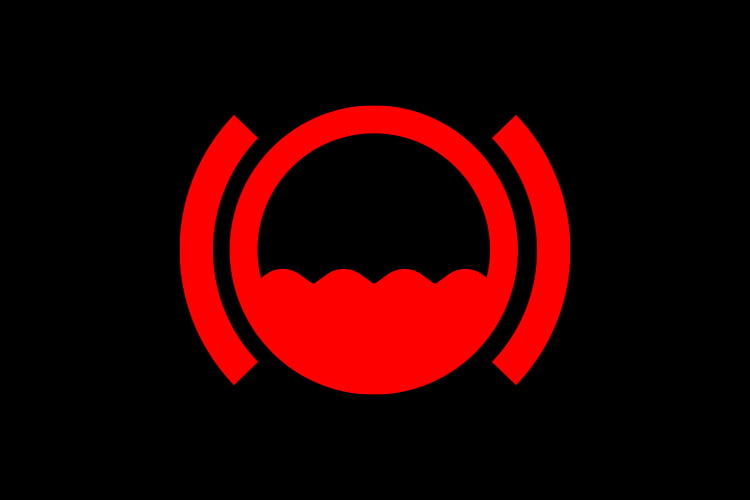 Brake fluid indicator is a red symbol of a half-shaded circle inside parentheses. A wavy line separates the two sections. As the name suggests, it indicates a low brake fluid level or a fault with the sensors. The condition is critical! Do not drive your truck with the light on because of a possible brake failure. Instead, contact your mechanic to fix the problem.
High Exhaust System Temperature Light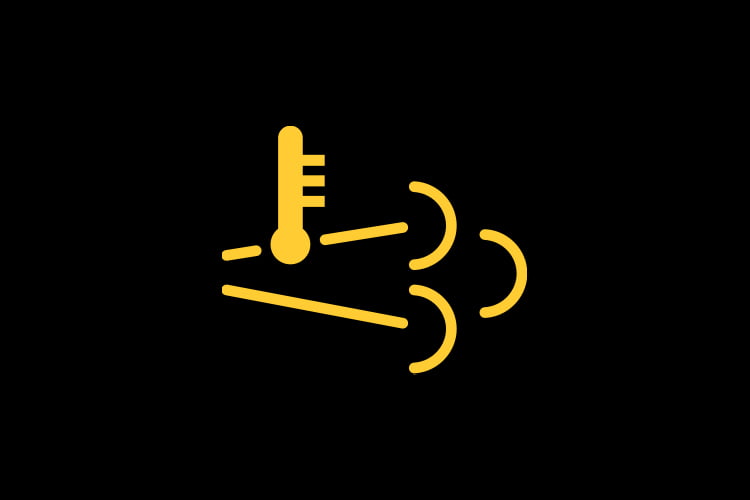 The high exhaust system temperature indicator is a yellow/amber symbol of a smoke trail and a thermometer. It comes on occasionally at low speed to tell you that the regeneration is on and the exhaust is hot. When parking the truck, be aware of your surroundings not to cause any burn with your hot exhaust. You don't need to take any action because the vehicle is just performing a routine procedure.
Engine Warning Light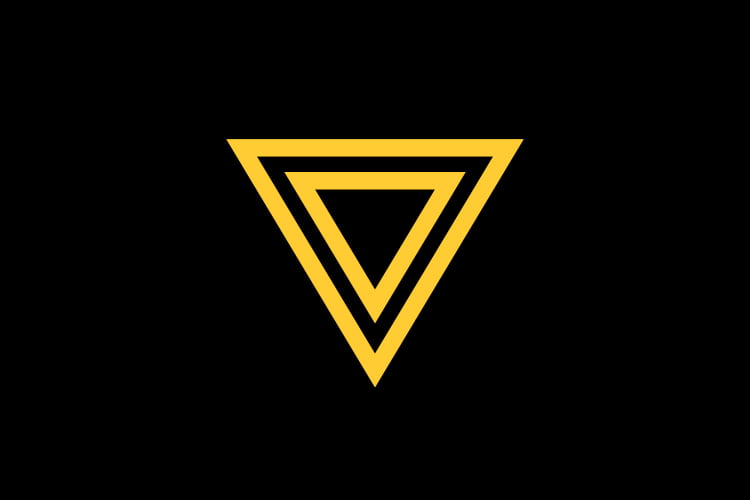 An engine warning light in Penske trucks is a yellow triangle with one vertex pointing downwards. It indicates that some engine conditions, such as coolant temperature or oil pressure, are at the limits. If the warning light persists, the engine may reduce power or shut down to prevent damage. Take your truck to a service at the first opportunity.
READ MORE: 15 John Deere Tractor Dashboard Warning Lights
Diesel Particulate Filter Indicator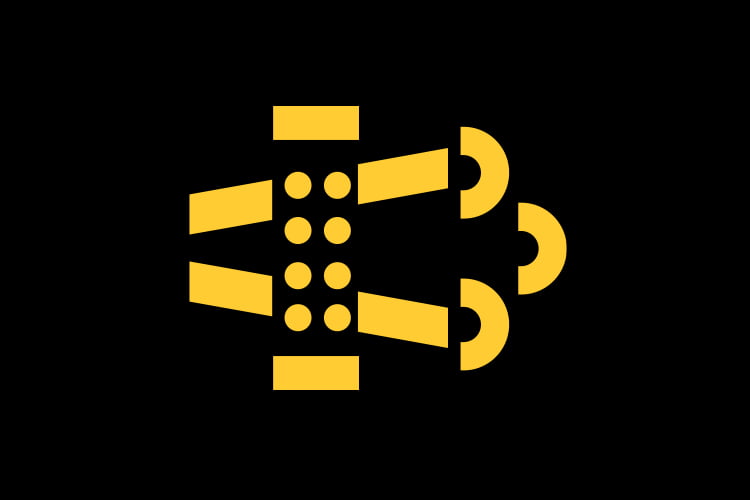 Diesel Particulate Filter (DPF) indicator is a yellow symbol of smoke trails through a perforated wall. The system's only function is to capture soot in the smoke to prevent them from ending in the atmosphere. The soot may clog the filter over time and requires occasional regeneration, a process that burns soot into ash.
The indicator comes on when the filter needs to regenerate. You can drive the truck at high speeds for about 20 minutes or consider park degeneration. But if the DPF light is flashing, the filter is blocked and requires an immediate park degeneration. The system will limit the engine's power to prevent further damage.
Exhaust Filter Indicator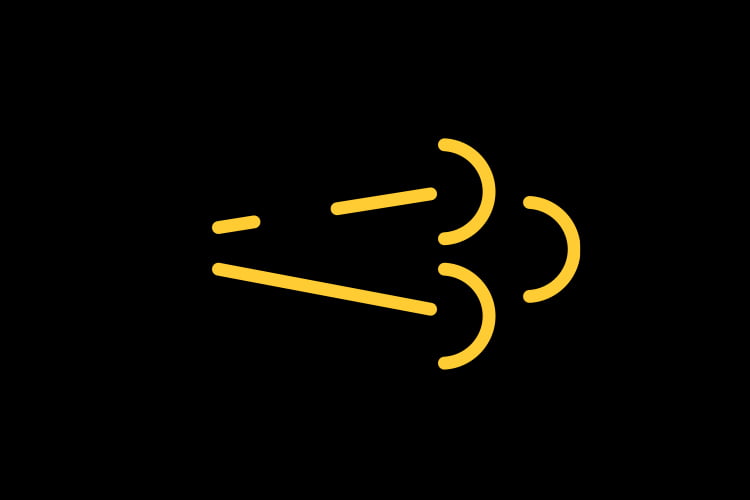 The exhaust filter indicator illuminates as a smoke trail. It comes on due to clogging of the filter to inform you that the filter requires cleaning. In some models, the cleaning happens automatically when the truck is on the road.
Glow Plug Indicator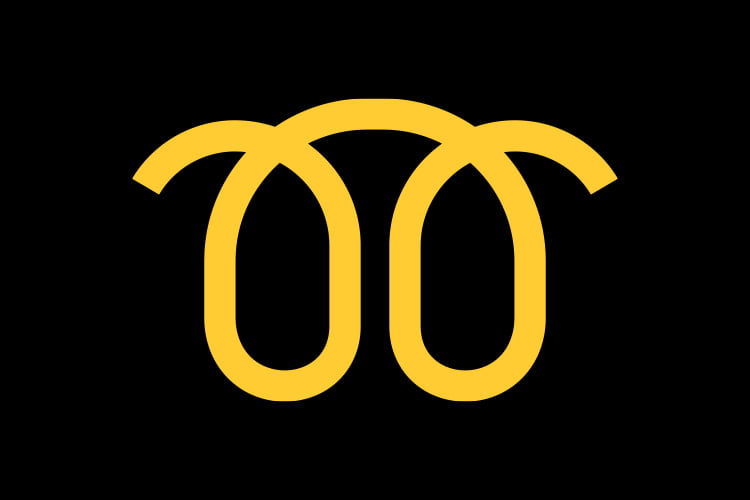 The glow plug indicator is a yellow light showing a coiled spring. It comes on when you turn on the heater to raise the temperature of the combustion chamber and assist in starting the engine. The indicator should go off once the engine attains the appropriate temperature. If it doesn't or comes on at some other time, there is a fault in the system. Contact your service provider to resolve the problem.
Conclusion
Always keep your eyes on the instrument cluster and message center not to miss any information your Penske truck warning lights throw to you. That will help you take necessary actions to prevent further damage to truck systems. You may refer to the truck manual for more dashboard symbol details.
WATCH MORE: International Trucks – Dashboard Lights