(Last Updated On: May 16, 2022)
Do you own a Mack truck, and are you overwhelmed with the many dashboard symbols on the dashboard? Don't worry! We will describe the most common Mack dash warning lights in this article.
Mack dash warning lights have different colors. Each symbol has a meaning and requires your attention. Some may need immediate attention, while others indicate an active system.
Continue reading to learn more about possible Mack truck dash warning lights and what they mean.
Coolant Temperature Indicator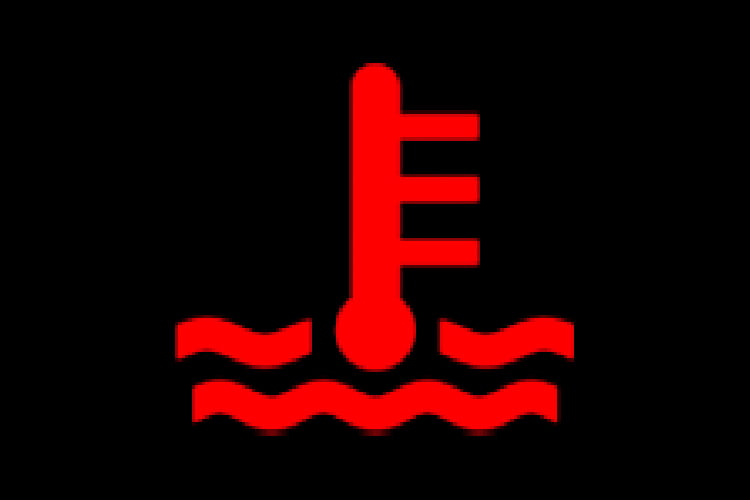 The coolant temperature indicator is a red symbol consisting of a thermometer and two wavy lines. You will find it on the coolant temperature gauge.
Coolant temperature light will come on when the coolant temperature exceeds the maximum allowable. For Mack truck engines, the operating temperature range is between 80 to 105° C (170–215° F). If it exceeds the upper limit, you see the warning light, and the engine may shut down if you had enabled the automatic feature. You should not drive your truck with this warning light on the dashboard. Instead, safely stop and shut down the engine to cool.
Engine Oil Pressure Light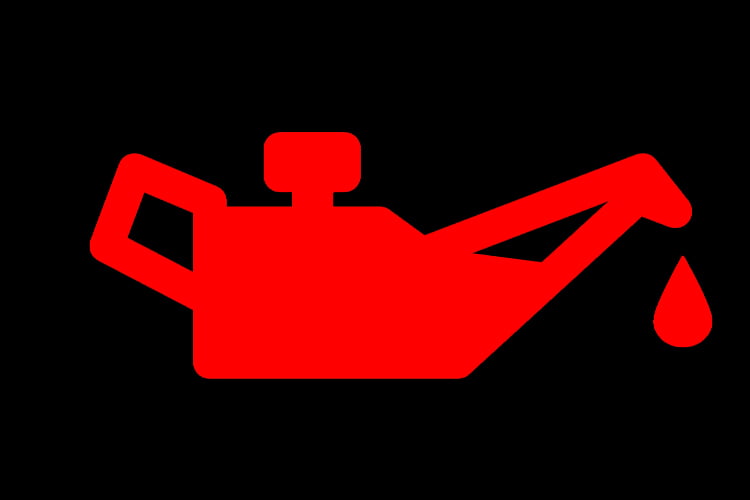 The indicator is a red light showing an old-school can with a liquid drop from its spout. You will find it on the engine oil pressure gauge.
This Mack dash warning light comes on when the pressure drops below the recommended minimum value. A red stop symbol may accompany it, and a buzzer sounds to further warn you of the danger. Bring your truck to a safe stop and contact a qualified mechanic to check the problem. Sometimes the engine automatically shuts down.
Interaxle Lock Indicator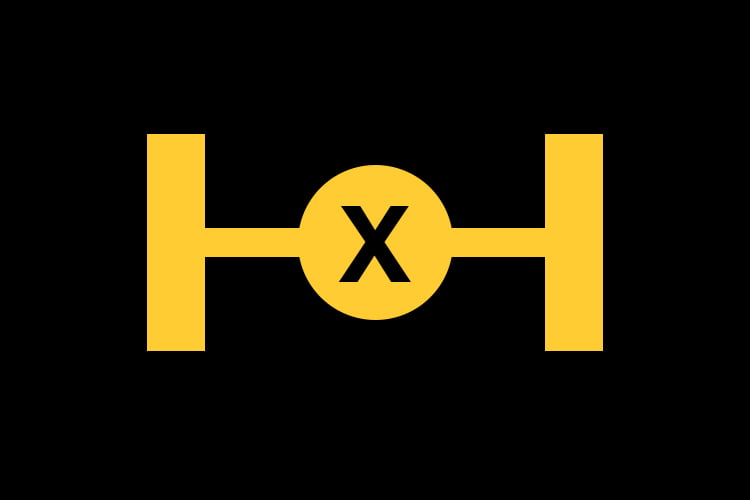 The interaxle lock indicator is a yellow warning light showing two thick vertical bars joined by a thin line and a bulging midsection with a white X. The light will come on when you engage the interaxle lock. If it appears when that is not the case, there may be a fault in the system. Call your mechanic to help you check and fix it.
READ MORE: Massey Ferguson: Tractor Warning Light Meanings
Diesel Exhaust Fluid (DEF) Light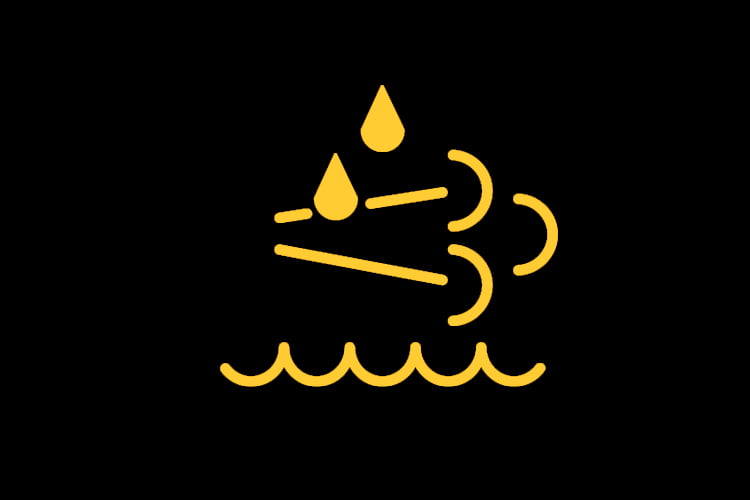 Aftertreatment Diesel Exhaust Fluid is a yellow warning light showing a wavy line, smoke trails, and fluid drops. This indicator comes on when the diesel exhaust fluid level is below the recommended minimum. It may also flash if the diesel exhaust fluid level is critically low. You only need to top it up if there are no associated problems. You should check for leakage signs and fix that before topping up the fluid.
Hill Assist Indicator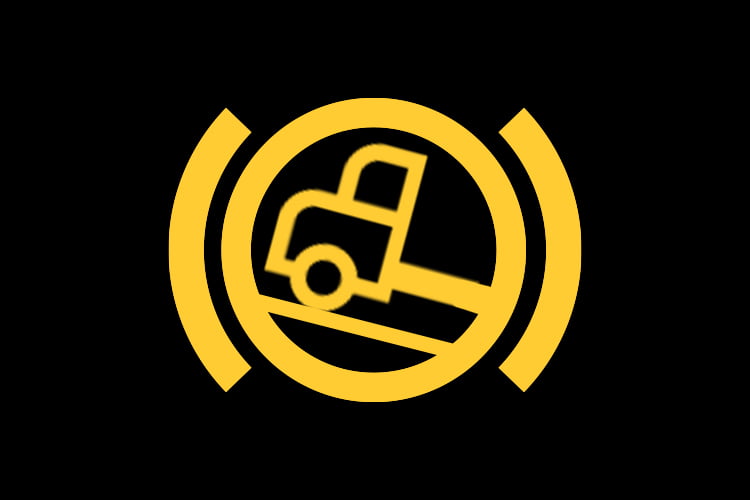 The hill assist indicator is a yellow light showing a truck on a steep slope inside a circle enclosed by braces. It comes on to show that hill start is active. This system helps you safely start your Mack truck uphill without rolling downwards. Many other vehicle models also have it.
Exhaust Brake Indicator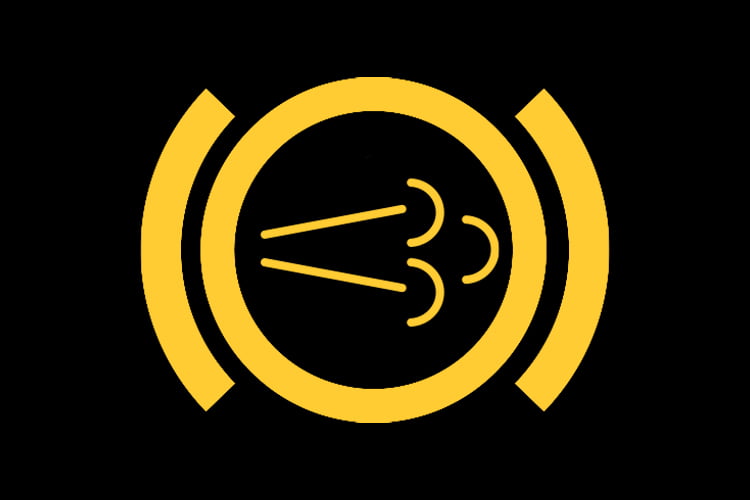 The exhaust brake indicator is a yellow light. The symbol shows a sketch image representing smoke coming from exhaust inside a circle between the braces. This is the usual brake indicator with the smoke trail inside as the difference.
An exhaust brake helps you slow the truck down the slope without wearing your brake pads. When the system is in automatic mode, the word AUTO comes [below the symbol. But if you turn it off, the word OFF appears instead. 
READ MORE: Bobcat Warning Light Symbols
ABS Malfunction Tractor Light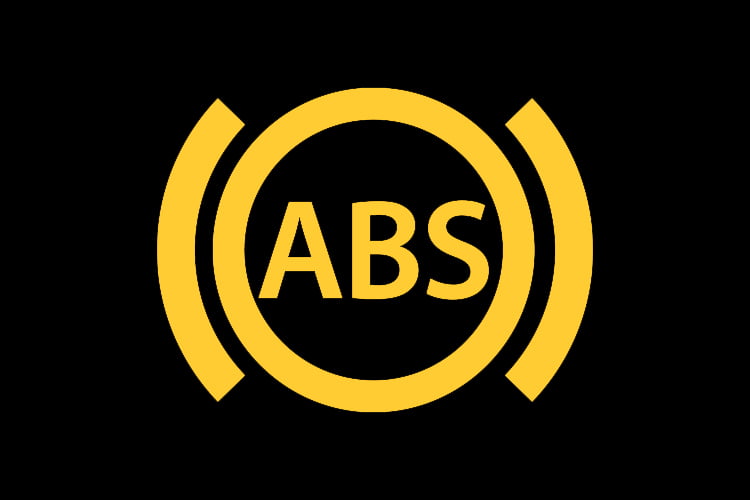 The ABS malfunction indicator is a yellow brake symbol with ABS in it. It comes on when there is a problem with the anti-lock braking system. The wheels may lock during heavy braking or when driving on a slippery road. Wheel locking compromises steering control, and you are likely to get off the road. It is better to service your Mack truck when you see this warning light before taking any long trip.
Preheating Active or Preheating Fault light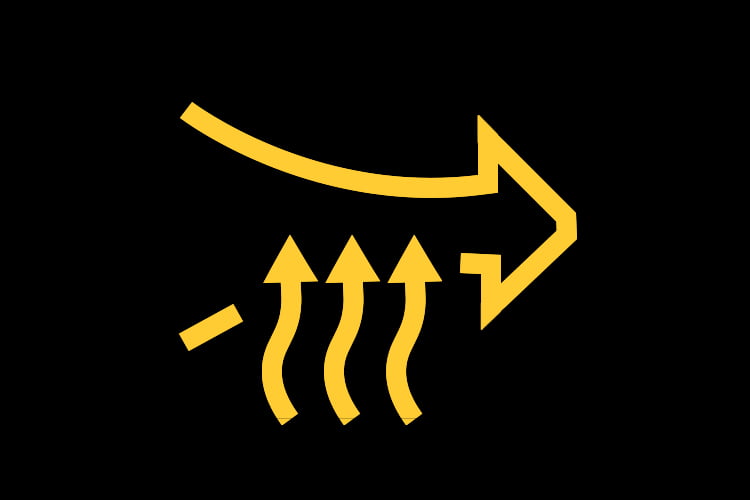 This is a yellow indicator. It shows one large, right-pointing arrow and three small arrows piercing it from below. It usually comes on when preheating is active. But if that is not the case, it indicates a fault. If it comes on when you are driving, there is a problem with the heating system, probably a problem with the plugs or any other components. In that case, contact your mechanic to diagnose the cause and fix it.
Tractor Control System (TCS) Indicator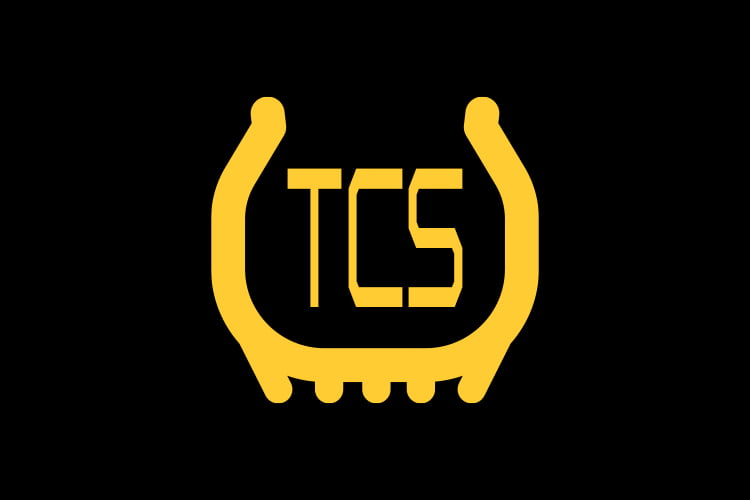 Tractor control is a yellow warning light. It illuminates as a TSC inside a parenthesis joined by a rugged line representing tire treads at the bottom. This warning light comes on when TCS is active.
A TCS raises, holds, or lowers mounted or semi-mounted equipment through hydraulic means. It operates the three-point hitch of the tractor. You don't have to do anything if the indicator comes on when you activate TCS. But if you see it when that is not the case, there may be a fault that your mechanic should check and fix.
Lane Departure Warning System (LDWS) Indicator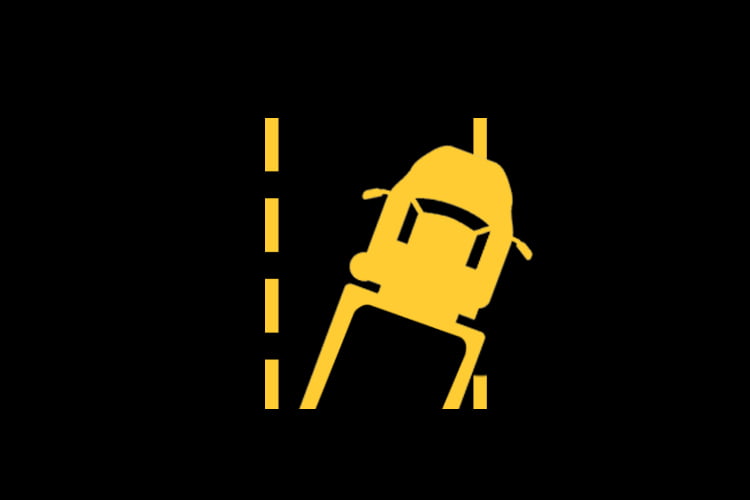 LDW indicator is a yellow light showing a middle lane marker and a track veering off the lane. As the name suggests, lane departure is a system on your truck that warns you if you are about to get off or overlap. If you turn it off by flipping a switch on the dashboard, the LDWS indicator comes on. You will not get any assistance to maintain your lane from this system.
Electronic Stability Control (ESC) Indicator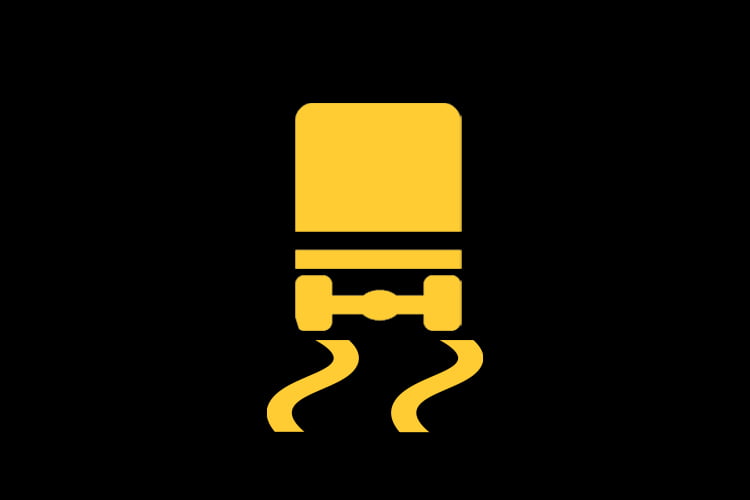 An electronic stability control indicator is a yellow light showing a truck and two wavy lines from its rear wheels. It comes on when the ESC system is active.
ESC helps you maintain steering control of the truck in critical driving conditions such as on a slippery road. It intelligently applies brakes to individual wheels to prevent you from skidding off the road due to loss of road traction.
READ MORE: Kenworth Truck Warning Light: 20 Symbols And Manual Download
Lane Changing System (LCS) Indicator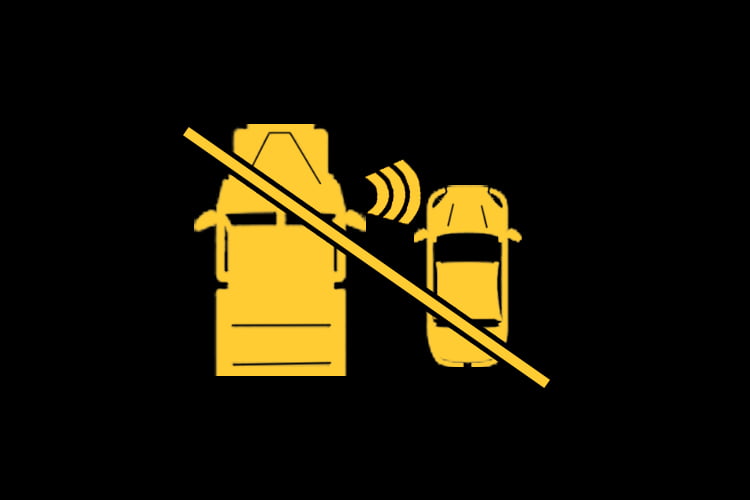 A lane-changing system indicator is a yellow light showing a truck radiating beams to a car on the right side. A diagonal line also cuts through it from the top-left corner to the bottom-right corner. It comes on if you disable or deactivate the system. If you see it when LCS is active, it indicates a fault. Contact your mechanic to help you diagnose the problem and fix it.
The lane changing system alerts you if there is an unintended lane change. It may produce a beeping sound or vibrate the steering wheel to notify you.
Maintenance Due Indicator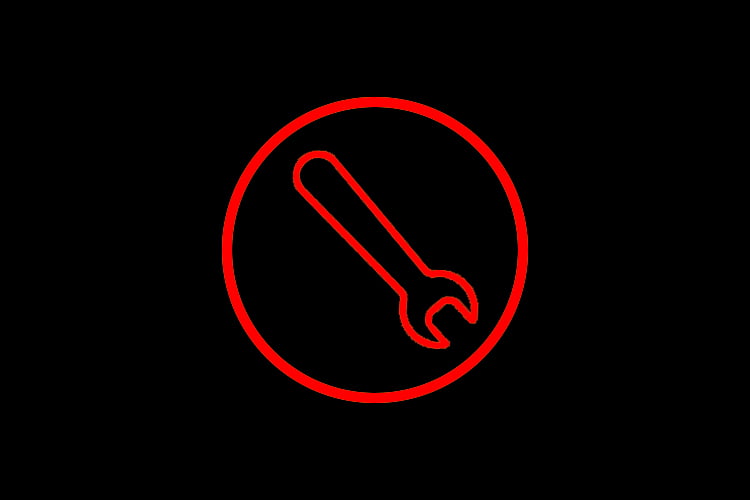 The indicator is a wrench or spanner inside a circle. As the name suggests, it comes on when maintenance is due. You should undertake the scheduled maintenance as soon as possible to avoid more warning lights from illuminating your Mack truck dashboard. And most importantly, you should maintain your truck promptly to increase reliability, efficiency, and lifespan.  
Electronic Malfunction Indicator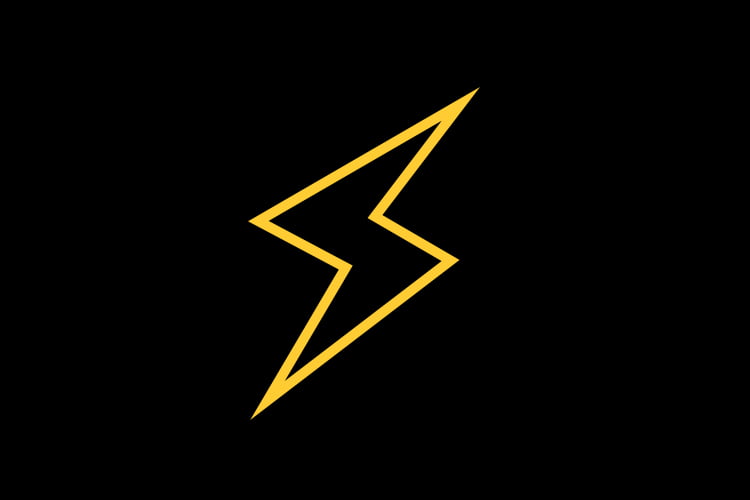 The electronic malfunction indicator looks like a lightning flash on the dashboard. It comes on when your truck detects an electronic fault that should be checked and fixed.
Your Mack truck has many electronic systems that monitor the operation of your car. The information from the sensors goes to the electronic control module for analysis and display if necessary. If there is a problem with any electrical and electronic components, ECU triggers the electronic malfunction indicator. It can be a faulty sensor, short circuit, a blown-out fuse, or others. Just call your mechanic to diagnose the truck and fix the problem. 
Information Indicator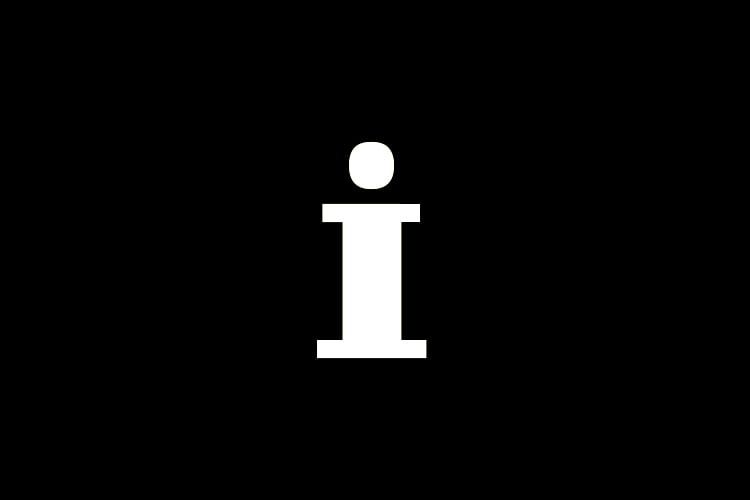 Information indicator illuminates the dashboard with a small letter "i." It shows a malfunction. Contact an authorized Mack technician to help you diagnose the truck and fix the problem. You may check the driver information display for detail, but the reason is sometimes not apparent. Just contact an expert to help you.
Download Mack truck manual here.
The Verdict
It is crucial to keep your eyes on the instrument panel and driver information display as you do on the road. Your Mack truck often gives you information and warnings about the status of various systems. To safely operate this complex machine, you should respond as necessary for every dashboard symbol. We have only highlighted a few of them. Please refer to your manual for more details on all possible Mack dash warning lights.
READ MORE: 20 Isuzu Truck Dashboard Warning Light Symbols: Full List And Manual PDF