(Last Updated On: May 16, 2022)
Did you know that every Kenworth warning light that shows up on your semi-truck dashboard has a meaning? These dashboard symbols are a wealth of information. As a driver, you should take the time to know all about them.
Dashboard symbols inform you of the status of various systems on your truck. If you understand what each light means, you can make the best decisions and act accordingly. The indicators can inform you of the action to take or warn you of a fault.
Continue reading to understand the meaning of the most common Kenworth warning lights every truck driver should know.
Malfunction Indicator Lamp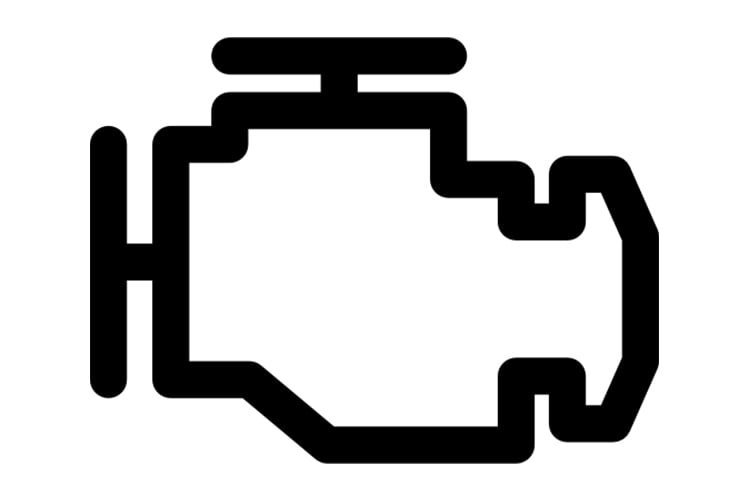 A malfunction indicator lamp (MIL) is a yellow image of an engine block. This Kenworth warning light comes on when scheduled maintenance is due or an engine problem. It may blink or turn red to indicate the seriousness of the situation.
If you see the MIL on your semi-truck, drive to a mechanic to diagnose and fix the problem. If the condition is severe, MIL flashes or turns red, you should safely pull up and turn off the engine. This indicator may come with other dashboard symbols and messages. Check them for more clues.
Kingpin Lock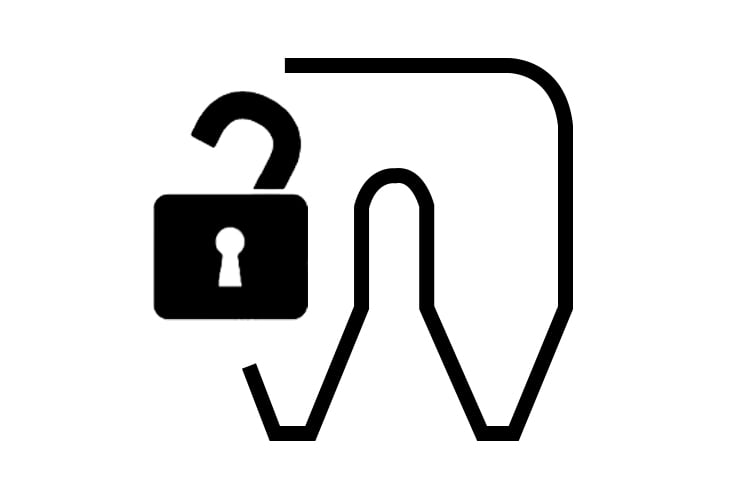 Kingpin Lock is a rend symbol of an unlocked padlock on what looks like a double-pin. Kingpin lock attaches onto and secures the kingpin of a semi-trailer. It prevents unauthorized coupling and towing of the locked semi-trailer. If it comes on, it warns the driver to lock the kingpin. You should always lock the kingpin to stop any unauthorized tractor from pulling up and driving your trailer away.
Engine Heater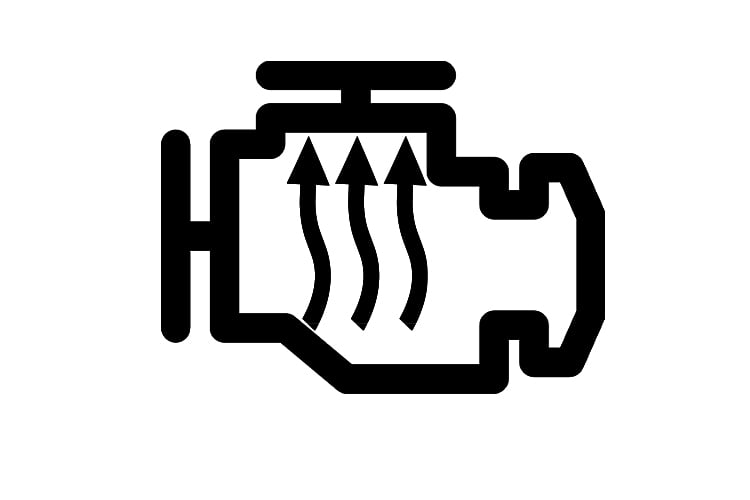 An engine heater is a symbol of an engine block with wavy arrows inside, representing the rising hot air during the heating process. Engine heaters warm the engine and fluids before starting the engine. That brings the coolant to operating temperature during cold conditions, preventing possible damages from cold starts and idling.
Engine heater light or indicator appears when you turn on the switch to warm the engine. When it appears at any other time, it indicates a fault with the system. Take your truck to a qualified mechanic for a checkup as soon as possible.
READ MORE: Nissan Dashboard Symbols and Meanings: What All Drivers Need To Know
Truck Body Up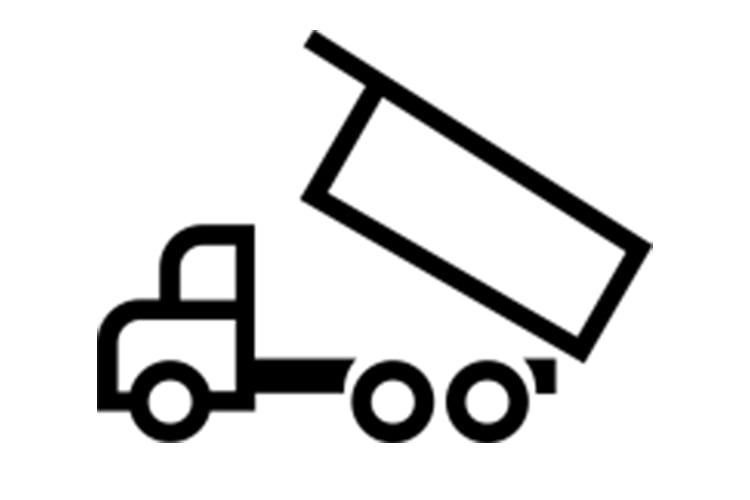 The truck body up indicator is a red symbol of a dump truck with a body in a raised position as if it is offloading the content. It comes one to indicate the trailer's position and reminds you not to drive away before you lower it. An alarm often accompanies this red warning light. Lowering the body reduces the chances of overhead collisions and other related safety issues. If you are not offloading any content, keep the body lowered.
Trailer Body Up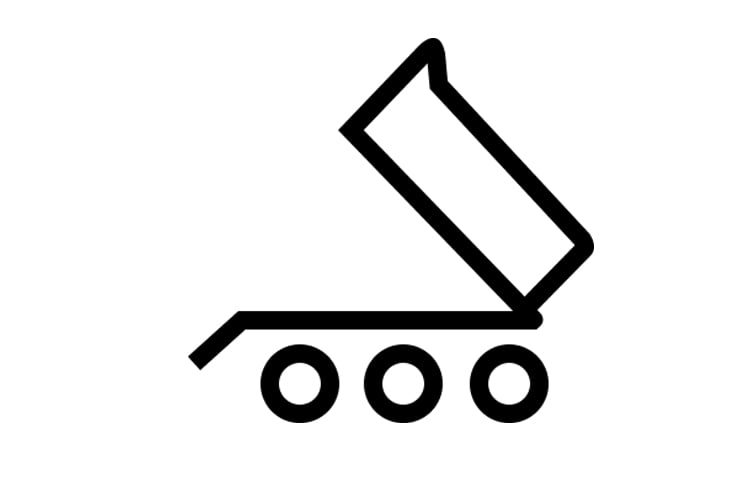 The Trailer body up is also a red symbol of a dump trailer with the body in a raised position. It notifies you that the body is raised, increasing alertness while working. You should lower the trailer body to avoid overhead collisions and other dangers from raised bodies.
Filter Regeneration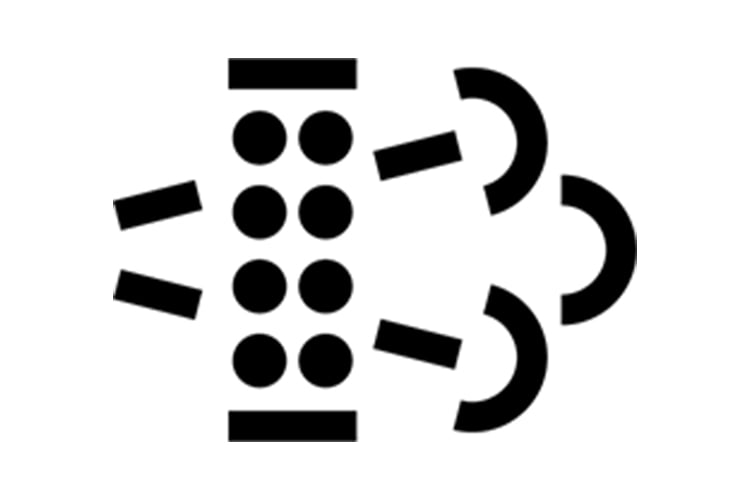 A filter regeneration indicator consists of two-column circles sandwiched by bars and smoke trails through it. A yellow or amber symbol means regeneration is overdue. Filter regeneration automatically happens when driving. If that is not the case, you can do it manually by accelerating to 50 mph and maintaining the speed long enough to resolve the light.
Filter regeneration is necessary to burn off excess soot deposits. That prevents the emission of harmful and dark smoke you often see when some vehicles accelerate.
READ MORE: Jeep Warning Lights and Their Meanings
Transmission Temperature Light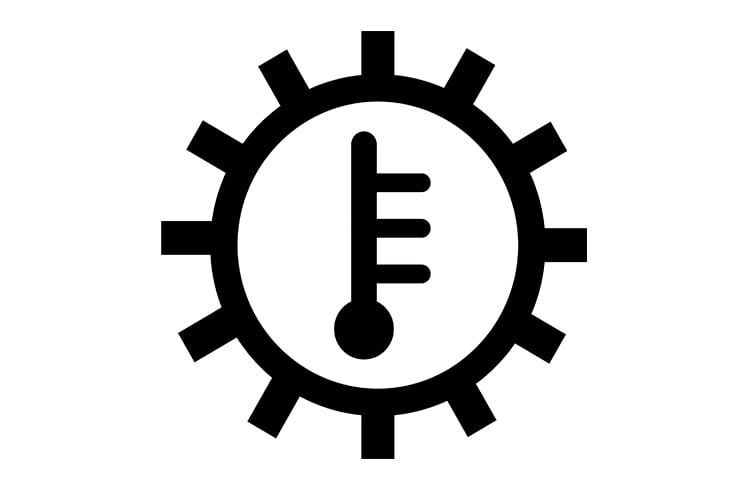 The transmission temperature light is a yellow/amber indicator. It comes on as a toothed circle with a thermometer inside. This light illuminates the Kenworth dashboard when the transmission system is overheating. That can result from a low transmission fluid level or a mechanical fault in the cooling system.
These Kenworth warning lights require you to pull over immediately to let it cool. Your next stop should be to an auto repair shop for an immediate fix. Don't drive your truck with this warning light illuminating the dashboard.
Air Suspension Dump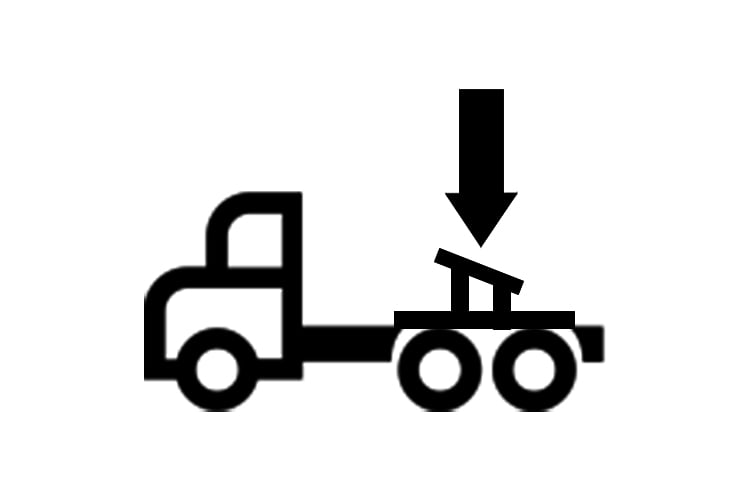 The air suspension dump indicator shows a truck without a trailer body and an arrow pointing down. It comes on when you activate the switch on the dashboard to lower or raise the truck's rear by dumping air from the suspension bag. If it appears at any other time, there may be a fault in the system. You should have a qualified mechanic to check it at the first opportunity.
An air suspension system prevents the truck from bouncing over rough terrains when it is unloaded. It improves the ride depending on the load and the truck speed.
Check Transmission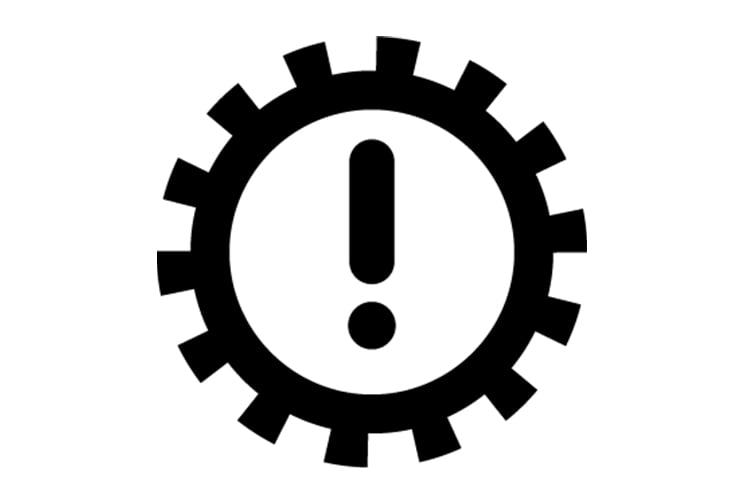 Check transmission indicator is a toothed or rugged circle with an exclamation point inside. This light comes on if there is a fault with your truck's transmission system and associated elements. The most common cause is overheating or damage to internal components. Overheating can result from low or depleted transmission fluid that cannot efficiently cool it.
Check transmission light can trigger symptoms such as slipping out of gear, low transmission fluid, maintenance reminder, etc. Don't continue driving with this light on the dashboard. Take your vehicle to the dealer or auto repair shop for diagnosis and fixing.
READ MORE: Lexus Dashboard Lights: Everything You Should Know
Crane Up Warning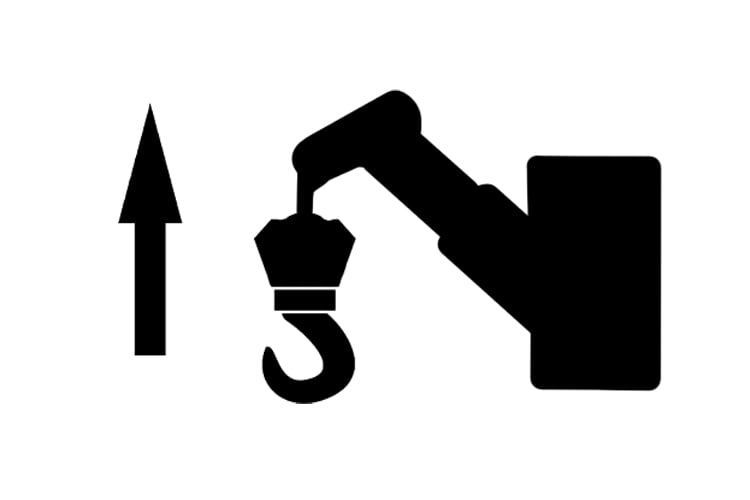 The crane up warning light is a crane with a hook on its arm. It will come on when you raise the arm and stay on as long as the crane is still in that upward position. You should lower it to avoid an overhead collision and other related dangers. This Kenworth warning light may only be available on trucks fitted with cranes.
Traction Enhancement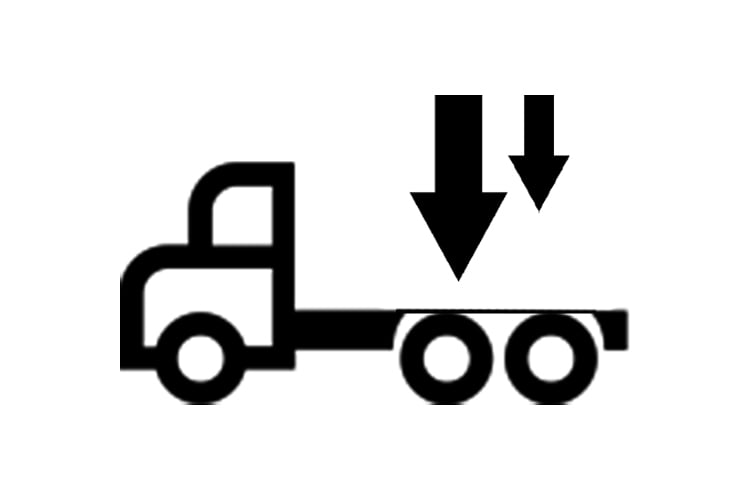 The traction enhancement symbol is the same as the air suspension dump. The only difference is two arrows instead of one pointing to the truck bed. It comes when additional weight is used on the truck bed to improve traction. This usually happens during winter when roads become snowy. You should remove the added loads when driving on a dry road.
Brake Failure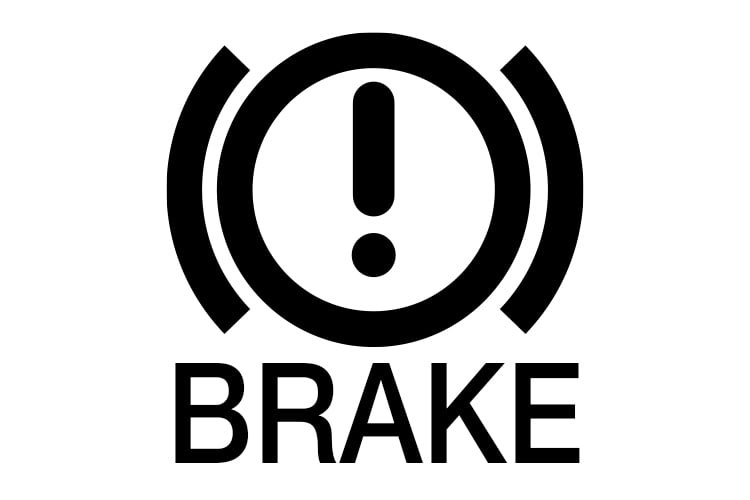 A brake failure indicator is a red symbol of a circle with an exclamation point inside. It also has arcs representing brake pads on both sides and BRAKE written below it. As the name suggests, it comes on when there is a fault with the brake system that can cause a possible failure.
You should stop your truck and pull over when you see this warning light. Call your mechanic to fix it for your safety and other road users.
READ MORE: Subaru Dashboard Lights And Meanings
Emission System Temperature Warning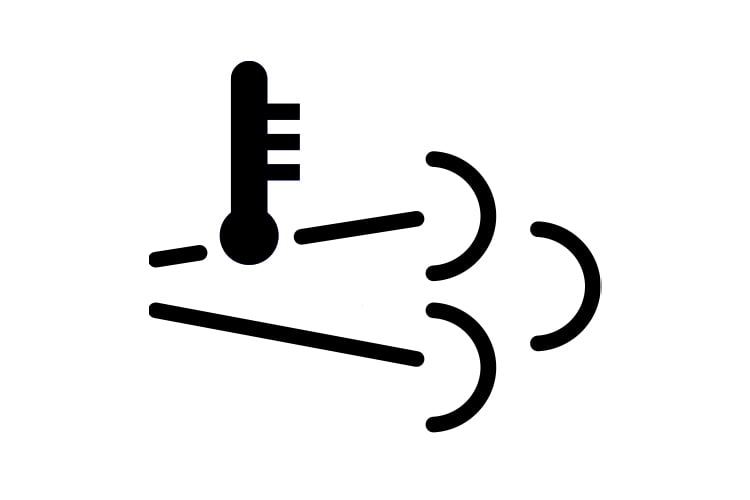 This Kenworth warning light is a thermometer and a trail of smoke. It lights up when the temperature is higher or lower than the recommended value. The emission system operates under optimum temperature to convert carbon monoxide and other dangerous gasses to safer ones. The dashboard indicator comes on if that is not the case.
Take your truck to an auto repair shop for diagnosis. Fix the problem to comply with the emission standards.
Reset Overspeed Shutdown Indicator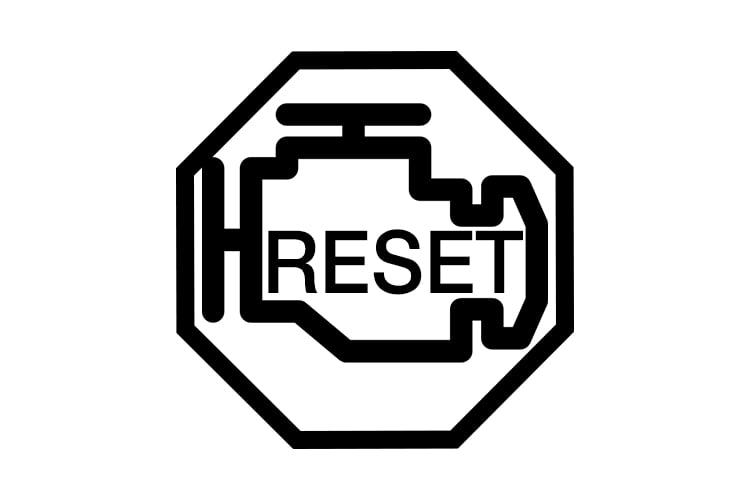 This indicator is an engine block with the word RESET inside. Your truck has a Throttle stop or Overspeed protection system that monitors the diesel engine's rpm. It triggers the throttle valve to shut down the engine when over-speeding. This process also illuminates the warning light on the dashboard.  
Engine Brake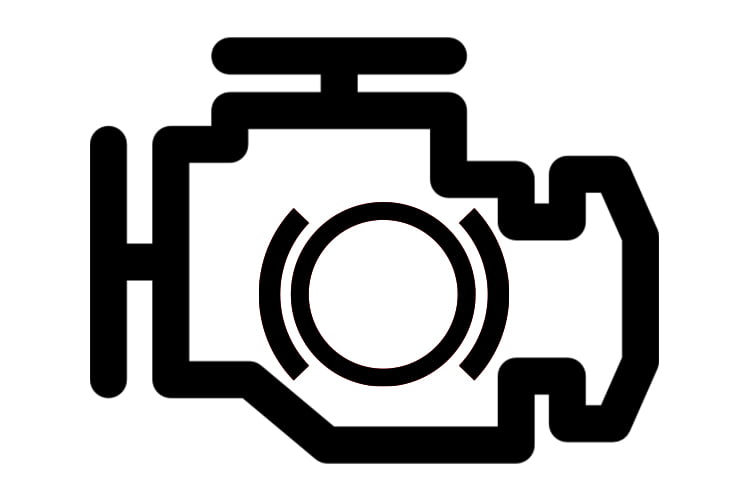 Engine brake indicator light is an engine block with a brake symbol inside it. An engine brake or Jake brake helps drivers slow down the truck without relying on the service brakes. The indicator comes on when you apply it. If the light is on when the brakes are not in use, there is a problem with the system, which you should fix at the first opportunity.
READ MORE: Toyota Dashboard Symbols And Meanings
Wait To Start Indicator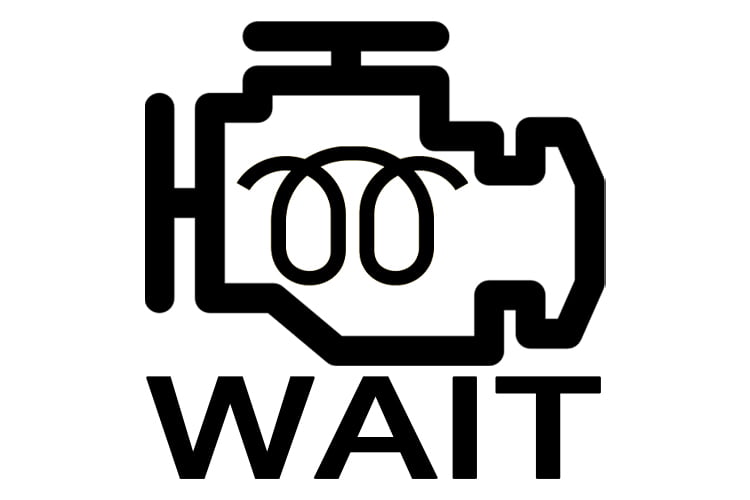 Wait to start indicator is a symbol of an engine block with a coil representing glow plugs inside and the word WAIT below it. Glow plugs will take about 5 minutes to bring your engine to a temperature recommended for starting the engine. Newer ones, however, can take an even shorter time. The indicator light stays on during that time and goes off once heating is done.
If you see the Wait to Start Engine indicator light when the engine is running, there is a fault with the heating system. Call your mechanic or take the truck to a repair shop.
Refrigerator Indicator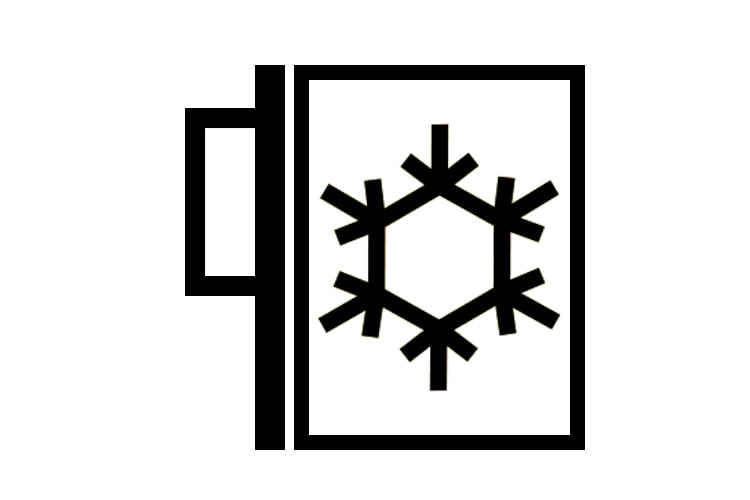 The refrigerator indicator is a green box with a handle and star-like objects inside. It is available on trucks fitted with refrigerators or freezers and comes on when you turn on the switch to keep things cool. The Kenworth warning light may turn yellow if there is a problem with the refrigeration system, which you should fix before transporting any perishable goods.
Pump Mode Indicator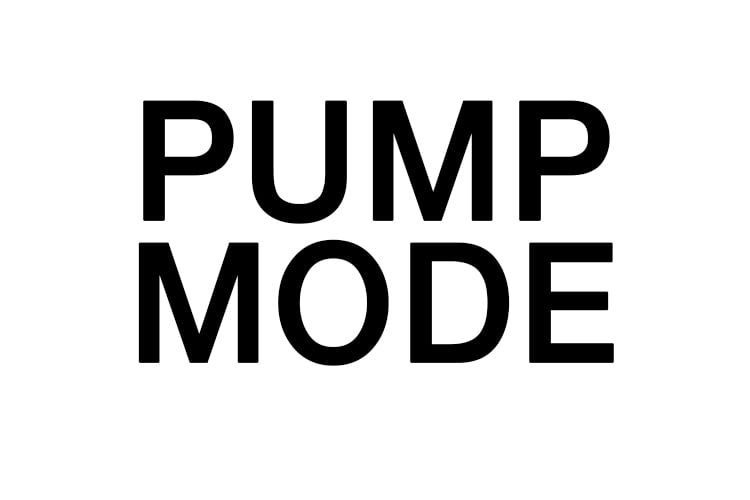 The pump mode indicator is a word symbol that illuminates the dashboard as PUMP MODE. It is available on fire trucks or any other liquid carrier. It will turn on when you flip the switch to pump out water or the content of your tank.  
PTO Indicator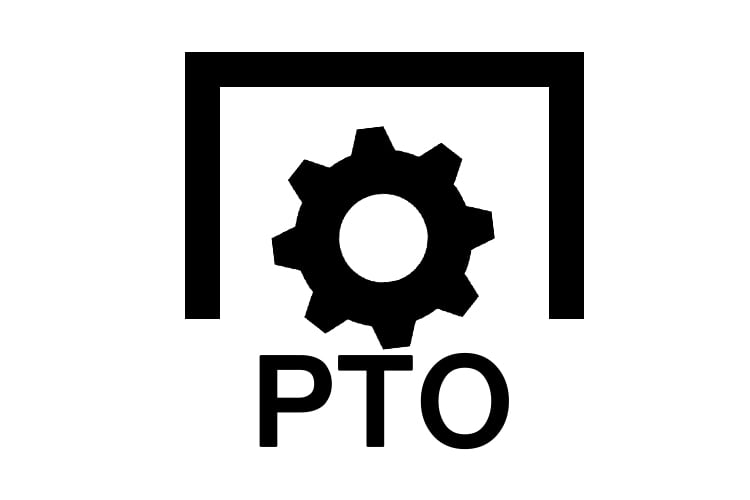 The PTO indicator is a yellow symbol, showing a gear with a rectangular curve over. PTOs (power take-offs) are mechanical gearboxes fitted on trucks to transfer power from the engine to the auxiliary components such as hydraulic pumps, cranes, etc. This Kenworth warning light shows up when you engage this gearbox on your truck transmission system.
Trailer Dump Front/Center/Rear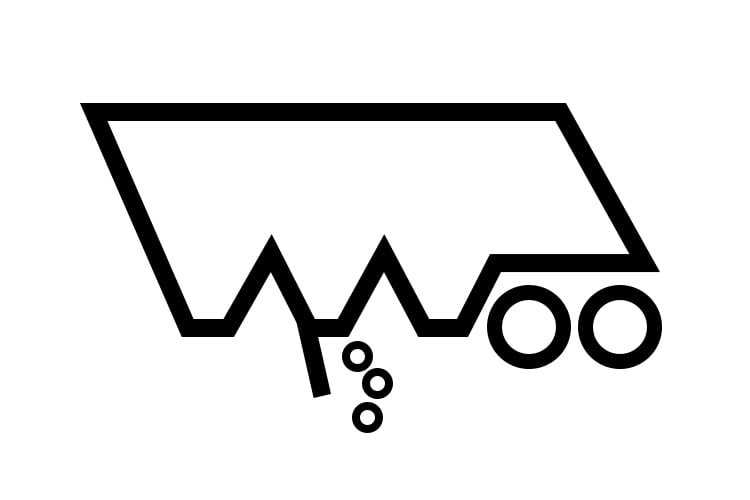 A trailer dump indicator is a 2-D image of a trailer on wheels with a figure that looks like a handle. The position of the handle can be front, center, or rear. The respective dashboard light symbol will light when you open the container to dump the content.
Download Kenworth user manual here for more information.
The Verdict
The Kenworth truck's dashboard has many symbols and switches that the operator should understand. We have only highlighted the most common warning lights and indicators, but you can refer to your truck manual to learn more. The information will help you operate the truck more efficiently and drive safely on the road.
READ MORE: Infiniti Dashboard Warning Lights Every Driver Should Know