(Last Updated On: February 17, 2022)
The two most commonly used speakers are the 6.5″ and 6×9″, producing melodic sound. And, you are wondering what the differences are.
Well, 6.5″ and 6×9″ differ in several aspects besides size. So, when you're picking one of the two, you'd want to choose a speaker that matches your current audio system. This guide will provide:
Differences between these two speakers
Top 6.5" and 6×9" speaker models
So let's jump right into it!
6.5" vs. 6×9" speaker – Key differences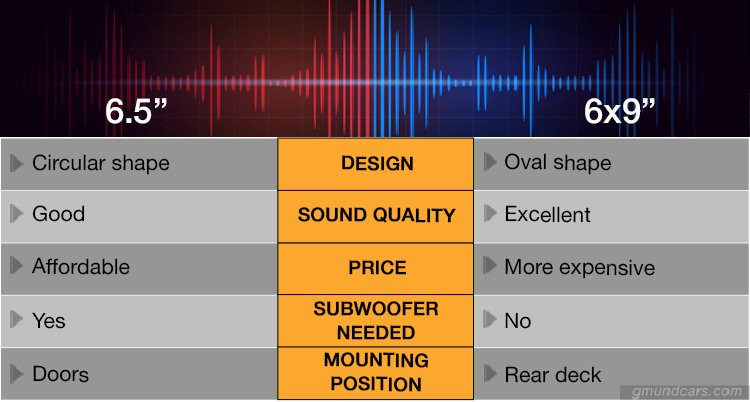 6.5″ models are popular choices among audiophiles looking to upgrade the audio system with aftermarket speakers. They come with power handling capabilities sufficient for producing realistic sound.
6×9″ speakers are more futuristic in the sense that they represent an all-in-one speaker solution. Its up-to-date design ensures that the output can reach high frequencies without interruption or distortion. As a result, these speakers offer a premium music experience with deeper bass.
Do 6.5" speakers sound better than 6×9" ones?
Short answer, no it's worse. For the long answer, it depends.
When choosing between the two speaker types, you have to decide whether you want two-way or three-way. These two speaker categories refer to the number of speaker drivers with the improving frequency range.
For instance, between a high-quality 6×9″ and 6.5″ three-way, a 6×9″ speaker will be your jam. However, a high-quality 6.5″ three-way speaker will perform better than a two-way 6×9″ speaker. That's because a two-way 6×9″ speaker has a more limited frequency range.
How the speakers are installed also has to be considered. If the 6×9″ speaker is hi-fi, but the installation is not done right, it can sound worse than a low-quality 6.5″ speaker. Hence, you can only compare these two types of speakers when you put them in the same condition about the type, configuration, installation, etc. And, in this way, 6×9″ can outweigh the 6.5″.
If you have not yet decided on a speaker for your car, go through the product chart given below to have an intelligent decision for your audio system.
Where is the best place to mount them?
Typical places for mounting speakers include dash panels, doors, rear deck, or the back of your trunk. The shape comes into play when you are mounting the speakers.
6.5″ speakers have a compact design that is ideal for fitting in a classic vehicle. They can work in any 6.5″ or 6.75″ opening. The best place to mount them would be on the doors due to their circular shape. That way, you get excellent surround sound.
As for 6×9″ speakers, they are small in size with a modern design. Nevertheless, they have a larger cone area than 6.5″ ones. So when replacing original factory speakers, you may have to fit them after making modifications with a unique prying tool. In case they do not, add a speaker adapter or bracket plate. You can mount these speakers on the rear deck for their pleasant outputs.
Speaker design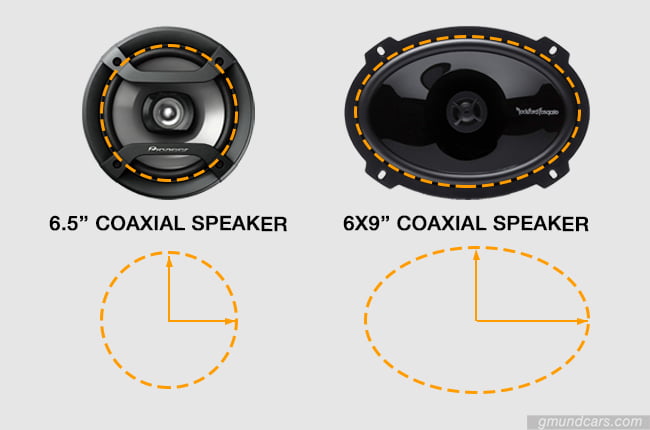 One of the main differences between the two speaker types is the shape. In the case of speakers, size and shape matter a lot.
A larger surface area means the speaker cone will move more air when in motion. The speaker cone can produce a louder volume, more bass, and better performance when it moves more air.
As you know from the chart, 6.5″ speakers have a circular shape, and 6×9″ ones have an ellipse (oval) shape. Well, 6×9″ speakers come with a much larger width, paving the way for bigger cones. So 6×9″ can achieve high and midbass frequencies more efficiently than 6.5″ circle speakers.
Which is cheaper?
Since it has a better design and more bass performance, 6×9" speakers tend to be more expensive than 6.5″ speakers. In this competition, 6.5″ speakers will be the champion with medium to low prices.
That is why 6.5″ speakers are hot among buyers who are looking for something affordable. If you are an audiophile, a 6×9″ is the most cost-efficient way to get powerful audio performance.
Who is the winner?
It all comes down to what you prefer in a speaker system.
6.5″ speakers are ideal for those who are just looking for an OEM replacement and are not too selective about the harmony. They are an affordable way to get pure sound quality. You may run into some problems with this speaker if you prefer to hear high-frequency sounds. Thus, you will need a subwoofer to help your 6.5″ speakers produce the rich melody.
With 6×9″ speakers, subwoofers are not needed because they are self-sufficient. You can customize your music to be loud, thereby giving you a better mixture of the frequencies. The quality of the final output is excellent. So, in my view – as a mechanic and auto-audiophile, 6×9″ speakers will be a better choice out of the two.
Top recommended speakers comparison
When buying a new speaker, there are two common types of speakers you should go into – component and coaxial speakers. Coaxial speakers have different drivers, all combined in one structure. On the other hand, component speakers come with drivers that can be installed in several different locations of the car.
Mentioned below is the comparison of the recommended speakers in each category.
6.5" vs. 6×9" coaxial 2-way speaker
Pioneer TS-F1634R and Rockford Fosgate P1692 are excellent choices for 2-way coaxial speakers. Both are designed with a shallow basket for versatile installation and improved sensitivity levels.
Pioneer TS-F1634R has a solid construction with a max power of 250W; yet, its RMS is only at 25W.
The sound enhancement over factory speakers with Rockford Fosgate speakers is much better. Its Vertical Attach Surround Technique (VAST) increases cone area for optimal performance.

Pioneer TS-F1634R


Rockford Fosgate P1692

Rating

Size
6.5''
6x9''
Power rating
250W (Peak)
25W (RMS)
150W (Peak)
75W (RMS)
Sensitivity
91dB
91dB
Frequency response
31 Hz to 29 kHz
60Hz - 22kHz
Impedance
4 Ω
4 Ω
Cone material
IMPP
IMPP
Tweeter
Poly-Ether Imide (PEI)
Dome
Poly-Ether Imide (PEI)
Dome
Price
$$
$$
Pros
✔ Easy-to-install
✔ Achieves great high pitched frequencies
✔ Impressive wattage for producing all styles of music
✔ Lightweight
✔ Value for money
✔ Flex-fix basket that ensures easy installation
✔ OEM adapter included
✔ Great speaker set for the money
Cons
✘ Buzzing sound in the background of the music
✘ Lack a good low bass
✘ May require making modifications due to compatibility issues
6.5" vs. 6×9" coaxial 3-way speaker
Since they are 3-way speakers, Boss Audio CH6530 and CH6930 speakers provide extra mid-bass frequency than 2-way speakers. Both come with a woofer, mid-range, and tweeter. Most specifications are similar, like good durability and cone material.
Although CH6530 offers more bass than most 6.5″ speakers, it cannot defeat CH6930 in quality. The surround sound for CH6930 is impeccable, with a better range and precise vibration for hours on end.

BOSS CH6530


BOSS CH6930

Rating

Size
6.5''
6x9''
Power rating
300W (Peak)
150W (RMS)
400W (Peak)
200W (RMS)
Sensitivity
90dB
92dB
Frequency response
100 Hz to 18 kHz
50 Hz to 20 kHz
Impedance
4 Ω
4 Ω
Cone material
Poly Injection
Poly Injection
Tweeter
0.5'' Piezoelectric
0.75'' Piezoelectric
Price
$$
$$
Pros
✔ A perfect replacement for classic factory speakers
✔ Stamped basket keeps the speaker rigid to produce clear audio
✔ Piezoelectric tweeter is resistant to overload with constant use
✔ Polyurethane cones gives long-lasting performance
✔ Grills are included to help speaker drivers withstand wear and tear
✔ Voice coil is fatigue resistant for long play times
Cons
✘ There are distortions in max volume
✘ Screws included are cheap and may need to be replaced later
✘ Crossover network can blow due to overload
✘ You may have to make modifications for installation
6.5" vs. 6×9" component 2-way speaker
These component speakers can be installed. However, it feels suitable for your optimal surround sound.
Pyle PLG6C is temperature and fatigue-resistant, letting you enjoy music for as long as you want. It will fit any standard OEM location. Moreover, they come with a pair of mid-bass speakers, tweeters, and crossover devices to help you expand your system for crispier sound.
Although slightly more expensive, Infinity Reference 9630C provides premium quality worth the money. The edge-driven tweeters with unique settings let you customize the music. The only issue you may encounter is that you may not play it for extended periods. Otherwise, it will produce a cracking noise with high-frequency audio.

Pyle PLG6C


Infinity Reference 9630C

Rating

Size
6.5''
6x9''
Power rating
400W (Peak)
200W (RMS)
375W (Peak)
125W (RMS)
Sensitivity
N/A
93dB (at 2.83 volts)
Frequency response
50 Hz to 5 kHz
46 Hz to 21 kHz
Impedance
4 Ω
3 Ω
Cone material
Poly Injection
Polypropylene
Tweeter
0.5'' silk dome
0.75'' edge-driven textile dome
Crossover
2-way Passive
2-way Passive
Price
$$
$$$
Pros
✔ Eye-catching visual appeal
✔ Butyl rubber surround for long-lasting performance
✔ Multiple mounting options
✔ Temperature resistant voice coil ensures high-quality sound
✔ Wiring kit included
✔ Oversized Plus One woofers give more surface area for louder bass
✔ Full and crisp sound
✔ Adjustable tweeter level control for high-frequency optimization
✔ Edge-driven and textile tweeters produce smooth highs
Cons
✘ It does not provide enough bass
✘ Quite expensive
FAQs
1. Can you run a 6×9″ without an amp?
Yes, you can. You do not need an amplifier to run the 6×9″ speakers because they do all the work for you. Since these speakers come with a larger coil, they can produce a large amount of power without amplifiers.
However, if you are looking for more or deeper bass, you should consider getting an amplifier.
2. Will any 6×9″ speaker fit a car that now has a 6×9″ speaker?
Before buying them, you should check the speakers' compatibility with your car from a professional mechanic or the manufacturers. Different branded speakers will vary in mounting depth. You may need to make some minor adjustments or buy an adaptor plugin in such cases.
Final thoughts
In the end, the speaker size you choose will depend on your audio goals.
If you are a budget enthusiast, buying a 6.5″ speaker is the more economical option out of the two. In the long run, anyway, 6×9″ speakers will save you time and money. It gives an overall frequency output range without the need for a subwoofer.