(Last Updated On: December 15, 2021)
Are you thinking of buying a new 6.5" speaker but cannot decide between coaxial and component speakers?
Before going for the decision, you must consider what kind of speaker specs you are looking for.
This article will help you make your choice easier with knowledge of:
Differences between coaxial and component speakers
Comparison between two-way and three-way speakers
Top 3 coaxial speakers
Top 2 component speakers
So, let's get right into it!
Best 6.5″ Coaxial Speakers
Timmy's choice
Best three-way coaxial speakers
Best two-way coaxial speakers

BOSS CH6530


Rockford Fosgate R165X3


Pioneer TSF1634R

Customer Rating

Power rating
Peak: 300Watts
RMS: 150Watts
Peak: 180Watts
RMS: 90Watts
Peak: 200Watts
RMS: 25Watts
Cone
Polyurethane
Polypropylene
Polypropylene
Voice coil
High temperature
High temperature
High temperature
Surround
Rubber
Rubber
Rubber
Tweeter
Piezo
Silk dome Piezo
Piezo
Impedance
4Ω
4Ω
4Ω
Frequency response
100 Hz - 18 kHz
52 Hz - 20 kHz
31 Hz - 16 kHz
Sensitivity (1W/1m)
90 dB
91 dB
88 dB
Mouting depth

2.125''
2.15''
2.64''
Mounting hole

5.5''
5.51''
5.75''
Configuration

3-way
3-way
2-way
Basket

Stamped steel
Stamped steel
Shallow
Grill included
✔
✔
✘
Price
$$
$$
$$
Timmy's score
9.7
9.5
9.0
BOSS CH6530 – Timmy's choice
BOSS CH6530 Full range car speakers
BOSS CH6530 is a full-range three-way speaker that provides powerful audio, almost like you are in a concert hall. With Boss CH6530, you have a convenient and low-priced way to upgrade your speaker system.
Pros
BOSS CH6530 has a solid sensitivity rating
It comes with a plastic grill to protect speaker internals
Speakers include secondary drivers for powerful bass
Wireless for easy installation
Light-weight
Cons
It struggles with the high-frequency range at times
You can easily install the CH6530 model since it comes with a diameter of 5.5 inches specifically for mounting. The black and red metallic color makes an appealing look when you mount CH6530 speakers in your car.
CH6530 model has a peak power rating of 150 watts per speaker. So you can expect a clear and balanced sound every time you use your speakers. BOSS CH6530 also covers a wide frequency range from 100Hz – 18kHz. When you play the music, you will hear a lot of bass coming from the audio.  
Moreover, the polymer cone allows for maximum flexibility and durability. This cone along with the weather-resistant rubber surround ensures long-lasting speakers without comprising the great sound quality.
This efficiency gets even better with the high-temperature voice coil. As is obvious from the name, the voice coil can withstand extreme temperatures. People can play the BOSS CH6530 for long time periods with the help of this little tech. Another great feature of BOSS CH6530 is the Piezoelectric tweeter. Piezo tweeters are more resistant to overloads than conventional tweeters. If needed, you can even use it without a crossover and still receive clear audio. What's more, CH6530 speakers are backed by a 3-year warranty for lasting enjoyment.
Check Price at Amazon
Verdict
With Boss CH6530, you have a convenient and low-priced way to upgrade your speaker system. The speaker sound packs a lot, so you will not be disappointed with the quality.
---
Rockford Fosgate R165X3 – Best three-way coaxial speakers
Rockford Fosgate R165X3 - 3 Way Car Audio Coaxial Speakers
Rockford Fosgate R165X3 ensures a rocking music experience as a full-range three-way speaker system. The R165X3 is the perfect new generation speaker for replacing old factory speakers. Also, R165X3 is ideal for those who do not prioritize powerful bass and enjoy undisturbed audio.
Pros
Speaker grills are included
High and mid-frequency range sounds come out crisp
Integrated crossover network for optimal sound quality
Falls under the affordable category
Cons
Distorted sound at high volumes
It lacks powerful bass
Rockford Fosgate R165X3 comes in compact dimensions for easy installation. Manufacturers gave the speakers a lightweight yet sturdy structure. There is a steel frame around R165X3 to protect against bumps while driving.
The speaker cones are made with the popular polypropylene material, which is ideal for surround sound as it does not cause distortions or absorb moisture. R165X3 also lasts longer due to the efficiency of the speakers. A high sensitivity rating makes sure of efficient use of power that produces fantastic sound. The frequency range is as wide as 50Hz – 20kHz. So R165X3 does justice to whatever kind of music you enjoy listening to.
Tweeters used for R165X3 are the strong Piezo tweeters. The tweeter dome is made of silk so that the sound coming out is pleasing to the ears. This is preferred over metal dome tweeters that may produce harsher sounds. 
The crossover network allows speakers to play sounds at different frequencies so you can enjoy vocals at the right volume. Amplifiers will let you make the most of the quality sound produced.
Apart from the features, Rockford Fosgate R165X3 is visually appealing. Modern design updates the look of not only your stereo system but also your car interiors.
Check Price at Amazon
Verdict
Rockford Fosgate R165X3 is one of the best budget-friendly full-range speakers in the market. Although R165X3 speakers may not be perfect in every way, the speaker packs some excellent features. R165X3 is ideal for those who do not prioritize powerful bass and enjoy undisturbed audio.
---
Pioneer TSF1634R – Best two-way coaxial speakers
Pioneer TSF1634R - 2-Way Coaxial Car Speakers
Pioneer TSF1634R offers the premium experience of using mid-range audio speakers. TSF1634R sounds just as good as the high-end speakers, if not better. If you have an appetite for powerful bass for longer times, Pioneer TSF1634R is a great choice.
Pros
Speakers eliminate the harshness of high frequencies
Sound clarity and reliability is great
High sensitivity rating for efficient functioning
Cons
No wiring included for installation
The design is simple and black for a sleek option. As you install TSF1634R, the speakers perfectly blend with the internals of your car. TSF1634R's vented black plate design is there for both style and practical reasons. This design allows for thermal cooling, making sure the speakers do not overheat easily.
TSF1634R also uses a high-temperature voice coil an aluminium dome tweeter to produce clear and crisp music for you. Furthermore, the TSF1634R provides a premium ferrite magnet to enhance your vehicle's sound stage. TSF1634R works great with OEM head unit, amplified power, and features high-quality materials like a Polypropylene cone and premium butyl rubber surround.
Polypropylene cones are used here. They are light yet strong cones, allowing Pioneer TSF1634R to last for years as high-quality coaxial speakers.
Check Price at Amazon
Verdict
TSF1634R speakers are capable of handling even the loudest volumes efficiently. You will not have to deal with any overheating issues with the weather-resistant specs. If you have an appetite for powerful bass for longer times, TSF1634R is a great choice.
Best 6.5″ Component Speakers
Timmy's choice
Best budget

RECOIL REM65


Pyle PLG6C

Customer Rating

Power rating
Peak: 200Watts
RMS: 100Watts
Peak: 400Watts
RMS: 200Watts
Sensitivity (1W/1m)
90dB
--
Cone
Polypropylen
Poly Injection
Voice coil
ASV
Aluminum
Tweeter
Silk dome
Silk dome
Frequency response
60 Hz - 20 kHz
90 Hz to 20 kHz
Price
$$
$$
Timmy's score
9.8
9.0
RECOIL REM65 – Timmy's choice
RECOIL REM65 Echo Series Component Speaker
RECOIL REM65 is a component car speaker that falls under RECOIL's Echo series for premium speakers. REM65 will keep music lovers happy with a remarkable bass response that leaves you wanting more. It also helps that the REM65 speakers are specifically designed for easy installation.
Pros
Variety of mounting options
Simple crossover network for easy installation
Steel mesh grills included for protection
Butyl rubber surrounds included for deeper mid-bass sound
Cons
It does not come with speaker wires for installation
REM65 speaker system comes in an electric blue colour for a visually appealing appearance.
Unlike the other component speakers mentioned here, RECOIL REM65 has an oversized voice coil. Oversized voice coils cancel out the heat dissipation while handling high amounts of power. The silk dome tweeter construction, however, is very similar to Pyle PLG6C. As such, both are at par when it comes to producing soothing music. Both speakers also have neodymium magnets for adding subtle details to the sounds.
Another feature that other component speakers are missing is RECOIL REM65's triple tweeter volume adjustment. The tweeter volume control lets you adjust the music to your taste.
The transition from high range to mid-range is good, thanks to the lightweight polypropylene speaker cones. With an RMS power of 100W, the audio throughout remains stable and loud.
Check Price at Amazon
Verdict
RECOIL REM65 is an example of when performance exceeds the price. REM65 will keep music lovers happy with the remarkable bass response that leaves you wanting more. It also helps that the REM65 speakers are specifically designed for easy installation.
---
Pyle PLG6C – Best two-way component speakers for money
Pyle PLG6C Custom Component Speaker System
A Pyle PLG6C speaker kit is a good choice for budget-minded music enthusiasts. Rocking bass and cheap speakers are not synonymous with each other. If you enjoy hardcore music like metal, rock, and hip-hop, then Pyle PLG6C is your best bet.
Pros
A wiring diagram is included in the manual for installation
Includes rubber surround for weather protection
Pyle PLG6C covers a wide frequency range
Bass is great on the low-end frequency range
Cons
Audio will sometimes come out fairly quiet
Distorts sounds if you hook it to a stereo output
Pyle PLG6C gives a whole new definition to ease with three different mounting options. This includes Flush, Surface, or Angle Mount. So whatever your car model, you do not have to worry about compatibility. The different placement options will get you the best treble focus possible.
As you install PLG6C speakers, the car interiors brighten up with the speaker cones' bright yellow colour. Poly injection cones are used for shape retention, durability, and flexibility.
Furthermore, tweeters come in silk dome construction. PLG6C also boasts of a neodymium magnet that is lightweight yet strong. With all these features working together, the final sound that comes out has a smooth and high-quality roll-off. Pyle Gear has added a special electroplated steel basket to the PLG6C pair of speakers for long-lasting quality. Years of performance is further ensured with an aluminium high-temperature voice coil that does not wear and tear.
PLG6C can pump out a whopping 400 watts of max power, giving the loudest volume without distorting the sound. The bass gets even better if you install a subwoofer or another pair of speakers. Even without the extra components, you will hear impeccable detail in mid and high frequencies.
Check Price at Amazon
Verdict
A Pyle PLG6C speaker kit is a good choice for budget-minded music enthusiasts. Rocking bass and cheap speakers are not synonymous with each other. Yet, Pyle PLG6C has achieved that. If you enjoy hardcore music like metal, rock, and hip-hop, then Pyle PLG6C is your best bet.
Component vs. Coaxial speakers
This section will give you a background on the two speaker types – component and coaxial speakers.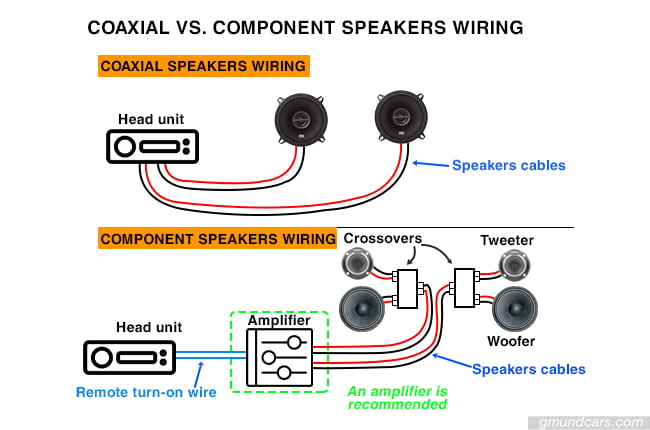 Newer car models will have installed speakers that fall under the coaxial speaker's category. Coaxial speakers are also known as full-range speakers that combine all the basic components in one structure. So, the tweeter, woofer, and built-in crossover are all put together. They are designed this way for easy installation when you need to replace older speakers. It does not come with many customizable options but offers better sound quality than single cone speakers.
Component speakers are more advanced than coaxial speakers. They have their speaker materials separately mounted. This means you can configure the woofers, tweeters, and other materials at different locations in the car. The individual placement is ideal for optimizing surround sound.
With the definitions out of the way, let's get into the significant differences between coaxial and component speakers.
| | Component speakers | Coaxial speakers |
| --- | --- | --- |
| Definition | Component speakers have their speaker materials separately mounted. The woofer, tweeter, crossover are separate | Coaxial speakers are also known as full-range speakers that combine all the basic components in one structure.  The tweeter, woofer, and built-in crossover are all put together |
| Installation | More complicated | Easier |
| Power ratings | 65-100W | 35-65W |
| Crossover | 2 stage filters | 1 stage filter |
| Pricing | More expensive | Cheaper |
Power ratings
If driven too hard with too much power, speakers can turn hot and produce distorted sound. Power ratings let you know how much energy your speakers can handle. When you are looking at speaker specifications, you will find two power ratings: Peak power and RMS rating.
Peak power is the maximum capacity power that the speaker can work with. RMS (Root mean square) is the most critical rating measured in Watt (W). It tells you about how much power the speaker can handle at a continuous rate.
Coaxial speakers tend to have lower power ratings than component speakers. A typical coaxial speaker will have 35-65W RMS, while component speakers are available at 65-100W RMS or higher.
The component speakers provide more powerful bass and thereby better sound quality.
Frequency response
Frequency response refers to the range of frequencies or tones a speaker can produce. Although it only represents one speaker specification, it is an important one that dramatically impacts the sound.
Coaxial speakers come with a full range spectrum of frequencies. However, you may experience some frequency interference due to the speaker drivers being assembled too close together. With component speakers, you can cancel out this problem. Moreover, these speakers cover as many frequency responses as possible. From deep bass at 30Hz to the highest treble at 22,000Hz, all music is heard clearly.
Design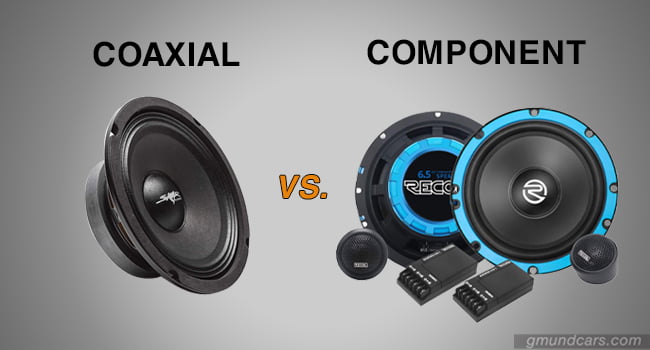 The design will help you figure out whether the speaker fit in the car and other installation requirements or not.
Coaxial speakers assembled as one piece to exactly fit into the space left by the factory speakers. The low-cost pattern may compromise the sound quality but will not cause you any installation difficulty.
The advanced design of the component speaker filters out unwanted sound frequencies with better quality capacitors and inductors. They also include a tweeter volume control option to achieve optimal sound quality. However, this design may or may not fit your car, making the installation process more complicated.
Crossover
Speaker crossovers act like an electronic filter for audio signals. It sends audio signals to the right speaker driver. For instance, higher frequency signals will be sent to the high-frequency speaker driver. The more advanced the crossover is, the more accurate this process will be.
Most coaxial speakers use a simple crossover that blocks distortion-sounding bass from reaching the woofer. That can work well, but there is room for improvement.
Component speaker crossovers block unwanted sounds from reaching both woofers and tweeters. They use a 2 stage filtering process, unlike the 1 stage filter used with coaxial speakers. So, component speaker crossovers have a better design.
Sensitivity
Speakers will have sensitivity ratings to measure how loud the speaker plays with the power from the amplifier. This rating is mentioned in decibels or dB. The higher the dB number given, the less power is required to produce the sound.
A high sensitivity rating (90dB and above) is found in both coaxial and component speakers. However, sometimes a low sensitivity may be preferred, in which case you get a coaxial speaker. This depends on the sound system.
A low-powered sound system (15W or less RMS per channel) works best with high sensitivity speakers. On the other hand, high powered sound systems (16W and above) will work better with low sensitivity speakers.
Cone
The speaker cone is where the main activity goes down. As the current reaches the cone through the coil, it begins to vibrate, creating sound waves.
The material with which the speaker cone is made affects the overall performance. It will determine how well the cone can handle the speed of the sound waves.
Most component speakers use polypropylene or plastic since they are easy to work with and provide high-quality audio. Coaxial speakers have the advantage of offering several different cone materials like kevlar and paper, depending on the price.
Voice coil
The voice coil is the coil of the wire attached to the apex of the speaker cone. It has the current pass through it to move the cone. When it comes to the voice coil, size is matters. Larger coils have better control over the cone. As a result, the cones will reproduce the sound more accurately.
Just as performance increases with coil dimensions, so does the cost. So although advanced models of component speakers will be expensive, they are likely to have larger coils. Nevertheless, many coaxial speakers come with voice coils of decent size to produce good quality sound.
When the voice coils work with a musical signal, it will generate resistance to electric current flow, which is called impedance and measured in Ohms. In the car audio, the 4-Ohm to 10-Ohm speakers are common.
Pricing
This is a necessary consideration, especially if you are on a budget. The prices for coaxial and component speakers start at the same price point. However, you get several options in coaxial speakers, depending on what you can afford.
As you spring for more specs, component speakers can get much more expensive than coaxial speakers. Coaxial speakers are easier to install and so do not require huge costs. The same cannot be said for component speakers since you install the speaker material in different places. A good coaxial speaker goes for about $45, while a good component speaker will go for $75-$100. To get a budget-friendly variety of speakers, you can go for coaxial speakers.
Target customer
Customizability is a huge selling point for component speakers. The auto audiophiles will enjoy the fact that component speakers come with 2 woofers, 2 tweeters, and 2 crossovers. Some may also come with extra drivers to achieve on-axis and off-axis responses. This way, you can customize the audio depending on how powerful you like your bass. You can also determine the visual appearance of the speakers by strategically placing the different drivers.
Newbies who are unfamiliar with stereo systems may not handle the advanced complexity of component speakers. So, they go for coaxial speakers for ease of installation. Such individuals are only looking for good quality sound, not customization.
Two-way vs. three-way speakers
When choosing between coaxial and component speakers, you will have options of a two-way or three-way speaker monitor. Let's get into the details of what each type entails.
What are they?
The number mentioned represents the number of speakers included in these two monitors. So, a two-way speaker has two speakers. Both of which are meant for separate frequencies, typically high or low.
On the other hand, a three-way speaker will have three speakers included. Each is provided for three separate frequency ranges – high, medium, and low. The major difference is the audio spectrum that each speaker system covers.
How do they work?
Two-way speakers come with two drivers, a woofer and a tweeter. Higher frequency sounds are transmitted to the tweeter through the crossover network. The crossover only allows sound signals within a specific range.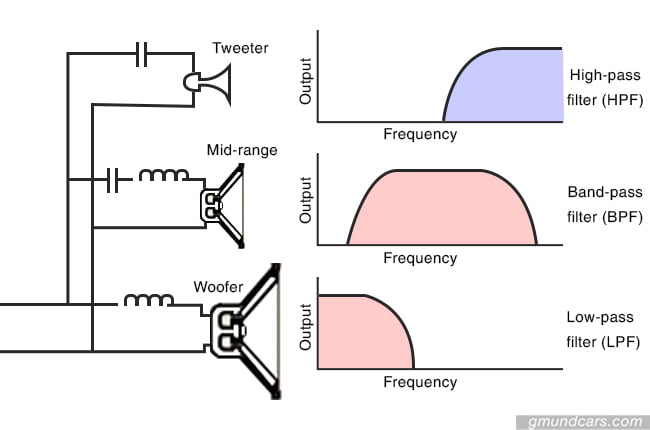 The rest of the audio signals, i.e., low and medium frequency sounds, will be blocked from the tweeter. These signals are split off and sent to the woofer cone instead. Three-way speakers similarly produce sound but are a little more complex. They come with an integrated crossover network that further split the frequencies between two tweeters and one woofer cone. The two tweeters are fitted side-by-side, mounted over the woofer cone.
Below comes with the major differences between two-way and three-way speakers.
Component
Coaxial
Two-way
- 2 speakers (no mid-range) are separate
- External crossover (passive or electric)
- Complicated installation
- 2 speakers (no mid-range) are mounted
- Passive crossover
- Easy installation
Three-way
- 3 speakers (tweeter, woofer, mid-range) are separate
- Complexity (a lot of frequencies to filter & control)
- Complicated installation
- 3 speakers (tweeter, woofer, mid-range) are mounted
- Easy installation
Two-way component vs. two-way coaxial speaker
In both component and coaxial speakers, a two-way system will divide the frequency range between two speakers. So, either way, you can expect amazing sound clarity. They will not have any mid-range specific frequency. This may affect the sound quality, depending on how you like your music.
Two-way component speakers use an external crossover circuit that can be either a passive or an electric crossover. The benefit of an electric crossover is that it can produce better sound performance. This, combined with the optimal surround sound through separately placed woofer and tweeter, is why these speakers are popular.
Two-way coaxial speakers only come with a passive crossover in the form of an integrated crossover circuit. Unlike the external crossover, an integrated crossover network will have fixed crossover points. So, you can not experiment with different crossover points that allow speakers to blend the sound better.
Nevertheless, two-way coaxial speakers do offer the convenience of being cheap and easy to install. The electronic crossover of two-way component speakers is not only expensive but much more difficult in installing.
Three-way component vs. three-way coaxial speaker
Three-way components and coaxial speakers will include the settings for mid-frequency range selection as well.
The wide frequency range works even better with three-way component speakers since its speakers are separate. They can be placed wherever it feels right. You can also play around with the frequency range controlled by the external crossover.
One of the issues with three-way component speakers is regarding their complexity. There are a lot of frequencies to filter and control that can affect your audio experience. Moreover, the installation of a component speaker is anyways hard. If you add to the installation of another cone, i.e., mid-range, it gets much tougher.
Three-way coaxial speakers already come mounted with the mid-range or extra tweeter cone to ease the installation. These coaxial speakers will either have a woofer, midrange, and tweeter con or a woofer and two tweeter cones. So, you still get good sound quality.
This can later be affected by how the tweeter and mid-range cone are mounted on the woofer. If more of the woofer is blocked by the other two cones, the sound produced by the woofer gets distorted.
Which one is better? Two-way or three-way?
Many assume that since three-way speakers have three speakers, they will produce better sound. At the same time, three speakers have more crossover of frequencies, making them vulnerable to distortions.
Does that mean two-way is your best bet? Which one is better will depend on the make, personal preference, and other factors. For instance, a high-end two-way speaker may perform better than a low-priced three-way speaker. So before buying a speaker, research its specs like speaker quality, crossover setup, and so on.
Apart from the quality, it would be best to consider the speaker's compatibility with your car. Two-way speakers do not have as many parts as three-way speakers. So, they are easier to fit into cars.
Even the kind of music you listen to will influence this decision. A three-way speaker is great for rock and R&B music, which require a lower bass response. On the other hand, two-way speakers will be your jam if you are fond of music with less bass.
Suppose you are willing to invest time and money, spring for a high-end three-way component speaker. It will give a powerful boost to the sound quality by efficiently dividing the frequency range. For a budget-friendly alternative, two-way speakers work just as well. The audio will come out clear and balanced at "easy-listening" sound levels.
The best way to determine the right speaker is to go through reviews such as this one. That way, you can see the speaker and hear its sound quality for yourself instead of doing guesswork.
Sum up
At the end of this review, it is safe to say that there are certain specs that speaker manufacturers focus on. These are related to sound quality and long-lasting functionality.
With that in mind, the top pick for a 6.5" coaxial speaker is BOSS CH6530. The material used for the internal components is meant to withstand wear and tear. Since they can endure the load, BOSS CH6530 speakers always provide optimal surround sound. This sound and bass quality can also compete with the component speakers mentioned here.
As for the component speakers, the top pick is RECOIL REM65. It is perfect for audiophiles that enjoy the option of customization. Audio settings included in this speaker system ensure the sound is accurate and has clarity without overpowering the speakers. The RECOIL REM65 speaker system offers quality just as good as high-end brands like JBL and yet remains cheap.
Related articles:
FAQs
1. Can you mix coaxial and component speakers?
Unless you know what you are doing, it is not advisable. In many cases, mixing the two different speakers may lead to an unpleasing sound due to different tonal characteristics.
2. Do 6.5 speakers have good bass?
Yes, for the best surround sound, always go for the big and round 6.5" speakers! They have superb sound quality for bass and come with controls to make the bass performance more crisp and clear.
3. Can you run component speakers without an amp?
Yes, component car speakers can be powered without an amplifier. In place of an amplifier, you can hook them to the head unit or audio receiver's speaker outputs.  However, you must remain careful with this.
Component speakers do not come with internal amplification. No amplifier may result in a sound level that is less than satisfactory. Large amplifiers will give the component speakers the power boost needed for large audio signals to produce quality sound.
4. Do coaxial speakers need an amp?
No, not necessarily. Instead of using an amplifier, you can hook coaxial speakers to car receivers. These receivers provide just enough power to coaxial speakers for a good sound level and clarity.
However, coaxial speakers have a similar relationship with amplifiers as component speakers. Amplifying your coaxial speakers can offer a better audio experience with lower distortions and cleaner sound.
5. Will better speakers improve the sound?
The answer to this question is a definite yes! When you replace your speakers with aftermarket speakers, you are investing in overall improved sound clarity. They come with several audio settings so you can ensure you get a tighter bass for your music.
6. Do more watts mean better sound?
In general, more watts mean more volume. At the same time, more watts do not necessarily mean more better-sounding watts. Watt is an important consideration, but so is the efficiency of the speaker you choose to use.