(Last Updated On: August 27, 2023)
Most mechanics and car experts recommend installing HID lights because they emit brighter light with an extensive range. Furthermore, HID lights help drivers to detect objects clearer and sooner, facilitating a safe ride.
However, it's baffling to choose between D2R, D2S and D2C HID bulbs because at first glance, they all seem the same. 
In this article, I'll list down some of the few but important differences between D2S vs. D2R vs. D2C, and review the best HID headlights among the three for you. 
D2R vs. D2S vs. D2C: Comparison chart
D2R, D2S, and D2C are the most commonly used HID bulbs, which accept the red-colored D2 plug. In short, they share the same bulb base, i.e., D2.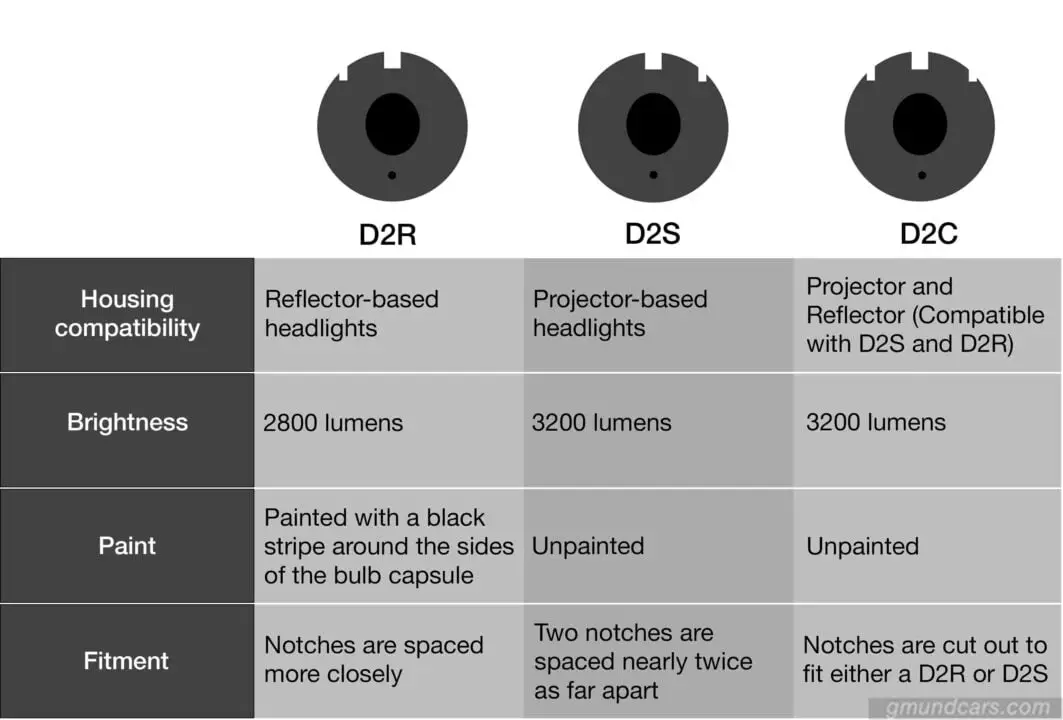 D2R vs. D2S vs. D2C: Key differences
Here are some of the key differences between D2S vs. D2R vs. D2C.
Housing compatibility 
The number one factor that adds to the key differences between the three designs is housing compatibility. 
D2S is intended to be used for projectors or shielded housings. Whereas, D2R is made for reflector applications with an extra black stripe around the bulb, such as in Lexus IS300's or Toyota Prius. The extra stripe reduces the glare of the bulb when used in HID reflector applications.
As far as D2C is concerned, it is an aftermarket bulb that has notches, cut out to fit both housings, D2R and D2S.
In essence, D2C is the universal replacement for D2R and D2S. However, you cannot use D2R and D2S interchangeably. 
Brightness
Another noticeable difference between the three bulb designs is the brightness, which adds to your driving experience.
The brightness of D2S and D2C is approximately 3,200 lumens, while D2R gives off 2,800 lumens.
The reason D2S emits brighter light is they don't have shields as D2R. In fact, the cut-off shield in D2S is on the projector housing, which results in clearer and crispier light. 
Paint
Like I mentioned before, D2R has a U-shaped painted shield with black stripes around the bulb that blocks out any unpredictable light in certain directions.
The fact that D2R uses a painted section on the glass reduces the chances of too much glare in a reflector housing. 
The shield acts as a deflector that only allows the HID lights to outshine in some directions. Also, D2R painted shields cut off the yellow hues in the light output. 
As far as D2S and D2C are concerned, they lack cut-off shields. Nonetheless, D2C and D2C have glare shields on the projector housing.
Fitment
The answer to whether you can use the three bulbs interchangeably lies here!
The fitment of each D2 HID bulb (D2S, D2R, D2C) differs in the sense that it has certain notches. 
The manufacturers have designed notches on the D2S that are spaced nearly twice as far apart to fit into a projector. 
Meanwhile, the D2R notches are designed more closely to fit into reflector headlamps. 
Simultaneously, the keyways only accept a proper bulb dedicated to the base. 
Hence, the D2R and D2S bulbs cannot be used correspondingly since the fitment differs at the base. 
Apart from the base fitment, the capsule in D2S does not carry ceramic paint on the sides as D2R.
If you're confused about which one to choose for your car, there's an answer.
Fortunately, the D2C bulb possesses a universally designed base in which the notches are cut out to replace either with D2R or D2S bulbs.
Best D2R/D2S/D2C headlights
Using my experience with HID headlights, I'm listing down three of the best D2S/ D2R/D2C headlight bulbs.
Before making a purchase, please make sure to check if it fits your vehicle. 
DMEX D2R – Best D2R replacement for OEM housings
DMEX D2R
The DMEX D2R are reflector headlight bulbs that cannot produce light brighter than D2S. However, they are cheaper and emit a bigger beam pattern. Therefore, if you're someone who doesn't fancy deep projector lights, DMEX D2S is your jam!
Pros
High efficiency
Low power consumption
High reliability
Xenon beam emits a bright white beam that appears natural
Cons
Might not last as long as other high-end HID lights
Doesn't include HID ballast or HID kits
Like D2S, the DMEX D2R bulbs are made of 100% Quartz anti-UV glass which provides excellent overall performance.  
DMEX claims that they use original Quartz and Xenon gas from Germany with Austria Plansee Tungsten metal electrodes. 
Therefore, it ensures a tight beam pattern that provides a safe drive for the driver.
Like other HID aftermarket bulbs, the DMEX D2R features a plug-and-play harness, which is easy to install in any vehicle. 
The DMEX D2R bulbs are an affordable replacement for factory OEM housings that offer various sizes and colors. Although the variety is limited, compared to other popular HID bulbs, you can still choose from four different color temperatures for a 35-watt bulb. 
The best thing that outshines the DMEX D2R HID bulbs is that they are 50% brighter than original xenon lamps and 350% brighter than Halogen lamps.
DMEX D2S – Best Bang for the Buck 
DMEX D2S
If you're looking for OEM replacement with more focused beam patterns at affordable rates, you should get DMEX D2S. Even though the durability of DMEX D2S headlights is not top-notch, it's a relief that they offer a 2-years warranty.
Pros
Easy installation
Bright enough for third shift workers
Great value for money
Excellent replacement for OEM
Cons
Not durable enough as its counterparts
Doesn't include HID ballast or HID kits
The number one choice of the HID headlight on my list is the DMEX D2S cold white Xenon bulb. 
The DMEX D2S bulbs feature 100% Quartz Anti-UV glass, which results in an incredible performance.  Also, these headlightss are up to 3,800 lumens that means they emit brighter and crisper light.
It features high-quality Xenon gas and APL pills with Tungsten metal electrodes. The tungsten metal electrodes allow more durability, stable color temperature, and extended lifespan.
The best thing I loved about the DMEX D2S bulbs is they can be easily DIYed as they offer plug-and-play installation. 
Also, you can choose from four different colors, depending on the color temperature you like. The different color temperatures are 4300K (warm white), 5000K (white), 6000K (cold white), and 8000K (white blue) for a 35-watt bulb.
You can choose the color configuration that fits your personality and be the king of the roads!
The lifespan of DMEX D2S bulbs is not as extended as other high-end counterparts. However, it should last you 2-3 years if properly maintained. 
EKYLIN D2C – Best D2C bulb for cars with Original HID lights
EKYLIN D2C
If you're confused about D2R and D2S headlights, I recommend getting a D2C headlight. D2C HID lights are compatible with either D2S or D2C. Hence, Ekylin D2C is the best bargain for all car enthusiasts who want to upgrade their regular halogen headlights.
Pros
Low power consumption
Long working life
Exceptional brightness
Compatible with D2R, D2S bulb size
Cons
Only compatible for cars with original HID lights
Might need additional modules for installation
The Ekylin D2C bulbs are simple, affordable, and easy to install headlights, easily compatible with D2S or D2R. 
With 35-watts power and 3,200-lumen brightness, EKYLIN headlights offer over 3000 hours long life. 
The Ekylin claims that they use the Austrian Plansee thorium-tungsten electrode, which provides much better performance than other electrodes. 
The most impressive feature Ekylin's D2C offers is the UV-resistant glass tube. The anti-UV glass tube uses 99.9% pure silicon that protects the lampshade from UV rays.
The only disadvantage of Ekylin's D2C bulb is that it's for cars with original HID lights. 
Therefore, if you've got a halogen car light, you will need ballast power modules additionally. 
Final thoughts
No matter which HID bulb you get for your vehicle, these headlights (D2C, D2R, D2S) have outperformed the traditional Halogen bulbs in all aspects. Also, the usage of high-performance HID bulbs results in fewer accidents and more safety for the driver. 
Make sure to check out for the right size and fit before making a purchase, and don't forget to maintain these lights regularly.
Get rid of the bleak lights of your vehicle's headlamps, and start investing in HID headlights to hit the roads with confidence.