(Last Updated On: October 19, 2021)
Yellow, red, blue – what is the best brand?

There are multiple aspects that influence the answer. Do you want to know the best brand for power tools or the leading company on the whole? Moreover, it also depends on the particular tool you are looking to purchase.

Considering all these standpoints, this article gives you:
Warning: history lesson is coming
DeWalt
Are you impressed with the precision products of the American global manufacturer—DeWalt? Well, the company has gained expertise through years of experience. Created in 1923 by the famous radium arm saw inventor —Raymond Elmer DeWalt.
The company was first acquired by the American Machine & Foundry Co., Inc. in 1949 and by Black+Decker in 1960. DeWalt took over ELU in 1994 and merged with Porter-Cable in 2004, using their technologies to innovate and introduce more products.
Today, the company manufactures a host of contractors' tools, mechanics' tools, batteries, and lawnmowers. It undoubtedly gives a tough competition to other industrial tool companies.
Milwaukee
The Milwaukee Electric Tool Corporation that you know today was originally the A. H. Petersen tool company. Unfortunately, the former company was lost to fire in 1923, with the new Milwaukee corporation created with its residual assets. The company's ownership was transferred between multiple enterprises, with the last one being Techtronic Industries, in 2005.
Milwaukee has been innovating in the field of power tools even before its inception. In 1918, the firm introduced the Hole-Shooter—the world's first one-handed 1/4-inch lightweight and portable capacity drill. In 1930, the brand acquired a specification rating from the federal government. It has since been producing tools that meet the US Navy standard of equipment.
With innovative products like the 3/4-inch handheld electric hammer drill, Sawzall, blades, and more, Milwaukee stands tall in the professional tools industry.
Learn more about power tools at machinerychief.
Makita
Founded by Mosaburo Makita in 1915, Makita Electronic Works is a Japanese manufacturer of multiple power tools. The company initially provided repair services and sold motors, transformers, and lighting devices, and start to manufacture power tools in 1959.
Since 1969, when Makita introduced the first-ever rechargeable power tool—the 6500D battery-powered drill, it has been leading in innovation. The corporation's list of inventions includes the nickel-cadmium battery tool, nickel-metal hydride battery tool, and lithium-ion battery tool.
Currently, Makita's factories operate in over 11 countries, selling cordless and power tools along with petrol equipment, batteries, and accessories.
Parent companies: Which is the biggest?
I know some of you may say: "I want a comparison among DeWalt, Milwaukee, and Makita, not their parent companies. Do they have anything to do with my experience using their tools?"
Technically, yes! If a company grow bigger and bigger, that somewhat means:
Higher budget for research & development, better facilities, better tools
Higher budget for customer services
Or the most simple fact you must consider is that a company becomes bigger because more and more people choose to use its products. And they always do it for a reason – they use what satisfies their needs!
Of course, you can't judge a child entirely by looking at her mother! So the idea is to let you see the big picture before moving on to something more specific.
Stanley Black & Decker
Techtronic Industries
Makita Corporation
Headquarters
New Britain, Connecticut, U.S.
Hongkong
Japan
Revenue (2019)
$14.44B
$7.67B
$4.415B
Profit(2019)
$0.956B
$0.615B
$0.502B
Market capitalization
$29.82B
$27.76B
$12.09B
Stock price change in the last 5 years
+85%
+424%
+139%
Number of employees
>60,000
>30,000
>13,000
Owned brands
- DeWalt
- Stanley
- Black+Decker
- Craftsman
- IRWIN tools
- Porter cable
- Facom
- Lenox
- Stanley engineered fastening
- Lista
- Mac tools
- Stanley security
- Vidmar
- Bostitch
- Stanley healthcare
- Stanley infrastructure
- Sonitrol
- Stanley access technologies
- Proto
- Aeroscout
- Paladin
- Pengo
- Cam
- Milwaukee
- AEG
- Ryobi
- Homelite
- Empire
- Imperial blades
- Stiletto
- Hart
- Hoover
- Oreck
- Vax
- Dirt devil
- Makita
Looking at the table above, you can see that Dewalt's parent company is the biggest among the three with the market capitalization of $29.82B. On the other side, Techtronic Industries is thriving when its stock price has been increasing up to 424% for the past years.
On the other hand, Makita corporation's market capitalization is "only" $12.09B – less than a half of each other 2. But considering this firm has no subsidiary, you can see the Makita brand is taking a huge market share "pie".
DeWalt
Black+Decker Inc. acquired DeWalt in 1960 and later merged with Stanley Works to form Stanley Black & Decker Inc. in 2010. This parent company is a Fortune 500, with its headquarters in Connecticut.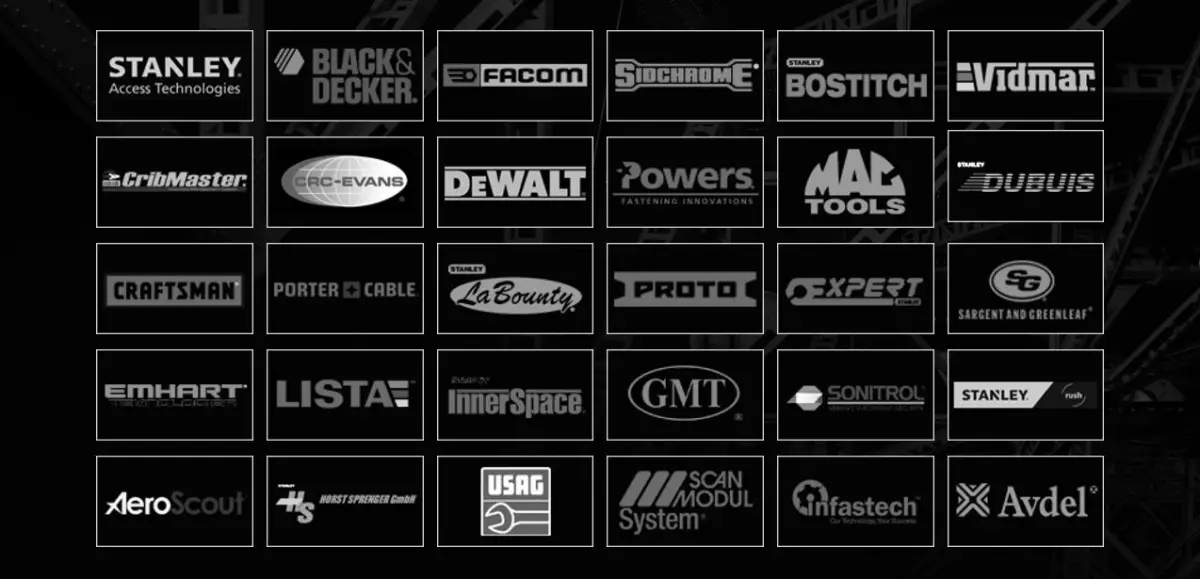 Milwaukee
Milwaukee is a subsidiary of Techtronic Industries—a Hong Kong-based international manufacturer of power tools and electric equipment. This parent company has an impressive portfolio, including several other subsidiaries like Ryobi, Hoover US, AEG Power Tools, and more.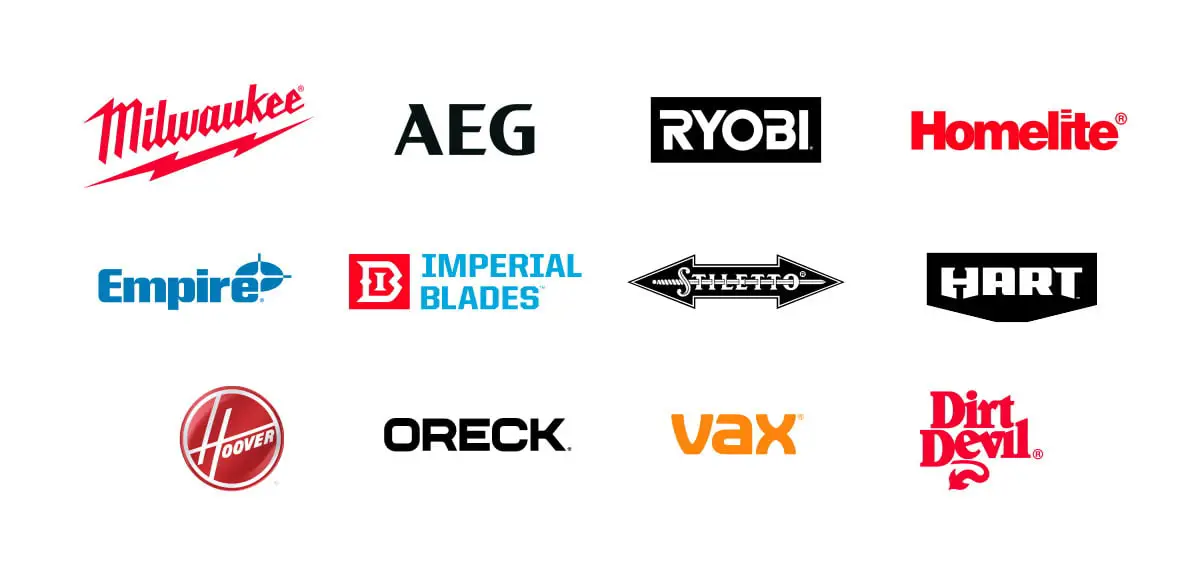 Makita
Makita Corporation is not a subsidiary of any bigger firm, unlike DeWalt and Milwaukee.

Manufacturing
Nowadays, you may see the "Made in China" label in almost every tool. Nobody likes that, especially Trump!
I don't like it either. But not because it's quality (tbh, they're all the same). Because it hurt our country economy so bad!
Everything is made in China and millions of US citizens lost their jobs.
And I also hate dictatorship.

Being aware of that, all three brands are planning to increase the USA percentage in their products. As a customer, I haven't seen any significant change yet. The main issue is probably money. So let see how America these brands are!
DeWalt
DeWalt is largely an American brand. It has seven manufacturing units located in various US states— Connecticut, Maryland, North Carolina, South Carolina,  Kentucky, and Tennessee.
In addition, the company also uses materials made in Brazil, Italy, the UK, the Czech Republic, China, and Mexico. These products are assembled in the States, branded as "Made in the USA with Global Materials".
Milwaukee
Though it has a foreign parent company, Milwaukee Tool has its headquarters in Milwaukee itself. The enterprise has capitalized about $47 million in the US over the last five years to boost its domestic manufacturing units.
Besides several factories in China and Europe, the brand runs a few production facilities in the US— Brookfield, Wisconsin and three cities in Mississippi: Olive Branch, Greenwood, and Jackson
Makita
Though the Makita Corporation is headquartered in Japan, it has a large manufacturing footprint across multiple significant trading countries. These include the US, China, Mexico, Thailand, Dubai, Brazil, Romania, Germany, and the UK, apart from Japan itself.
Makita U.S.A., Inc. operates warehouse and distribution facilities in La Mirada, Buford, Mt. Prospect, Illinois, and Wilmer, Texas.
Yet, the quality of Makita's products is exactly the same in each of its stores. Therefore, you don't need to worry about its manufacturing stamp.
Though DeWalt has a large domestic presence in the US, Makita rules the scoreboard for its international manufacturing units.
Price & durability
When talking about price and durability, you must remember that they do not always go hand to hand. While all three brands produce top-quality products, they greatly vary in prices. With my shopping experience, this is the price order in general:
Makita is the highest
Dewalt is somewhere in the middle (not significantly higher than Milwaukee)
Milwaukee is the most affordable
Overall, Makita is approximately 30% more expensive than the other two. Here, DeWalt maintains consistency by maintaining a mid-range price along with impressive functionality.
So, who wins in the DeWalt vs. Milwaukee vs. Makita race? Well, Milwaukee undoubtedly wins in terms of the price. Therefore, if you are looking for affordable mid-range power tools, Milwaukee is your brand!
However, you cannot always be sure of Milwaukee's or Dewalt's product quality in the long term. Makita products, on the other hand, are relatively more functional as well as durable! With decades of experience working (and abusing) with power tools, I've seen the red and yellow ones break few times (after being used for years!). But I have never seen a Makita tool fail once!
Warranty & customer services
In terms of warranty, Milwaukee will take the throne (again). Each of this brand's cordless power tools comes with an impressive warranty of 5 years. This overrules the 3-year warranties of both DeWalt and Makita.
Milwaukee's cordless outdoor power equipment tools only have a 3-year warranty, with the batteries carrying a 1 to 3-year warranty. On the contrary, DeWalt's hand tools have a lifetime warranty and pneumatic tools of 7 years.
Apart from the 3-year warranty, Makita also offers a 30-day return guarantee on all its tools. However, accessories like blades, cutters, etc., do not fall under this category!
Main cordless tools head-to-head comparison
I know! All three brands have hundreds of different tools, and comparing just a few of them will not show the full picture.
That's why I pick the most commonly used cordless tools by any automotive mechanic (including me).
So, the idea is to somewhat represent the in-depth differences among the three brands. The table below is my ranking positions for each product.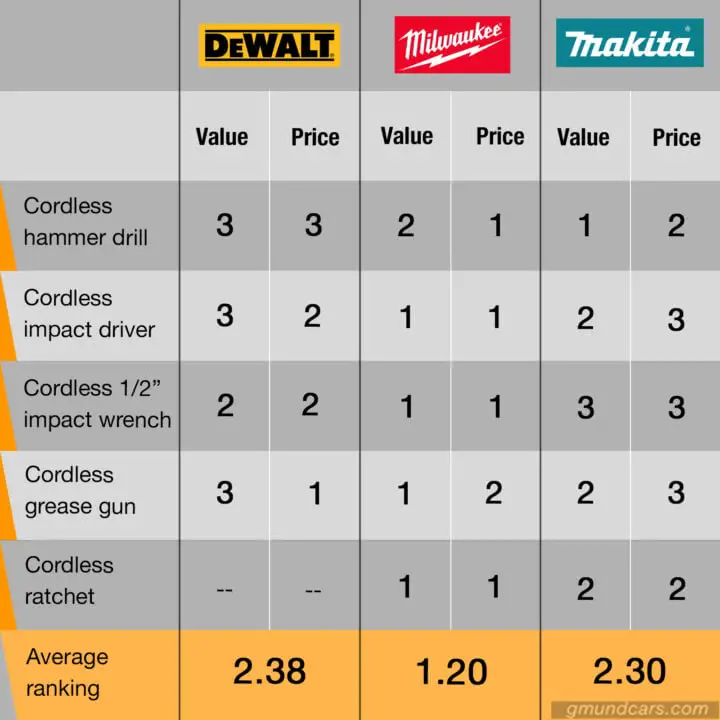 Cordless hammer drill
Ok, I get it! Drill is not really an automotive tool. But I mean, what kind of man doesn't have a drill in his house?
JKD, it's ok if you don't. Still, having a drill is never a decision I would regret!
Drill has a few variations, and hammer drill is a more powerful version of a regular one. It allows you to pull off all the tasks in your house – from light to heavy-duty.
Top picks

Dewalt DCD999B


Milwaukee 2804-20



Makita XPH07Z

Customer rating

Price
Maximum torque
1200 in-lbs
1200 in-lbs
1090 in-lbs


Max RPM
(specs)
2,000
2,000
2,100
Actual max RPM
2,000
1,800
2,150
Max BPM
38,250
32,000
30,000
Weight


3.58 lbs


3.19 lbs


3.9 lbs


Length
8.5''


7''


8''


Made in
China


Vietnam
China
Warranty
3 years
5 years
3 years
Timmy's rating
7.0
9.0
9.5


Dewalt DCD999B
Dewalt DCD999B hammer drill is made in China. It is the bulkiest drill and weighs 3.58 lbs – not the best option for tight spaces! 
The tool uses an electronic clutch, making it not the best choice for delicate tasks. You will drive right through the soft surface you're working on!
Hence, to work with Dewalt, you need a firm and trained hand while using variable speed trigger for low torque applications. The speed and torque to drill through concrete by Dewalt lie between the other two.
A significant advantage of using the Dewalt hammer drill is endurance and battery life. Among the three brands, Dewalt lasts the longest before the battery run of our juice. In my experience, I only have to charge it once a week!
Check Price at Amazon
Milwaukee 2804-20
Made in Vietnam (not China, so it's a big plus for me), Milwaukee 2804-20 is the most affordable and comes in with a 5-year warranty. 
The electronic clutch keeps the drill steady and compact. Milwaukee hammer drill's length and weight are the smallest among the 3, allowing you to get into more confined spaces. 
With an actual max RPM (without load) ranging from 510 to 1800 for first and second gear, Milwaukee's is slower than advertised and the two yellow and blue brothers.
To make up for the speed, it delivers the highest torque among the three, both in first and second gear – an excellent choice when you're dealing with hard and concrete surfaces. 
The brand claims to have a 32000 BPM (which is quite average). And like Dewalt, it has an electronic clutch – not ideal when working on a low-speed setting.
Check Price at Amazon
Makita XPH07Z
Makita XPH07Z is the heaviest and most expensive among the 3. Manufactured in China, Makita claims to have the highest RPM rating compare to the red and yellow tools. The actual RPM I tested is even slightly higher than the specs! 
Unlike the other two, Makita does not have an electronic clutch, along with a wider speed range. Those features make it more suitable for delicate jobs. 
However, a few noticeable issues are in the battery. The drill tends to overheat faster than the rest and takes more time to recharge after drainage. Still, the difference is not that significant, but it's something you should keep in mind when comparing the three.  
Check Price at Amazon
Cordless impact driver
Impact driver is another commonly used version of drill. However, unlike drill, impact drivers are used to drive screws, not boring holes!
It's more like a half-breed of a drill and an impact wrench. Attached an adapter and a socket, it can even remove lug nuts.
Click to learn more about differences between impact driver vs impact wrench.
Top picks

Dewalt DCF888B


Milwaukee 2853-20


Makita XDT16Z

Customer rating

Price
Max torque
(specs)
1,825 in-lbs


1,800 in-lbs
1,600 in-lbs
Actual max torque


1,760 in-lbs
1,820 in-lbs
1,610 in-lbs
Max RPM
(specs)


3,250
3,600
3,600
Actual max RPM


3,300
3,580
3,570
Max BPM


3,800
4,300
3,800
Weight
(without battery)


2.10 lbs
2.18 lbs
1.94 lbs
Weight
(with battery)


3.49 lbs
3.79 lbs
3.31 lbs
Length


5.3''
4.6''
4.6''
Warranty
3 years
5 years
3 years
Made in


China
Vietnam
China
Timmy's rating
7.5
9.5
8.0






DeWalt DCF888B
The Dewalt DCF888B impact driver comes with a reasonable average price along with 3 years of warranty. The manufacturer claims this tool has 1825 inch-lbs of torque, so technically, this is supposed to be the most powerful tool among the three. But I tested them out, and Dewalt DCF888B is slightly weaker than Milwaukee 2853-20
Compared to the other two products, this one has the lowest RPM (3250). 3800 BPM (still not the highest) makes it fit for all types of applications. 
Weighing 2.1 lbs without battery and 3.49 lbs with battery on, Dewalt DCF888B's weight lies between the other two. On the other hand, this made-in-China impact driver is 5.3″ long – the bulkiest one among the three. In some situations, this tool will not fit, but the others will. 
Check Price at Amazon
Milwaukee 2853-20
The Milwaukee 2853-20 is made in Vietnam. Compared to the other two, this has the most budget-friendly price and a 5-year warranty. 
Along with the highest torque rating, its 3600 RPM (real RPM is about 3580) makes it a better impact driver than the rest. The 4300 BPM also makes it stand out from the other two products. 
This device weighs 2.18 lbs without battery, 3.79 lbs with one on – slightly heavier than DeWalt and Makita. However, the difference is not that significant. It is 4.6″ in length – more compact than Dewalt DCF888B. 
Moreover, The RedLithium battery in Milwaukee offers more power and juice than the rest. 
Overall, Milwaukee 2853-20 impact driver seems to outrun this contest in terms of value and price. 
Check Price at Amazon
Makita XDT16Z
The Makita XDT16Z is made in China, and it is the most expensive option (double Milwaukee's price). Just like DeWalt, it has a warranty of 3 years.
1600 in-lbs of torque is a bit lower than the rest but still gets the job done quickly. This tool also offers 3600 RPM ratings, making it one of the fastest impact drivers on the market. Note that this is no-load speed. When it comes to loosening or fastening nuts and bolts, Makita is now the real king; Dewalt or even Milwaukee can't compete with its speed! 
Moreover, Makita is the lightest tool compared to the other two products. Its length is quite similar to Milwaukee – 4.6"-compact enough for tight space. So, if you're looking for a lightweight and compact option and money is not an object, this is the way to go!
Check Price at Amazon
Cordless 1/2" impact wrench
The one true "torque monster" every mechanic has!
Big, heavy, and powerful – a 1/2" impact wrench is able to bust all of the rusty stubborn nuts right off!
Literally, I can't last more than a week without them!
Top picks

Dewalt DCF899B


Milwaukee 2767-20


Makita XWT08Z

Customer rating

Price
Max torque


700 ft-lbs
1,000 ft-lbs
740 ft-lbs
Max RPM
1,900
1,750
1,800
Max BPM
2,400
2,100
2,200
Weight
(without battery)
6 lbs
5.91 lbs
7 lbs
Weight
(with battery)
7.2 lbs
7.6 lbs
8.5 lbs
Length
8.81''
8.39''
10''

Made in
USA with global materials
China
Japan
Warranty
3 years
5 years
3 years
Timmy's rating
7.5
9.0
7.0






Dewalt DCF899B
"Made in USA with Global Materials" – not really made in USA, but I guess it's still better than China. 
This tool may not be the most affordable, but its 2400 BPM must be the highest! Which allows you to control the tool easier and smoother operation when facing resistance. Besides, Dewalt is the most lightweight impact wrench compared to the others. Someday, your wrist will thank you for that!
This product offers 700 ft-lbs of torque and 1200 ft-lbs of nut-busting torque (don't let this 1200 number fool you. Click here to know why). It is probably the least powerful among the three, but this impact wrench is still strong enough to take off all your car's lug nuts. 
In terms of speed, Dewalt's max RPM (without load) is 1900; this is significantly outstanding from Milwaukee and Makita. 
Check Price at Amazon
Milwaukee 2767-20
The Milwaukee 2767-20 is another beast with the most affordable price. Once again, a 5-year warranty rather than 3. Impact wrenches are meant for mechanics, and they withstand day-to-day abuse. I mean, Milwaukee, how can you even do that? 
Moreover, 1000 ft-lbs of max torque make it way more powerful than the DeWalt and Makita. Although Milwaukee's 1750 RPM is the lowest, it still has the edge over the other two products. 
Weighing 5.91 lbs with no battery, it's lighter than the other two products. However, when the 5Ah Redlithium battery is attached, it weighs 7.6 lbs- not the lightest – but this battery packs more power than DeWalt and Makita.
It's terms of value for the money, Dewalt and Makita can't compete with Milwaukee 2767-20!
Check Price at Amazon
Makita XWT08Z 
Even though it's a bit pricy than the other two, every Makita fanboy (including me) can't complain a word about it. Why? Simply because the Makita XWT08Z is a "Made in Japan" tool!
Having a max torque of 740 ft-lbs, it's slightly better than Dewalt; but still much lower than the "red beast".  
Makita also does not lag behind when it comes to RPM. Furthermore, this tool has a slightly better BPM than Milwaukee. These RPM and BPM numbers lie between the other two, which means it's fast enough to remove any lug nut in a matter of seconds and stable enough to be nice with your wrist. 
On the downside, Makita XWT08Z is the bulkiest and heaviest tool among the three. As a mechanic, I see that difference is negligible. As long as it's not too bulky or heavy, a good high-torque impact wrench should be fast and powerful rather than lightweight and compact. 
Check Price at Amazon
Cordless grease gun
Admit it, lubrication makes your life a lot easier!
In the automotive field, everything needs to be lubricated. And using a cordless grease gun will save you plenty of time and effort compared to using a manual version.
Read more: How to choose the best grease gun.
Makita first cordless grease gun is not available on the US market yet. As soon as it's released in America, I will buy it and give you an in-depth review. But now, these numbers are just manufacturer's specs. 

Dewalt DCGG571B


Milwaukee 2646-20

Makita DGP180
Customer rating

--
Price
Max PSI
(specs)
10,000
10,000
10,000
Actual max PSI


9,000
10,100
--
Pumps/min
310
480
--
Grease per pump
0.0145 oz

0.0233 oz
--
Flow rate
(specs)
5.0 oz./min
10 oz./min
9.8 oz./min
Actual flow rate
4.5 oz./min
11.2 oz./min
--
Hose length
42''
48''
47''
Weight
8.8 lbs
9.4 lbs
11.4 lbs
Made in
USA with global materials
China
--
Key features
- Variable speed trigger
- LED
- Foot design keeps the tool off the ground
- Pump filter
- Air-bleeder valve
- Lock-on / Lock-off trigger
- LED
- Foot design keeps the tool off the ground
- Pre-set grease counter dial
- Air bleeder valve


- Variable speed trigger
- LED
- Foot design keeps the tool off the ground
- Air-bleeder valve
- Steady flow rate regardless of pressure
Timmy's rating
8.0
9.5
7.0




Coming soon
DeWalt DCGG571B 
The Dewalt DCGG571B is the most affordable cordless grease gun compared to the others. Manufactured in the USA with international materials, I think the "international" thing is mostly China, but still much better than 100% made-in-China.
Specs tell me the tool has 10,000 PSI, but 9000 is the highest number I got. Dewalt claims to have a flow rate of 5.0 oz./min. I tested them out, and it's a bit lower than the specs – 4.5 oz./min – the lowest flow rate. 
Although the flexible 42″ hose is long enough for most cases, it is still a little shorter than the Milwaukee and Makita. On the other hand, weighing just 8.8 lbs, this tool is the most lightweight grease gun compared to the others. 
Dewalt DCGG571M1 has all the necessary features for a cordless grease gun. 
Variable speed trigger let you control the flow rate
LED for dark spots. 
Integrated foot design allows you to rest it on flat surfaces. 
Pump filter prevents dirt from clogging the pump.
Air-bleeder valve helps pump-priming after you change cartridges.
Check Price at Amazon
Milwaukee 2646-20
Made in China, the Milwaukee 2646-20 has a warranty of 5 years. This tool is slightly more expensive than Dewalt. 
Claiming to have 10,000 PSI, this tool actually can deliver a little higher pressure than that. I know too much pressure isn't always good, but 10100 PSI is really impressive for this affordable price.
Moreover, having the best flow rate of 11.2 oz./min stands out from DeWalt and Makita. So lubrication with Milwaukee will be much faster!   
The 48″ hose offers better reach. This also makes it slightly better than the other two brands. It weighs 9.4 lbs, a little more than DeWalt. The compact design and powerful features make up for it.
Besides all the essential features Dewalt has, Milwaukee offers a pre-set grease counter dial to make sure you put the right amount of grease for different spots.
Check Price at Amazon
Makita DGP180 
The Makita DGP180 is a brand new product, and it's not available on the US market yet. Its current price in Australia is about $400, which is ridiculously higher than Milwaukee and DeWalt. But trust me, every Makita fanboys will buy it no matter how much it costs!
Makita offers 10,000 PSI discharge pressure and a 9.8 oz./min flow rate, a tad lower than Milwaukee. Ignore the price factor, this tool will be a tough competitor for both Milwaukee and Dewalt.
The flexible 47″ is still shorter than Milwaukee yet long enough for any hard-to-reach area. 
Besides all the basic features Dewalt has, this product offers a new technology that maintains a steady flow rate when changing pressure.
On the downside, Makita seems to be a little bulkier than the other two products. 
Cordless ratchet
After the internet, cordless ratchet is the second greatest invention of all time!
It gets rid of all the limitations of hand and air-powered ratchet. An indispensable time-saving tool that every mechanic and DIYer must have.

Read more: How to choose the best cordless ratchet.
Currently, DeWalt does not have any cordless ratchet product. They only sell air ratchets. But tbh, who still uses air ratchet nowadays?
Top picks

Milwaukee 2457-21


Makita RW01R1

Customer rating

Price
Max torque
(specs)
35 ft-lbs
35 ft-lbs
Actual max torque
30 ft-lbs
33 ft-lbs
Lowest RPM
15
39
Max RPM
(specs)
250
800
Actual max RPM
490
360
Average time to tighten 1 nut
2.90s
3.12s
Weight
(with battery)
2.39 lbs
2.35 lbs
Head size
1.3''x1.17''
1.55''x1.22''
Made in
China
China
Noise
80 dB
81dB

Timmy's rating
9.5
8.0




Milwaukee 2457-21
The Milwaukee 2457-21 is slightly more affordable than Makita. Although the tool is advertised to have a max speed of 250 RPM (without load), it actually can reach up to 490 RPM! On the other hand, its torque rating is significantly lower than specs. So, compared to Makita, it's faster (in terms of no-load speed) but slightly weaker.
Combine the two factors above, Milwaukee still outperforms Makita when it comes to loosening or tightening nuts. Even though the difference (0.22s per nut) doesn't seem to be significant, when you deal with hundreds of nuts and bolts, you might want to change your mind. 
Its lowest RPM is just 15 – much slower than Makita's – making Milwaukee more suitable for high precision application. 
Besides, the Milwaukee head design is more compact, allowing it to get into places where Makita can't. 
Check Price at Amazon
Makita RW01R1 
The only tool Makita gives wrong specs! Advertised to have up to 800RPM, but the maximum number I got was just around 360! 
The LED on Makita is a lot brighter than Milwaukee's. If you regularly work in a dark environment, you want to keep this in mind.
Besides, Makia design also allows better leverage for manual ratcheting.
Makita RW01R1 square drive is also interchangeable, which means you can easily change between 1/4" and 3/8" drive for different sockets and applications.
With a relatively higher price, Makita can't beat Milwaukee in this contest.  
Check Price at Amazon
DeWalt vs. Milwaukee vs. Makita – which is the best brand?
So, who is the winner?
In my opinion, the crown is for Milwaukee! Since the brand offers the most affordable price and relatively greater value for customers. Milwaukee is the one true "Bang for the buck"!
Both DeWalt and Makita seem to finish at the 2nd place. But I like Makita a little better due to its stability.
I know some of you guys have different experiences with these brands.
You may disagree with me "Makita is the best", "DeWalt is the best", or "They are all junk".
Or you want other tools comparison to see the bigger picture. Just let me know in the comment section below.
Cheers!