(Last Updated On: April 19, 2022)
The kind of trailer hitches that will fit your vehicle are determined by the type of bumper. If you wish to decide on the type of trailer hitch for your pickup truck, you must also consider the kind of bumper you have on your vehicle.
With that in mind, this article will look into the differences between step bumpers and receiver hitches, as well as provide you with their buying guides.
Understanding Step Bumper and Receiver Hitch
Step bumper and Receiver hitch are the important components of the vehicle. For this reason, it is only essential to understand what a step bumper and a receiver hitch are.
What is a step bumper?
Just as its name implies, a step bumper is a bumper that has a step built into its frame. You will find a step bumper on vans, SUVs, and trucks. This bumper is characterized by holes for hitch balls, which can help in towing lightweight trailers.
What is a receiver hitch?
Probably the most common type of trailer hitch, a receiver hitch provides a tube for attaching a ball mount and bolts onto the underside of a vehicle. They are generally designed specifically for a vehicle. There are five classes of a receiver hitch.
If you wish to know more about how these classes compare, below is a table that lists their Towing Capacity and Gross Trailer Weight, as well as the recommended vehicles:
| | | | | |
| --- | --- | --- | --- | --- |
| Hitch Class | Receiver Tube | Towing Capacity | Gross Trailer Weight Capacity | Recommended Vehicles |
| Class 1 | 1 1⁄4 in | 200 lbs | 2000 lbs | Cars & crossovers |
| Class 2 | 1 1⁄4 in | 350 lbs | 3500 lbs | Cars, crossovers & minivans |
| Class 3 | 2 in | 800 lbs | 8000 lbs | Crossover, vans, large SUVs & full-size pickups  |
| Class 4 | 2 in | 1000 lbs | 10,000 lbs | Full-size 3/4 – 1 ton pickups |
| Class 5 (Xtra Duty) | 2 in | 2550 lbs | 16,000 – 17,000 lbs | Trucks & SUVs |
| Class 5 (Commercial Duty) | 2 1⁄2 in | 2700 lbs | 18,000 -20,000 lbs | Dually & chassis cab trucks |
The chart above gives you crucial information on the type of receiver hitch you should buy. It is also worth pointing out that the class 3 receiver hitch is the most popular type you will come across.
What Are The Differences Between a Step Bumper And a Receiver Hitch?
Primary purpose
A step bumper and receiver hitch find their basic differences in their purpose. While a step bumper is not designed to function primarily as a towing hitch, the main purpose of the receiver hitch is to serve various towing purposes. This makes the latter a better choice if you wish to do any heavy towing.
Conditions when you need either of them
You need a bumper to tow light loads. Typically, step bumpers have a 5,000 lbs towing capacity rating. You should also choose a step bumper once you cannot afford a full-sized cargo trailer.
On the other hand, purchasing a receiver hitch is better if you want to tow heavy loads. You should understand that a receiver hitch is great for dragging too heavy or big cargo for a pickup truck bed.
How To Choose a Step Bumper
You should purchase a step bumper to tow lighter vehicles and smaller trailers. There are several considerations that must not be ignored when you plan to buy a step bumper:
Weight carrying capacity
Typically, a step bumper can tow as much as 5,000 lbs of total trailer weight, as well as 500 lbs of tongue weight. Ensure that you carefully check the label of the bumper hitch to determine the one that is tailored to your needs.
Dimensions
Ensure that the measurement of your old bumper fits with that of your new bumper. It is worth stressing that the bumper must not obstruct other vehicle parts, including the brake light.
Material
This determines the bumper's resistance to corrosion, as well as its durability. The best options to consider are aluminum and steel.
Ease of installation
You should only purchase a bumper that you can put together by yourself.
Now, let's choose the one which is best for your trailer here!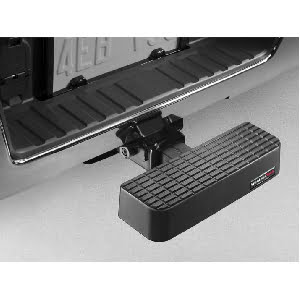 WeatherTech 81BS1 Macneil Automotive Bump Step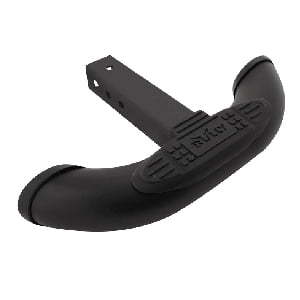 Bully BBS-1102 Black Bull Series Hitch Step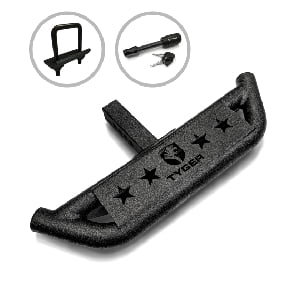 Tyger Auto TG-HS8U81238 Hitch Step
How To Choose a Receiver Hitch
You should purchase a receiver hitch if you wish to haul or tow a heavy load. Commercial duty receiver hitch can tow as much as 18,000 lbs to 20,000 lbs of Gross Trailer Weight. Yet, there are several requirements you must consider before purchasing a receiver hitch:
Make measurements and determine GTW Capacity
Since a receiver hitch is reserved for heavy towing, it is vital that you take appropriate measurements and determine the Gross Trailer Weight capacity of the receiver hitch before purchasing. It would be better for above 8,000 lbs.
Select the suitable hitch class
There are five classes of receiver hitch, as introduced in the Receiver hitch class comparison chart above. Ensure that you identify the right hitch class based on the receiver tube, towing capacity, and the Gross Trailer Weight Capacity before buying a receiver hitch.
After considering all those features, it's time to shopping!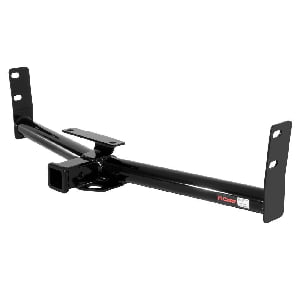 CURT Class 3 Trailer Receiver Hitch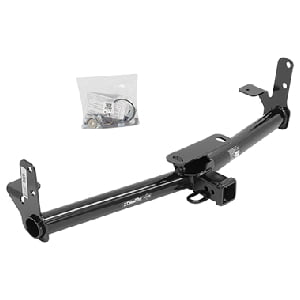 Draw-Tite Class III Receiver Hitch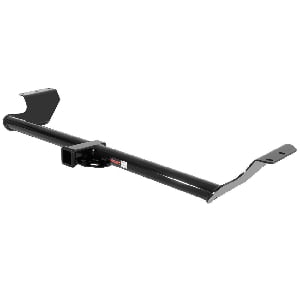 CURT 13068 Class 3 Trailer Hitch
FAQs
Can I tow a trailer with a bumper hitch?
Yes, you can tow a trailer with a bumper hitch. However, in some states like New Jersey, this is illegal.
How much weight can a bumper hitch handle?
A bumper hitch can tow as much as 6,000 lbs, with a weight distribution system installed.
How do I know what hitch weight my truck has?
The maximum tow weight of your hitch can be found on the hitch label.
Final Words
You should understand what a step bumper and a receiver hitch are: the need for this cannot be ignored. Besides the legal ramifications behind a good choice, knowing the differences between a step bumper and a receiver hitch will tailor your purchase to your satisfaction.