(Last Updated On: February 24, 2022)
Ever wondered how two hitch companies compared without having to install and reinstall tow hitches to personally test them? We've got you covered.
This article includes information about the Curt and Reese brands of tow hitches. Besides, our shopping guide will help you decide which hitch you need as well as lead you to good places to buy one.
What should we know about Curt and Reese?
Both Curt and Reese are pretty well-known for vehicle owners for making high-quality and readily available hitches to fit their towing needs.
Curt
Truck drivers and SUVs with hitches know Curt for their hitches and trailer accessories. Curt proudly makes these products in the USA, with factories in Wisconsin, South Dakota, and Florida. These factories produce custom-fit trailer hitches for every vehicle imaginable.
One of Curt's biggest considerations when making products is safety. They test the durability and safety of their hitches in the house to ensure they directly connect the safety of their hitches to their quality control.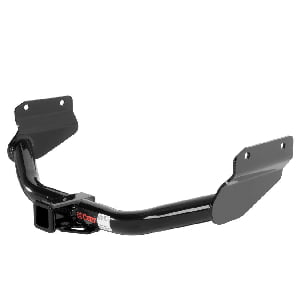 CURT 13182 Class 3 Trailer Hitch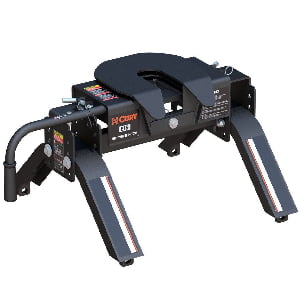 CURT 16115 E16 5th Wheel Hitch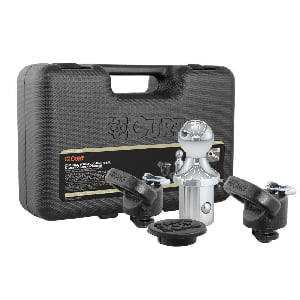 CURT 60618 Gooseneck Hitch Kit
Reese
Reese has been making tow hitches for heavy-duty truckers since 1952. They've earned a great reputation for high-quality products at a low price too. Reese recently won Trailer Life's Gold Choice award for their developments in the 5th wheel hitch category, and silver in the Travel Trailer department.
Reese offers safe, effective products because they know that weekend warriors and campers rely on their products to get around with ease.
As for trailer accessories, they are all made in Mexico, though designed in the USA. The careful designs from Reese are built to fit nearly every SUV and truck out there.
Reese Towpower 37042 Class III Hitch
Reese 30047 16K 5th Wheel Hitch
Reese Elite 30137 Gooseneck Kit
Curt vs Reese: How are they different?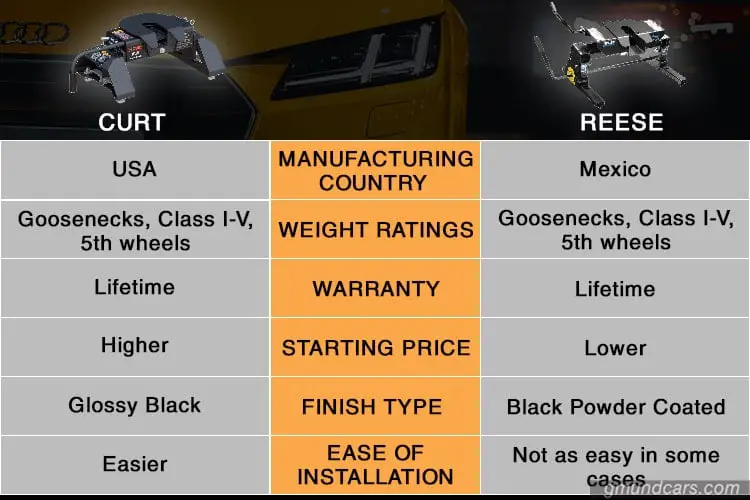 Now, you've already got the basic information as well as the differences between Curt and Reese. It's your time to consider and decide on which brand you should choose and what trailer hitch you would buy. Just read on, we'll help you A-Z.
What kind of trailer hitch should I get?
You'll need to consider a couple of numbers when deciding what kind of trailer hitch to buy and install.
How much weight are you towing? Carefully check the weight every time.
How much weight can your vehicle tow? Look up the towing capacity for your vehicle. Towing more weight than your vehicle allows can damage your vehicle.
Let's start to take a look at the weight capacity of the 5 classes of trailer hitch available out there. We'll also go into detail about the capabilities of fifth wheels and gooseneck hitches.
Trailer Hitch: Class Types, Capacities and Recommended Vehicles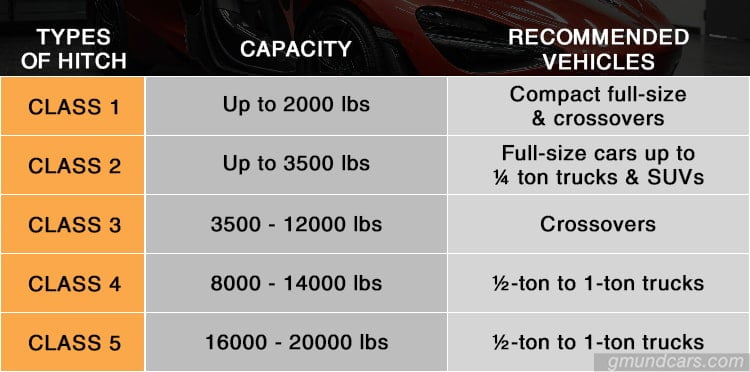 You can also get trailer hitches with larger weight capacities and installation types. These include:
Gooseneck Hitch
A gooseneck hitch makes it easier to tow more weight. Curt and Reese offer gooseneck hitches that mount underneath the truck bed and connect directly to the truck frame. The hitch that would normally be mounted on the back of the vehicle is instead in the truck bed.
Truck owners will find that gooseneck hitches can tow up to 30,000 lbs, which is more capacity than the strongest of hitches. A gooseneck hitch finds common use in flatbed hauling livestock and heavy equipment.
Fifth Wheel Hitch
A fifth wheel hitch works a bit differently from a gooseneck hitch. Instead of having a ball to connect to the trailer, a fifth wheel offers a mount that attaches the truck's bed. The top of the fifth wheel has a locking jaw or bar that takes the trailer kingpin and secures it to the truck.
Fifth wheel hitches have a variety of weight capacities, but are generally more expensive than gooseneck hitches. Part of the price comes from the flexibility of being able to slide a fifth-wheel hitch based on the trailer and length of the truck bed.
The weight capacity ranges from 16,000 to 30,000 lbs, so you have quite the variety.
Have all choosed the kind of hitch you would buy? Next, just take a look at our top picks, you'll definitely find out the one suitable for you.
The Best Trailer Hitches to Buy
Best Class 3 Trailer Hitches
1. CURT 13182: Best for durability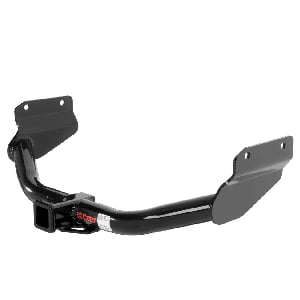 CURT 13182 Class 3 Trailer Hitch
Bought this for my 2018 Dodge Durango SXT. Stupid easy to install. Just remove 4 bolts, hold this in place, then put the bolts back in. Done. I was able to do it by myself. The hitch is high quality and fits very well.
Ease of installation
The most substantial advantage for the CURT 13181 comes from its versatility and ease of installation. CURT designed this trailer hitch to fit well with models like the Jeep Grand Cherokee and Dodge Durango. How easy is the installation? Should just take a few minutes and the supplied bolts.
Durability
CURT doesn't take manufacturing lightly. Their hitch is made of carbon steel and will withstand the test of time and the strain of towing. Hitches from CURT have been tested under extreme conditions, and they maintain their shape and abilities.
Capacity
The 13182 offers significant towing capacity. While you will surely want to properly weigh your towing payload, the 13181 can confidently handle 6,000-lbs. This amount is often enough for a trailer and small motor equipment.
Lifetime warranty
CURT offers one of the best warranties in the business for a trailer hitch. The limited lifetime warranty gives customers peace of mind that any normal wear and tear or damage will result in a fixed or replaced hitch.
Pros
Easy to install with just four bolts to connect
Doesn't stick out exceedingly far
Sturdy and well made of carbon steel
Cons
Sits low to the ground, could trip or scrape
Can make removing spare tires harder
Why this Curt hitch?
CURT takes good care of the most essential parts of Class 3 hitches here. This hitch can be installed easily on the vehicle. Like all Curt products, it's exceedingly well-made, so you can expect it to last a lifetime. Buying this will be a good investment.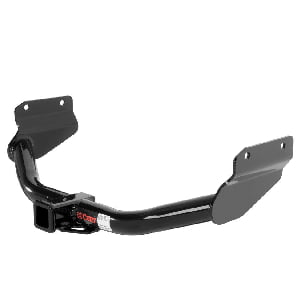 CURT 13182 Class 3 Trailer Hitch
2. Reese Towpower 37042: More weight, better value
Reese Towpower 37042 Class III Hitch
Used to mount on a 2006 Dodge ram (FRONT MOUNT!) Works great! This unit was easy to install. It seems that it can be adjusted to fit about anything out there. Quite a nice piece of engineering.
Durability
Reese does a great job of producing a long-lasting product with all-metal construction and thoroughly welded joints. They also deem the receiver plug "unbreakable" and coat their hitches with Metal Shield for durable corrosion resistance.
Three-year warranty
Reese includes a three-year warranty for this hitch, and repairs or replaces defects in that time period. See metal bending or have other issues? Reese will help take care of you and your hitch.
Capacity
Want to tow a little more than CURT? The Reese 37042 lets you tow up to 8,000-lbs. When extra ton matters and your vehicle can handle the weight, this Reese 37042 is there for you.
Versatility
You'll notice that we didn't specify which vehicle this fits on because it's meant to be a universal hitch. Universal hitches work with almost any vehicle, with installation often taking under 45 minutes. Thankfully, the installation instructions are also straightforward to follow.
Pros
Fits on most vehicles
Steel construction is sturdy, especially for the low price
Higher potential weight capacity than CURT
Cons
Might need to drill into the vehicle frame
Universal fit results in leftover hardware
Why this Reese hitch?
Reese makes a very durable universal hitch. The price is also low and you'll get additional weight capacity. Reese offers an excellent value for a class 3 with this Towpower hitch.
Reese Towpower 37042 Class III Receiver Hitch
Best 5th Wheel Hitches
1. CURT 16115 E16: Best for ease of use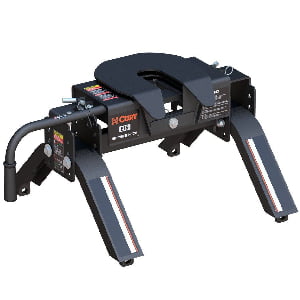 CURT 16115 E16 5th Wheel Hitch
As expected. Quality and Customer service were excellent.I have no complaints about this hitch and I got a great prices so it makes it even better.
Smooth towing
Towing with confidence means you don't feel the trailer or the vehicle swaying around turns. CURT 16115's 10-degree pivot offers flexibility and makes for smooth, automatically adjustable turns and cornering.
Weight capacity
CURT's 16115 tows up to 16,000-lb gross capacity, which is a lot of weight! The weight capacity offers significant flexibility with the right equipment when towing anything from lumber to livestock.
Durable materials
The primary material in this CURT fifth wheeler is carbide steel. Carbide steel combines carbon and steel, making an already tough steel very durable. Along with a lifetime warranty, this CURT 16115 is built to last.
Versatile
CURT made the 16115 easy to connect with four possible height adjustments for a quick connection. Additionally, CURT designed this to allow you to slide the fifth wheel to the right place for your truck and trailer to meet the trailer safety puck best.
Pros
Pros
Relatively easy to install without specific bed rails
Easy to slide when needed for more room
Pivot point and range makes for better control
One-handed operation when sliding back and forth
Cons
Heavy to place and install
Potentially loud during driving and trailering
Why this Curt 5th wheeler?
The CURT 16115 makes moving the hitch much easier based on your truck bed and the trailer itself. You'll find installation pretty easy. While Curt does offer anti-rattle technology, this can still be a bit loud.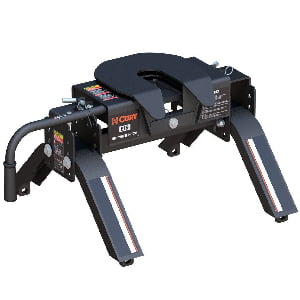 CURT 16115 E16 5th Wheel Hitch
2. Reese 30047 16K: Stable and easy to install
Reese 30047 16K 5th Wheel Hitch
Really liked this product. Assembly was easy. Using it is even easier. Every time I buy a Reese product, I know i've bought the right product. The construction is well done and it is very strong. Compare to other product of the same kind,, I would always recommend Reese.
Smooth towing
The Reese 30047 offers the automatic vertical and horizontal adjustments needed to make cornering a breeze. An extra-wide body and legs also help stabilize and evenly distribute weight while driving. Traveling on windy backroads? You won't feel it as much with this hitch.
Ease of use
Slide the Reese back and forth in your truck bed to find just the right landing spot for your trailer's safety puck. The locking jaw handle also makes a connection with your trailer kingpin a simple task. Even the handle has nice padding to make for easy adjustment.
Simple installation and removal
Truck drivers will need only to remove 4 pins and the bed rails to install and remove the hitch. The easy process helps people who need their whole truck bed or switched trucks.
Durability
Reese fabricates the 30057 of solid steel. Their products are pretty durable. This hitch comes with a five-year warranty that covers material defects, along with a central warranty processing location in the United States.
Pros
Easy to install with included hardware
The handle makes it extra easy to move the locking mechanism
The locking jaw works well
The ability to adjust both height and side-to-side pivot are appreciated
Good five-year warranty
Cons
Does not come with the bed rails
Tough to visually confirm lock on dark jaws
Why this Reese 5th wheeler?
This Reese 5th wheeler is an excellent option if you already have bed rails installed from another fifth wheeler. Reese provides a positive in their more adjustable pivot head for smoother towing and easy kingpin connection.
Reese 30047 16K 5th Wheel Hitch
Best Gooseneck Hitch Kits
1. CURT 60618: Solid durability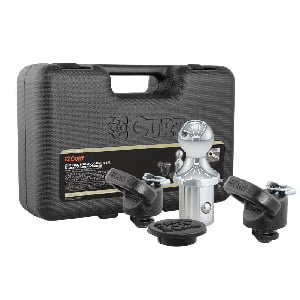 CURT 60618 Gooseneck Hitch Kit
This CURT Puck System provided the Ball and Safety Rings that fit the truck bed connections perfectly. Everything is solid and of good quality. This works perfectly with my Andersen 5th Wheel Hitch for pulling our 13,000 5th Wheel.
Durable forged steel
When it comes to gooseneck hitches, you can't ask for more than solid forged steel. The ball connecting your trailer to your truck needs to be durable, and solid forged steel provides the right material. The metal is corrosion-resistant for a product sometimes exposed to nature.
Easy install
Don't want to go into the garage to get your tools. No worries! CURT 60618 has tool-free installation. This gooseneck hitch also installs a quarter turn for minimal fuss and rotation. A safety latch on the ball head makes connecting quick too. Naturally, with easy installation comes an easy removal. Using a new truck? Transfer of the CURT gooseneck is easy.
Serious capacity
CURT is ready for when you need to tow lots of weight. At up to 30,000-lbs, CURT 60618 can handle livestock trailers and campers. As always, be sure to check the vehicle's own capacity and the weight of the items towed.
Pros
Very portable in its case
Feels solid and durable with forged steel
Very easy to connect
Cons
The case isn't all that high quality and could break
Safety chain pucks might not fit other brand chains
Corrosion resistance isn't always effective when left out in the rain or snow too often
Why this CURT Gooseneck Hitch Kit?
Easy to install and use is a significant advantage for a gooseneck hitch. Since a gooseneck hitch can be moved, efficient removal and transport are a great feature. You'll be ready to tow trailers, campers – and most anything.
So, what are you waiting for? Go get yours.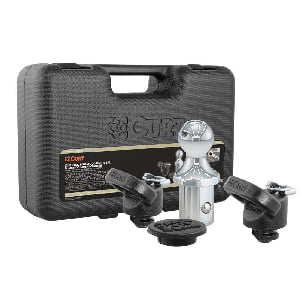 CURT 60618 Gooseneck Hitch Kit 
2. Reese Elite 30137 Under-Bed Gooseneck Kit: Great, lightweight value
Reese Elite 30137 Gooseneck Kit
Perfect. I have the Ford factory setup in my 2021 dually. This package is perfect. Easy to take in and out. The carrying bag is a bonus. Just remove the ball and chain hooks, put them in the bag and store them under the seat!
Very lightweight
While the CURT gooseneck hitch isn't heavy at 20 lbs, Reese offers an even lighter one at only 10 lbs. Uninstall your Reese gooseneck and store it in the conveniently provided storage bag for future installations.
Solid steel
The Reese Elite 30137 has solid steel construction and comes with a five-year warranty. Solid steel offers an excellent option for the strength and durability needed to support the towing weight.
Towing capacity
At 30,000 lbs, Reese, like CURT, can handle your boat, livestock, or even an RV. With a gooseneck hitch like Reese, you are more often limited by the vehicle than the towing equipment.
Easy to connect
Some truck drivers are worried that goosenecks are challenging to connect to their trailers. Reese makes connection easy with a lever within the ball head that makes a solid attachment easy.
Pros
Very inexpensive
Comes with a hole cover for the ball sleeve
Solid safety chain holders
Includes a storage bag for the whole set
Cons
Have to carefully fit all items into the storage bag
Not as corrosion resistant as CURT
Why this Reese Elite Under-Bed Gooseneck Kit?
Reese again provides great value. With a budget-friendly price, you'll be able to tow 30,000 lbs and have a solid piece for towing large items quite easily. The bag is a nice addition to keep parts together.
Reese Elite 30137 Gooseneck Kit
Conclusion
We've compared Reese and Curt thoroughly. Amongst the most significant differences are the lower starting price with Reese, though both certainly offer high-quality products.
To choose the best hitch for your vehicle, just take a look at the products we have proposed, carefully consider your towing weight needs, and install one.