(Last Updated On: December 15, 2021)
Are you wondering how to choose a car amplifier for the quality sound?
All automobile enthusiasts have different expectations of their car's amp. Without the proper knowledge, you will never achieve your desired results.
If you are searching for the best car amplifier for your vehicle, you are in the right place. By reading this guide, you will be equipped with:
Detailed buying guide
Top 5 best products review
Let's get started!
Best car amplifier for sound quality
If you have had trouble picking the right amplifier for your car, then this guide will be of great help. Mentioned below are some of the best options in the market that you can consider buying. All these amplifiers are excellent in their respective areas, so you are sure to find something that checks all the boxes for you.
BOSS R1100M – Timmy's choice
BOSS R1100M Monoblock Car Amplifier
If you are looking for a viable amp for your car, this is my top pick – BOSS R1100M. For this amplifier, you can have the compatibility double-check before purchasing. With the easy installation, R1100M will be your best friend if you're a newbie mechanic or DIYer.
Pros
Low noise level
Durable
Affordable
Compatibility testing
Adjustable bass
Cons
Not much powerful output.
The BOSS R1100M has everything you will need. It is affordable, widely compatible, and has many features that make it worth the price. If you are looking for a viable amp for your car, this is my top pick for you.
One of the best traits of this amplifier is the easy installation. You can connect the power ground with the help of an eight gauge wire (it could be heavier). Even though it is reasonably easy to set up the amplifier in your car, you can also hire a specialist to do so.
This BOSS amplifier has a maximum audio output of 1100 watts @ 2 ohms speakers and 550 watts @ 4 ohms speakers. It also has high-level inputs that are connected to the factory radio with the help of R1100M. Yet, the peak power is aimed at the manufacture's advertisement. I have a 4 ohms speaker, so that this BOSS R1100M only produces about under 400 watts outputs; however, it does matter because the sound quality is much better than I expected.
Check Price at Amazon
It has an adjustable bass system where you can set bass levels according to your preference, which will be the ideal choice for your subwoofer. Additionally, it is compact enough to fit in most vehicles.
The product also allows its customers to check for compatibility before they buy it. You must check if your car amplifier is compatible with your vehicle. The R1100M allows you to cross-check the compatibility before you purchase the amplifier.
Specifications
Power rating
Peak: 1000watts @ 2Ω, 550watts @ 4Ω
RMS: 825watts @ 2Ω, 413watts @ 4Ω
Bridgeable
✗
Channel
Monoblock
Class
A/B
Dimensions (LxWxH)
9.13'' x 10.44'' x 2.25''
Crossover
LPF: 50 - 250 Hz
Short protection
✓
S/N Ratio
102dB
Frequency response
9 Hz to 50 kHz
Bass boost
18dB
Wiring kit included
✗
Power wire gauge
8 AWG
Fuse rating
30A
Verdict
The BOSS Audio Systems amplifier is the perfect choice for you to look for an affordable amplifier with great sound. Unlike any other in the market, it provides compatibility checks before making the purchase, which will be a great choice.
---
Rockford Fosgate R500X1D – Best Mono (Class D) amplifier
Rockford Fosgate R500X1D 1-channel Class D Amplifier
If you are searching for a mono class D amplifier, the Rockford Fosgate R500X1D is the perfect option for you. This amplifier is designed to save energy by reducing the current consumption.
Pros
Durable built
Powerful output
Best amp for class D
Great audio quality
Cons
Difficult to connect to Wi-Fi
The Rockford Fosgate amplifier is another top contender on the list because of its high proficiency. This amplifier functions at 300 watts and 4 ohms in one unit and 500 watts at 2 ohms. The frequency of this amp is between 20 Hz to 250 Hz and 1dB. The minus point of this R500X1D is no included fuse; however, the manufacturer recommends the 50A fuse for the installation.
The remote control is also one of the outstanding features of this Rockford Fosgate R500X1D. This allows you to adjust the settings on the amp with the help of a remote controller. Manual settings can be tedious, so the additional remote is an excellent solution to the problem.
Check Price at Amazon
Another great feature of this amp is the cross-over and infrasonic filter. This enhances the quality of the output and makes it an excellent mono class D amplifier. This amp's power input is through a screw terminal, and input sensitivity stands at 150mV to 4 V.
The Rockford Fosgate R500X1D amplifier has a muted turn-on and a short circuit protection feature too. These qualities make it a very safe option for you to pick. It also comes with a power supply thermal sensing feature, which prevents are electrical hazards from occurring.
The body of this amp is extremely durable. This is because it is built with Aluminium Heatsink and has a Stealth top-mounted control panel. These features make the R500X1D worth the money you spend on it. 
Specifications
Power rating
Peak: 500watts @ 2Ω, 300watts @ 4Ω
RMS: 500watts (total)
Bridgeable
✗
Channel
Monoblock
Class
D
Dimensions (LxWxH)
8.5'' x 6.77'' x 8.5''
Crossover
LPF: 50 Hz to 250 Hz
Short protection
✓
S/N Ratio
N/A
Frequency response
20 Hz to 250 Hz
Bass boost
12dB
Wiring kit included
✗
Power wire gauge
4 AWG
Fuse rating
50A (not included)
Verdict
If you are searching for a mono class D amplifier, this is the perfect option for you. You can make the most of your money with this product and have an excellent audio output too. Additionally, most of the safety features in this amplifier are more than enough to make you want to buy it!
---
BOSS PV3700 – Best amplifier for bass
BOSS PV3700 Class A/B 5-channel Amplifier
The BOSS PV3700 is the best powerful amplifier for bass sound. If money is no concern, this is a great buy. The features and technology you get with this amp are unmatched!
Pros
Easy to install
Powerful output
Great sound quality
High and low-level inputs
Strong enough for door speakers and subwoofer
Do you find a powerful amplifier for bass sound? And the budget is no concern in your purchase, then you must consider buying the BOSS PV3700 amplifier for your vehicle. It has an excellent power output and works at a maximum of 550 watts at 2 ohms, 275 Watts Max x 4 at 4 ohms, and around 1100 Watts Max x 2 Bridged at 4 ohms.
The amplifier has a class A/B topology. This means it has features of both classes. While many current flows through class A amps when there is no audio signal, class B amps have no current flowing in such situations.
This is a full range amplifier, which can be used to power your subwoofers and speakers simultaneously. It also has a MOSFET power supply. You can cut the power supply to this amp with the help of a single button.
Check Price at Amazon
You can easily control your amplifier's fundamental values, sound, and volume, along with the bass boost. Moreover, you can manage how intense you want your amp's bass to be with convenience.
The amp is also a great choice because it has low and high-level inputs. The low-level RCA is measured in voltage, whereas a high-level RCA is calculated in wattage. These transfer signals from the receiver to the amplifier first, and then the signals are taken to the speakers.
Specifications
Power rating
Peak: 550watts @ 2Ω, 275watts @ 4Ω
RMS: 413watts @ 2Ω, 206watts @ 4Ω
Bridgeable
Power: 1100watts @4Ω
RMS: 825watts @4Ω
Channel
5
Class
A/B
Dimensions (LxWxH)
17'' x 10.31'' x 2.25''
Crossover
HPF: 50 - 250 Hz
LPF: 50 - 250 Hz
Short protection
✓
S/N Ratio
103dB
Frequency response
9 Hz to 50 kHz
Bass boost
18dB
Wiring kit included
✗
Power wire gauge
8 AWG
Fuse rating
40A
Verdict
The only major downside of this amplifier is its price. If money is no concern, what are you waiting for? This BOSS PV3700 amplifier will meet your requirements about the sound quality or bass sound. The features and technology you get with this amp are unmatched!
---
BOSS R1100MK – Best amplifier for the money
BOSS R1100MK Monoblock Class A/B Amplifier
If affordability is your most important concern, then you must go for this BOSS R1100MK. This is an user – friendly amplifier which comes with wiring kit.
Pros
Real-time battery monitoring
Bass control options
Powerful output
Wiring kit included
Cons
The sound quality is not as brilliant
The amplifier power is about 1100 watts at the maximum and works at 2 ohms. Moreover, it can also work at 550 watts at 4 ohms. This BOSS R1100MK amplifier also has a MOSFET power supply. This type of power supply is controlled with the help of a switch. You can turn off the switch and cut the power supply in the amplifier.
This R1100MK amplifier is of class A/B topology. Meaning it has qualities of both classes. The amp also has an adjustable low-range crossover. You can change the low range frequencies' value depending on your preferences and the subwoofer you have. The amp also has a ton of control over the bass of the system. You can easily switch from low to high bass in a matter of seconds. These features are all available at an unbelievable price, making this amplifier one of our best suggestions.
BOSS R1100MK comes with several features and gives you a great value on the dollar. Why do I call this amplifier is the best for money? This product model offers an amplifier and the wiring kit that comes well equipped with a speaker wire, power cable, turn-on wire, ground cable, fuse holder with AGU fuse. This BOSS Audio system amplifier will be your great choice if you are a new mechanic or DIYer. Moreover, R1100MK produces a clear and powerful sound enough for a single subwoofer.
Check Price at Amazon
Specifications
Power rating
Peak :1000watts @ 2Ω, 550watts @ 4Ω
RMS: 825watts @ 2Ω, 413watts @ 4Ω
Bridgeable
✗
Channel
Monoblock
Class
A/B
Dimensions (LxWxH)
9.1'' x 10.4'' x 2.3''
Crossover
LPF: 50 - 250 Hz
Short protection
✓
S/N Ratio
102dB
Frequency response
9 Hz to 50 kHz
Bass boost
18dB
Wiring kit included
✓
Power wire gauge
8 AWG
Fuse rating
30A
Verdict
This BOSS R1100K amplifier has all the necessary features you would expect from an amplifier. Though this amplifier's sound is not outstanding like BOSS PV3700, the amp's cost makes it an excellent option for people looking to save some extra money and time for the installation.
---
Crunch PX1000.4 – Best 4 channel amplifier
Crunch PX1000.4 Class A/B 4-channel Amplifier
If you are looking for an amplifier to power your door speaker, the Crunch PX1000.4 is the perfect choice for people who want multichannel amps. It is made to help you power door speakers in your car and have a high-power output.
Pros
Low-noise
High power output
Good for high-pass sound
Best for door speakers
One of the best features of this amplifier is the low noise preamp. The Crunch PX1000.4 does not make a ton of noise when working, making your music experience quieter and better. This amplifier also has heat sink technology making it worth your money.
This PX1000.4 has a high-power output, and it functions at 1000 Watts. It also works at 4 ohms per channel; however, the best and most stable sound quality is only observed when using this amplifier at 2 ohms per channel. Additionally, this amplifier also comes at low-level RCA inputs and outputs. You can buy it for your door speakers at a very reasonable price.
The major issue with this amplifier is the heating. This Crunch PX1000.4 is very easy to get heat, and the fuse seems doesn't work well. You should pay attention to this matter and install more fuses if you consider purchasing this Crunch PX1000.4 because this amplifier is great for high pass sound.
Specifications
Power rating
Peak: 450watts @ 2Ω, 125watts @ 4Ω
Bridgeable
Mono bridged: 500watts @ 4Ω
Channel
4
Class
A/B
Dimensions (LxWxH)
12.6'' x 10.08'' x 3.7''
Crossover
HPF: 120HZ-3000Hz
LPF: 50Hz-250Hz
Short protection
✓
S/N Ratio
98dB
Frequency response
20 Hz to 20 kHz
Bass boost
12dB
Wiring kit included
✗
Power wire gauge
8 AWG
Fuse rating
30A
Check Price at Amazon
Verdict
This is the perfect choice for people who want four-channel amps. It is easy to install and comes at an affordable price. After you use this amp for a prolonged period, the output's quality degrades, and it starts to heat up rapidly, so you need to be all the more careful with it.
What should I consider before purchasing an amplifier?
How you pick the right amplifier will depend on the specifications that you prioritize. Listed below are some factors that you need to consider before purchasing an amplifier.
Power rating
Power ratings are given in watts (W) and specify how much energy an amplifier can provide a speaker.
Although this rating does not indicate sound quality, a powerful amplifier allows the speaker to play louder audio. That is because the amplifiers are designed to increase voltage.
There are four types of power ratings you should keep in mind.
Maximum power output
Max power output or peak power rating refers to the maximum amount of power the speaker can handle. The peak power rating will let you know how many watts your amplifier can provide for a temporary and sudden increase in sound.
If this peak power continues for an extended period of time, the sound will come out distorted.
This rating helps you choose an amplifier producing the power without any unwanted distortion or clipping sounds.
RMS
RMS stands for Root Mean Square power rating. Most buyers tend to focus on this specification when looking for a powerful amplifier. It defines the amount of power that an amplifier can provide the speakers at a constant or continuous rate.
This is essentially the power output level at which you will listen to your music. As a result, peak or max power output is typical twice the RMS power rating. When choosing an amplifier, remember the RMS power rating is enough to run several electrical systems.
You may want to look for a high RMS wattage level. However, you must make sure it does not exceed the power of speakers and subwoofer. If the RMS power is more powerful, the amplifier can end up damaging your speakers. 
Bridge power
Bridge power refers to the power supplied to a speaker by wiring two channels as one. The wiring configuration between the pair of channels is called bridging, hence the name. This allows the amplifier to increase its power supply.
For instance, you have an amplifier rated to provide 50 watts output from both channels separately. If these channels are bridged together, they can produce 200 watts to drive a 4-ohms speaker. Hence, you should look out for amplifiers with bridged configurations added to their systems.
Speaker impedance
All speakers come with impedance values measured in ohms (Ω). It tells you how much electric current your speaker resists. The lower the impedance value, the more easily the electric signal flows through the speaker.
You need to see how the manufacturer has mentioned the power ratings. That is how you match your amplifier with the speaker or the subwoofer. So, for a 4-ohm speaker, the power rating of your amplifier should be published in 4-ohms.
Input level
When looking for an amplifier, you want one that can be fed input level to power the speakers accurately. There are two types of inputs – high level or low level.
High level
Amplifiers with a high-level input accept high voltage levels. They can convert this voltage to one the amplifier can easily withstand. They cancel out the need for an external line or low-level adapter. Speakers will produce clear sounds. Hence the high-level input is also known as speaker level input.
Low level
Low-level or line-level inputs use RCA connector cables to link the amplifier to the source unit. This is used when your amplifier does not specify whether it supports speaker-level input. It will limit or control the voltage getting sent to the amplifier.
Crossover
A crossover in an amplifier takes an input signal and produces output signals, consisting of separate bands of frequencies. The frequency can be high, mid-range, or low. Without a proper crossover network, your music will sound like a traffic jam.
Crossover networks come with filters designed to either block or allow a particular frequency. For instance, a low-frequency filter will only permit a low-frequency range to pass through.
Amplifiers come with the option of high-pass, low-pass, and band-pass filters.
High-pass filter (HPF) – High-pass crossover filters block low frequencies and pass signals higher than a specific cut-off frequency.
Low-pass filter (LPF) – Low-pass crossover filters block high-pitched sounds and pass signals lower than a specific cut-off frequency.
Band-pass filter (BPF) – Band-pass crossover filters combine LPF and HPF to allow select frequencies within a range.
Full-range or multi-channel amplifiers tend to have high or low pass settings so that they can work with any system. The amplifier will include separate high and low pass filters on the same set of channels to create a band-pass filter.
These frequency filters also come with a range multiplier switch to adjust the frequency range. This way, you can further customize the music you play.
Channel
The channel count of an amplifier refers to the number of speakers the amplifier can power. Each kind of amplifier has its own pros and cons. As a result, depending on the kind of speakers you have, you will need to choose a specific channel amplifier type.
There are four broad types of amplifiers based on channel count.
Mono amplifier
Mono or single-channel amplifiers are designed to power subwoofers only. The speakers work fine with mono amplifiers but do not get any extra power from the amplifier. The BOSS proves its excellence in quality and value by offering BOSS R1100M.
BOSS R1100M
Two-channel amplifier
Two-channel amplifiers are used for powering a pair of speakers in either full-range or component speaker systems. You can also connect them to four speakers as long as you keep the speaker impedance value in mind. This is to divide the power equally between the two channels to avoid overheating them. However, for further upgrade, you should go for a powerful four-channel amplifier for your four speakers.
Four-channel amplifier
Four-channel amplifiers can power up to 8 speakers. It is ideal if you are looking for more power for your front and rear speakers. And, the Crunch X1000.4 has everything you expect from a four-channel amplifier.
Crunch X1000.4
Multi-channel amplifier
You can also get amplifiers with five or six channels. Multi-channel amplifiers are used for full-range systems with multiple speakers and/or subwoofers. These amplifiers come in an advanced design that can replace multiple separate amplifiers without taking too much space. BOSS PV3700 gives your car audio system a whole new look with the power amplifier.
BOSS PV3700
Class
Its class type defines how an amplifier operates. The two most common amplifier classes in the car audio industry are Class A/B and Class D.
You also have Class A and Class B amplifiers. However, both come with their fair share of issues. While Class A design offers the highest sound fidelity, it also reports the lowest efficiency rating. Class B designs will have better efficiency but produce unwanted noises and distortions. A/B designs eliminate both these issues.
Class A/B amplifiers are seen everywhere due to their high efficiency and fidelity. Its design ensures that there is minimal crossover distortion. This is thanks to the small bias voltage between the two transistors included in Class A/B amplifiers. These amplifiers are also used in hi-fi systems due to their high linearity. A linear amplifier is one that can produce audio signals as accurate copies of the input. Thus, if you want your music to sound clear and realistic, then A/B amplifiers are your best bet.
Class D amplifiers function similarly to their A/B equivalents in terms of efficiency. If you prioritize efficiency, then Class D amplifiers are a great choice. They are lighter, smaller, and do not heat up as easily as other amplifiers.
You may hear some distortion, but a Class D amplifier can reach an efficiency of more than 90%. It draws one-third of the current consumption as the A/B amplifier. This decrease in current consumption means a reduction in wasted energy. The higher the efficiency of the amplifier, the more power it is bound to make.
Gains control/Input sensitivity
Every good amplifier will include an input sensitivity or gain control. Input sensitivity refers to the maximum voltage strength of an input signal that your amplifier can handle. When the signal exceeds the input sensitivity level, clipping and distortions occur.
This control is vital because not all audio signals have the same voltage level. For instance, when you set your input sensitivity lower, your amplifier will be less sensitive to higher signals. As a result, the amplifier will not clip when it receives stronger input signals.
Some advanced amplifiers will have dedicated gain controls for every channel. These controls make it easier for you to have full control of balanced audio.
Signal-To-Noise Ratio (SNR or S/N)
This specification is measured in decibels (dB). The signal-to-noise ratio will describe how much noise an amplifier will produce with every audio signal of a specific amplitude.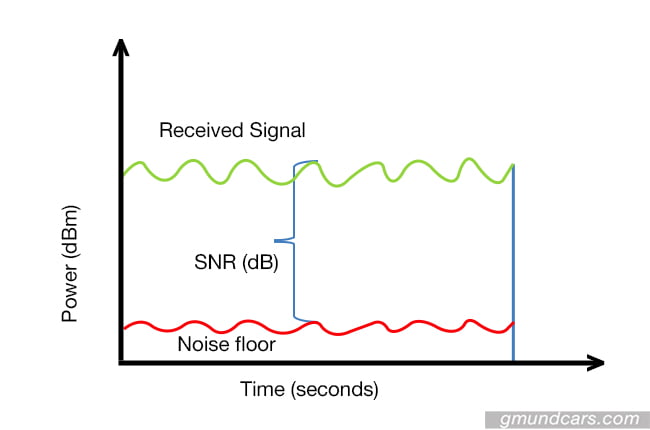 There will always be some background noise coming from the amplifier due to the electrons zipping around inside it. You need an amplifier that allows you to hear a clear sound and less unwanted noise. 
You must look for amplifiers with larger S/N specifications. For instance, suppose an amplifier has an S/N ratio of 95 to 100 dB. It means the noise is 95 to 100 dB, quieter than the audio signal with an output of 1 watt.
An amplifier with an S/N range of 85 to 90 dB may produce some hissing sound in the background. If the range is between 70 dB and 80 dB, you may hear some noise while playing music driving on a quiet street. Anything below 70 dB will produce loud background noise. One particular factor that influences this specification is the physical design of the amplifier. The proximity between the low-level signal processing circuitry and input connections can cause distortions. A large amplifier with a large S/N range is what you need for high-quality sound.
On-board fuse
On-board fusing tells a lot about an amplifier's power production capabilities. The onboard fuse acts as a protective device. It reacts to the amount of heat getting produced by the electric current passing through the amplifier. If there is an electric overload, it will stop the current from flowing.
An amplifier manufacturer may claim that an amplifier can produce 3,000 watts of power. However, if it has a single 70-amp fuse, the power production will be a lot less than 3,000 watts.
As a general rule of thumb, mechanics multiply the fuse rating by 10 to estimate how much power the amplifier will produce. Therefore, a single 70-amp fuse can produce 700 watts of power.
In case your amplifier does not come with onboard fuses, do not worry. You can have a dedicated fuse installed that matches the rating given in the manual. However, your expenses will also go up with this purchase.
Other considerations
Here are some other factors to consider that you tend to take for granted.
Installation
An important deciding factor for purchasing an amplifier is the ease of installation. It can get tricky if you are new to car mechanics. If possible, go for an amplifier that comes with an installation kit. This will make things easier for you as you will have all the necessary tools. These kits will also include wiring connections and cables of the correct size and type.
Speaker type
Your decision to buy a particular amplifier is also influenced by the kind of speakers you have.
For those who have subwoofers, amplifiers designed for use by subwoofers are available in the market. These are high power, single-channel amplifiers known as mono-block amplifiers. They can play frequencies up to 250-500 Hz.
To drive door speakers, you will need a high-powered multi-channel amplifier system. Preferred configurations are 2, 4, 5 and 6-channel amplifiers.
If your amplifier does not get adequate power, it will overheat. This will result in horrible sounding distortions. On the other hand, too much power from the amplifier will permanently damage your speakers.
So whatever speaker type you have now, make sure to match it with the right amplifier.
Short protection
With high-powered amplifiers, protection from electric current overload becomes crucial. This is where short-circuit protection comes in. They look out for short circuit conditions at the output points of an amplifier.
The circuitry will switch off the amplifier automatically when it detects a blown speaker or pinched wire. Your amplifier will stay in protection mode until replacing the faulty components. In a similar manner, a modern amplifier will also monitor temperature and turn itself off when it turns too hot.
Remote level control
Remote level control is how you fine-tune your sound system. Many subwoofer amplifiers include a built-in jack to install the remote level control. They may require you to purchase this remote-control system and cable separately.
When installed correctly, the remote level control will attenuate instead of boosting the audio. When installing you must configure the system with the control turned all the way up for maximum power output. Later, you can tune it down according to your preference.
You should avoid inexpensive amplifiers with bass boost control. This control can boost the amplifier output, but the end result is unnatural audio with large amounts of bass.
That is why a remote level control amplifier is better. Instead of turning up a specific frequency range, the remote level control system will adjust all frequencies together.
Integration feature
You should get an amplifier with integration features, especially if you plan on connecting it with your factory-installed radio. These features will help the amplifier reach its full potential in producing quality music. Moreover, you get to expand the capabilities of your audio system.
Most aftermarket amplifiers will come with a signal detect switch. Once activated, this switch will allow the amplifier to automatically turn on when the music starts playing. Another turn-on option is called BTL detection.
Amplifiers with this option monitor the speaker output for direct current (DC) voltage. A DC voltage only uses one polarity of the current. When the amplifier detects a small DC voltage, it turns on automatically.
Other integration features include analogue and digital audio inputs. Audiophiles will want to look for amplifiers with cassette decks, CD players, USB ports, phone input, and so on.
Certain advanced amplifiers may also come with an HDMI input. It is beneficial for those who wish to play their music through Blu-ray players (CDs) or compatible TVs.
Stop-start compatibility
Cars today come with technology that automatically shuts off the engine when they are stopped. Although this feature saves energy, it also creates distortions in the audio system.
When the driver restarts the engine, the voltage level can fall below 9 volts. Many amplifiers cannot handle this extreme voltage level and, as a result, shut down. This process may also shut down the signal processors and head units. Hence, it is best that you look for car amplifiers compatible with the start and stop function.
Amplifier manufacturers are coming up with amplifiers that continue to run without any interruptions. They come with microcontrollers that allow the amplifier to function at 6.5 volts for a short time. It is only for a few seconds, long enough for the alternator to normalize the voltage levels.
Sum up
Choosing a car amplifier can be a monumental task if you do not know anything about them. Once you figure out the necessary details about your car amplifier, you will have no trouble picking the right option. The amplifiers mentioned above are all the best in their respective fields.
When you figure out what you need, you can pick an amp that works best for you. However, BOSS R1100M is the best option for anyone looking for a high-quality amplifier. This is an affordable option you can opt for as it gives you the best sound quality along with unbelievable features!
FAQs
1. Are Class D amps good for subs?
No, Class D amplifiers are not recommended for subwoofers. This is because subs require a lot of power. You can use Class A/B for your vehicle instead of Class D. Class D amps are too slow and usually fail at doing justice to the bass.
2. How can I make my amplifier more powerful?
The easiest way to make your car amplifier more powerful is to have a robust electrical system. Make sure the wiring is in place and is in pristine condition. Additionally, you can also make sure it is powerful by reducing its final ohm impedance.
3. How many speakers can I connect to my amp?
Depends on the kind of amplifier you have. However, you can connect two speakers at max to a single amp. You can get yourself a multichannel amp or hook multiple amps in series to make sure that many speakers can run at once.
4. Which is a more critical amplifier or speaker?
Your amplifier is more important because it powers the speaker and determines the audio quality. Without the amp, your audio will not be adequate. The amplifier sends the power needed to run the speakers. Your speakers will not be able to function at their full potential if your amp does not work well. So, it would help if you had a good amp hooked to your speakers.
5. Does the amplifier drain the car battery?
Yes, it can. However, this is only possible if the amplifier extracts more power from the battery than the alternator provides. So, if there is an issue with your car alternator, your amp and speakers might suffer along with the car battery.