(Last Updated On: August 29, 2021)
"Saving People $1000s" is what FIXD advertises. So magical!
Ok, I know it. You don't believe in what they said, and you're probably looking for an objective review from someone who is using it. Am I right?
Well, my credit card has already done the hard work buying and testing this scan tool. So now, I can confidently give you this in-depth review after 1 year of use.   
Does FIXD really save you $$$? Let's find out!
What is FIXD and how to use it?
First thing first, FIXD is a small device that can communicate with your cars, giving you the necessary information to fix and maintain it. 
To use the device, you need to have a smartphone (iOS or Android). 
First, download the FIXD app. 
The next step, connect the device to your car's OBD2 port. Depending on what car you have, the port can be in different places. The picture below will help you find yours.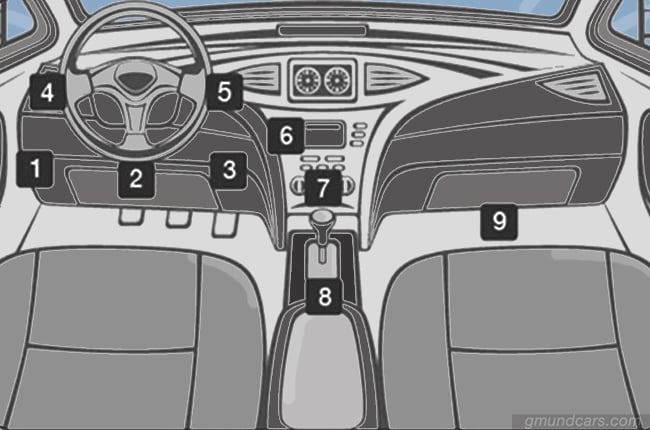 Open the FIXD app, pair the device with your phone via Bluetooth, and you're good to go. 
Can FIXD work on your car?
This is obviously the very first question you need to ask yourself. And the answer depends on what problems your car has. 
If your check engine light is on, and that's the only thing you need to fix, make sure your car's model is:
1996 or newer (for gas vehicles)
2008 or newer (for diesel vehicles)
If you want to read enhanced codes (ABS, airbag, transmission, TPMS, etc.), FIXD only supports this function for Ford, Chrysler, Toyota, Nissan, and Honda. 
FIXD vs. FIXD premium – What's the difference?
At first, I was like, "What? Are you EA or something? I bought the device and now you ask me the subscription fee for using the app?"
But then I realize that I still can do a bunch of things with the free version. After a few months not paying any fee, I decided to give it a shot and upgrade FIXD to premium. 
The monthly subscription fee was 9 bucks. There was also a yearly fee option ($70), but I just wanted to see what the premium version has, so monthly membership was reasonable to me. 
Is it worth it? Hmmm, I would say yes and no. Here are the differences between the free and premium versions: 
What you can do if you don't want to pay for premium versions
Read/clear fault codes
Your check engine light is on? Perfect, FIXD is born for fixing that. It can pull out your car's engine codes, which will show: 
What's wrong with your engine 
How to fix it (if the problems are not too difficult to fix)
Even if the problems are so sophisticated that you can do nothing about it, you don't have to worry about your mechanic cheating on you and trying to take you some extra money. 
Because you're no longer Jon Snow. You know everything about your car. 
And that's how you save money! 
How about the other lights (ABS, airbag, transmission, TPMS, etc.)? Yes, FIXD can pull codes from these modules. But once again, this feature is only for Ford, Chrysler, Toyota, Nissan, and Honda. 
However, FIXD failed to pull ABS and SRS codes from a few of my customer's cars, such as: 07 Acura MDX, 2010 Toyota Venza, 2005 Ford Focus ZX4. 
So, before you buy, contact the seller to verify exactly which modules of your car the device can read. 
Live data 
Diagnosing your car isn't always an easy job. In many cases, a fault code can't tell you exactly which part of your car gets hurt. 
And that's when you need to monitor the live data, which include: 
O2 sensor voltage (to detect bad sensor, or rich/lean fuel trim) 
Engine RPM
Vehicle speed
Fuel trim
And a lot more
Freeze frame
FIXD can also show freeze frame data. Which is the snapshot of live data at the moment the fault codes are triggered. It is very valuable data for future troubleshooting.
DON'T clear the codes until the problems are fixed! Otherwise, you lose all this data!
What does FIXD premium offer you?
Well, just 9 bucks per month, you can get access to these features:
Mechanic hotline
Confirm fix & cost
Issue forecast
Emission precheck
Let's see what these features can do.
FIXD premium review video:
Mechanic hotline
Call a mechanic for any car-related questions. 
This feature is useless for me. Hmmm because I'm a mechanic 🙂
JKD, if you're a DIYer, this is very useful for you. And it is much quicker compared to looking up on the internet. 
Confirm fix & cost
Confirm fix – it shows you how to fix it. However, I believe Google does a better job on this one. 
Confirm cost – This is the juice part of FIXD premium! The app will let you know the estimated cost for fixing your car. 
Additionally, FIXD also helps you to find the nearest repair shop. And if you show the price report to them, they are supposed to charge you within that price range. I think FIXD has a partnership with these repair shops. 
So, no more rip off! 
Issue forecast
This feature tells you:
Whether the problems are serious or not
How far you can continue to drive without fixing the car. 
How common the problems are
Once again, this is very nice, but Google will give you more information than FIXD does. 
 Emission precheck
This helps you perform the emission test at home to be sure that you pass the test the first time.
Note: don't clear any codes (without fixing them) before you take the test. Otherwise, you'll fail anyway.
What I don't like about it? 
One annoying thing about FIXD is battery drain. 
I once forgot to unplug the device and left the car that way for 3 days. Guess what, the battery's dead. 
It's not really a big deal, though. Just remember to unplug the device after using it.  
The final questions – Is FIXD worth buying?
FIXD
If your car's check engine light is on and you're just looking for a device to diagnose and fix it. FIXD is the one true tool that you need. No more cheating mechanics!
If your check engine light is on, I will say YES, it is worth it. 
With 30 days money-back guarantee, you can't go wrong with FIXD when it comes to fixing your car's engine. 
In case you want to read codes from modules other than the engine, contact the seller to verify if your car is compatible or not. 
Finally, FIXD premium's subscription fee is optional. If you have good research skills, there's no need for that; the free version is just fine for you. 
However, the premium version has its own advantage. In my opinion, the "estimated cost" feature is amazingly useful for DIYers; you'll know exactly what you have to pay for the mechanic. After all, it's 9 bucks per month and chances are you only use it a couple of times, so, not a big deal.