(Last Updated On: November 10, 2023)
‍The Subaru Forester has long been a top choice among compact SUVs. Its reputation for ruggedness, reliability, and excellent safety features has attracted many loyal customers. Nonetheless, like any vehicle, the Forester is not entirely flawless. There are specific model years that are more prone to problems than others.
This article will guide you through the Forester years to avoid and why, along with common problems, potential solutions, and tips for buying a Forester. Let's get started!
What Are The Forester Years To Avoid?
Looking at the historical data, there are several Subaru Forester model years that have experienced more issues than others. These include: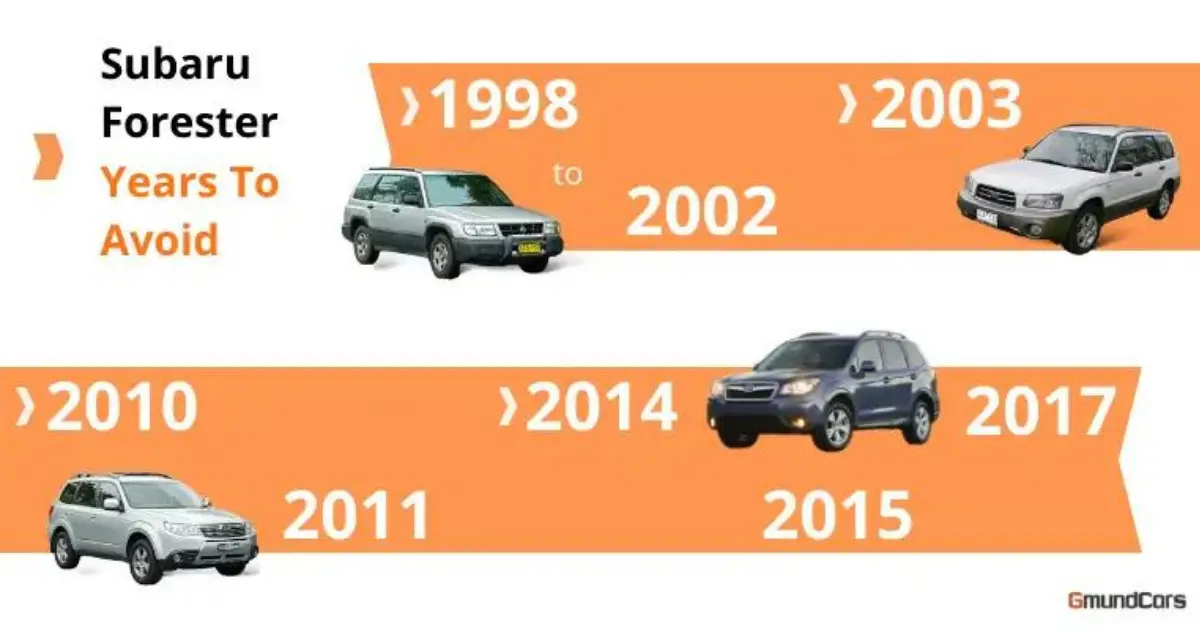 1998 to 2002
2003
2010
2011
2014
2015
2017
These model years have been reported to be less reliable due to a variety of reasons, which we will delve into in the next section.
Why? What's Wrong With Them?
The issues that plagued these specific Subaru Forester model years were varied, ranging from engine and mechanical problems to issues with the interior accessories. Let's break it down year by year:
1998-2002 Foresters: These models were known for significant head gasket issues, typically coming into play at around 50,000 miles.
2003 Forester: This model suffered from door seal damage, power window deficiencies, and airbag failures.
2010 Forester: Common problems included blown head gaskets, engine failure, and issues with interior accessories.
2011 Forester: Excessive oil consumption, engine failure, and issues with oil handling were prevalent in this model year.
2014 Forester: This was a notably troubled year for the Forester, with engine failure, excessive oil consumption, suspension breakdowns, and gearbox problems.
2015 Forester: Problems included issues with interior accessories, fuel efficiency, and the engine and transmission.
2017 Forester: This model year had issues with engine failure and electrical systems.
Read next: Are Subarus Expensive to Fix and Maintain?
What's To Blame? Subaru Quality Or Design?
The problems that these Subaru Forester models faced can be attributed to both quality and design issues. Faulty part manufacturing or assembly can lead to issues such as head gasket failures, while design flaws can result in problems like excessive oil consumption.
On the bright side, Subaru has been proactive in addressing these issues in later models, leading to significant improvements in recent years.

More Subie Stuff:
> Impreza Years to Avoid
> Best Year Subaru Impreza: Is There More Than One?
List Of Common Problems Found In Foresters
Subaru Foresters across all model years have had some common problems, including: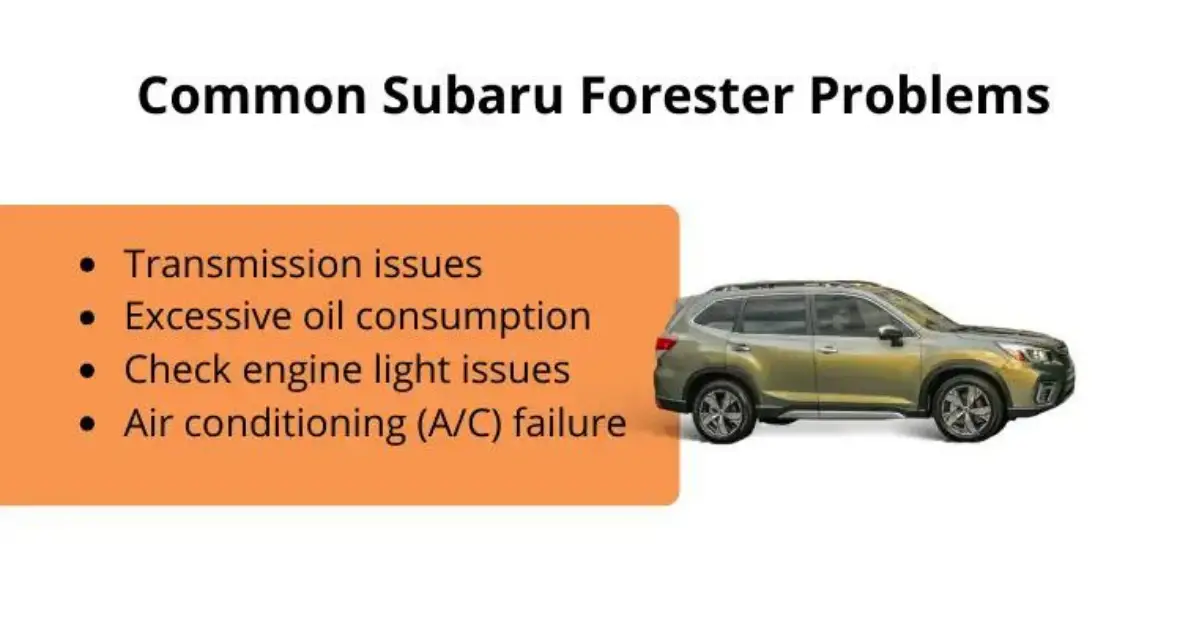 Excessive oil consumption: This was a significant problem with Foresters with a 2.5-liter engine, particularly in models before 2014.
Check engine light issues: The most common factor triggering the check engine light in the Forester is a faulty oxygen sensor.
Air conditioning (A/C) failure: A/C problems are prevalent among Forester model years, with owners reporting hot air emitted from their vehicles, leading to a faulty A/C unit.
Transmission issues: Several Forester models with CVT transmissions reportedly experienced intense jerking and shuddering.
What Are The Worst Years For Subaru Forester Models? Why
The 2014 model year stands out as the worst year for the Subaru Forester. This model year was plagued with a variety of issues – from engine failure and excessive oil consumption to suspension breakdowns and transmission problems.

Other Options:
> Subaru Legacy Years to Avoid
> Best Year Subaru Legacy: Are They Actually Any Better?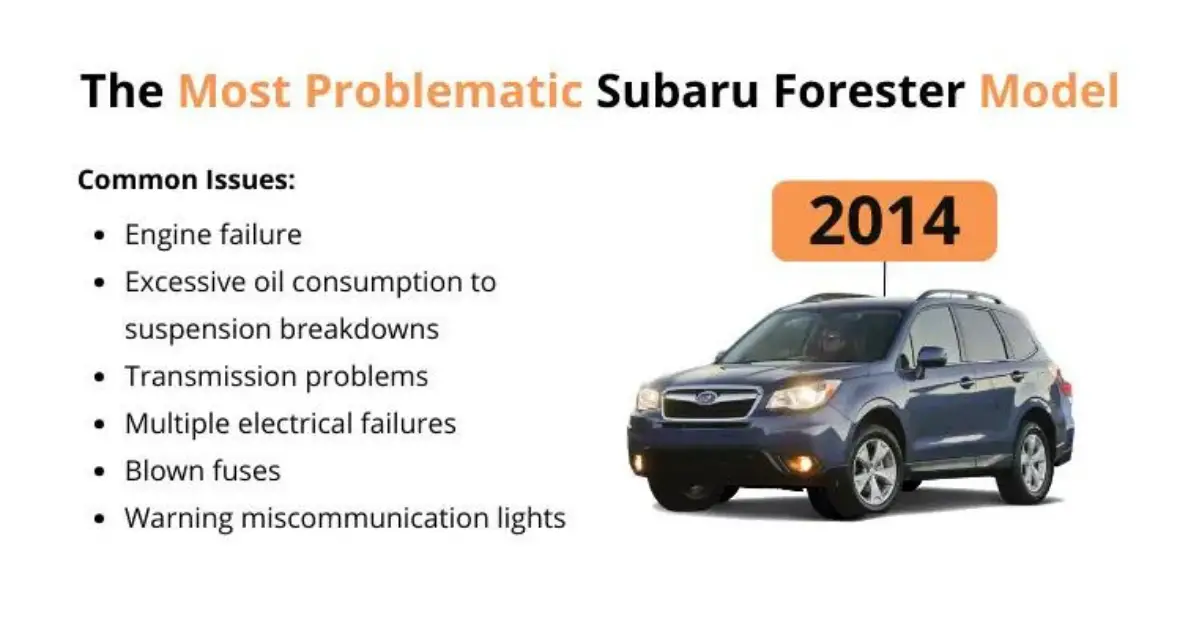 Additionally, it had multiple electrical failures, blown fuses, and warning miscommunication lights, making it the most problematic Forester model year to date.
What Can Be Done About These Problems?
Addressing these issues typically involves regular maintenance and early detection of problems. Regular oil changes, for example, can help prevent excessive oil consumption. Similarly, regular inspections of the engine and transmission can help identify potential problems before they become severe.
In cases where the issues are due to a manufacturing defect, Subaru has been known to extend its warranty or offer to repair or replace the problematic parts for free.
How To Identify These Problems Beforehand
Before purchasing a used Subaru Forester, particularly from the problematic model years, it's essential to have the vehicle inspected by a trusted mechanic. They can check for common issues like head gasket leaks, transmission problems, and excessive oil consumption.
Also, be sure to research the specific model year and look out for any recalls or known problems. This information can be found on various online forums, Subaru's official website, and the National Highway Traffic Safety Administration's (NHTSA) database.
What To Consider When Shopping For A Forester
When shopping for a Subaru Forester, consider the vehicle's history, maintenance records, and any known issues for that particular model year. It's also essential to conduct a test drive to check for any noticeable problems.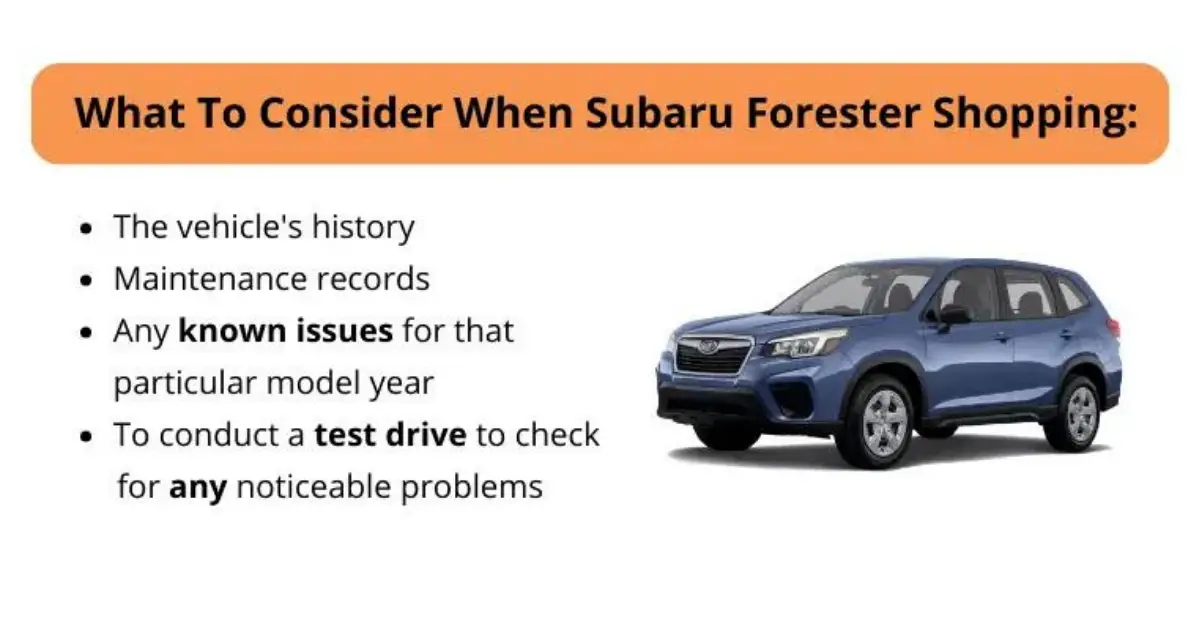 Remember, while some model years have known issues, many other Foresters are reliable and long-lasting. So, don't let the problem years deter you from considering this model.
Buying Guide And What To Look For
When buying a used Subaru Forester, look for:
A comprehensive vehicle history report
Regular maintenance records
Signs of excessive oil consumption
Any issues with the transmission
Evidence of head gasket leaks
The condition of the interior accessories
Any problems with the air conditioning system
Related: Subaru Dashboard Lights and Meanings
Would I Recommend Buying A Forester? Yes And No
Yes, if you're looking for a compact SUV that offers excellent safety features, a comfortable ride, and all-wheel drive. The Subaru Forester is a reliable vehicle that performs well in various weather conditions.

Related: Best Years for Subaru Forester
No, if you're considering the model years known to have issues, such as the 2014 model year. These models might require additional maintenance and repairs, which could add to the overall cost of ownership.

How About The Outback?
> Subaru Outback Years to Avoid
Recap of The Worst Years To Avoid
To recap, the Subaru Forester model years to avoid are primarily 1998-2002, 2003, 2010, 2011, 2014, 2015, and 2017. These models have had more than their fair share of problems, from head gasket failures to transmission issues.
Prefer a visual rundown of the worst (and best) Subaru Forester models? Check out the below video from MrSubaru1387:
Ending Thoughts
While the Subaru Forester is undoubtedly a popular compact SUV with many positives, it's essential to be aware of the problem years. Doing your homework before purchasing can help save you from potential headaches down the road.

Important Reads:
> Are WRX Reliable? Yes and No (Here's Why)
> WRX Years to Avoid When Subie Searching
---
FAQs
Are Subaru Foresters typically reliable?
The Subaru Forester is generally a reliable vehicle. However, certain model years have more reported issues than others. It's always a good idea to research the specific model year you're considering and have the vehicle inspected by a trusted mechanic before purchase.
How much does a used Subaru Forester typically cost?
The price of a used Subaru Forester can vary greatly depending on factors like the vehicle's age, mileage, condition, and location. On average, you can expect to pay anywhere from $10,000 to $25,000.
Is the Subaru Forester a good car to purchase?
The Subaru Forester can be a great car to purchase, especially if you're looking for a compact SUV with solid performance, excellent safety features, and all-wheel drive. However, it's important to avoid the model years known for having issues, unless you're prepared to handle potential repairs.